Peanut is a 15 yr. old weiner dog. My husband always wanted a weiner dog. We found this one and adopted him. The only trouble is Peanut choose me for his master. My husband and Peanut only tolerate each other.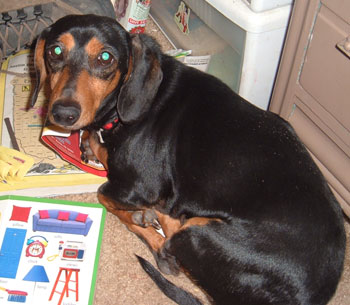 By Randa Wagner from Martindale, TX
Ad
---
Feedback Forum
Feedback about this article is posted here. Want to contribute? Click above to post feedback.

By Lu (Guest Post)03/08/2006
I had no idea about who held the dog on the way home, they would take to more. I have a weiner dog at home and she is very moody with everyone except me. thanks for the info.

By KELLIE11/27/2005
i think PEANUT IS A REAL SWEETY I AM IN THE SAME BOAT ,I HAVE A 3 POUND LONG COAT CHIHUAHUA,GOMEZ AND I KNOW ABOUT THE BERRLY TOLERATE EACHOTHER AND IF WE WOULD HAVE HAD HIM BEFORE THE KIDS WE WOULD BE CHILDLESS : ) IT IS FINE TILL WE ARE ALL ASLEEP AND AROUND 3;00AM HUBBY ROLS OVER AND HIS FOOT GETS A INCH IN MY SIDE ...... YOU WOULD HAVE THOUGHT WW111 STARTED UNDER MY COVERS!! IF YOU GET ANY GOOD ADVICE SEND IT MY WAY TOO : ) MY BABY IS ONLY 3 YEARS OLD AND HE WAS A PRESANT TO ME FROM HUBBIE , THE BEST PRESENT IN 19 YEARS = ) GOOD LUCK K

By Annie Rios Hill [12]11/16/2005
peanut is a cutie. I did not know that about picking
who they want as a master...makes sense...
thanks for that info.

By Fran Marie (Guest Post)11/13/2005
I have my own little weiner and he is my spoiled boy.

Unfortunately, not everyone knows that whoever holds the dog on the drive home is the one who the dog will bond to the most.

By Stacey Silva [52]11/12/2005
I love wiener dogs and this one certainly is a beauty!! She looks so sleek and shiny! Gorgeous dog!

By Vicki (Guest Post)11/12/2005
What a sweetheart. I don't understand anyone who couldn't love this baby.
Post Feedback
Add your voice to the conversation. Click here to share feedback.