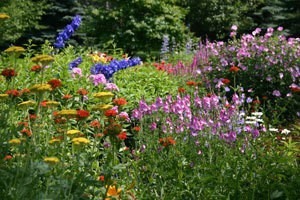 Technically speaking, a perennial plant is a plant that has a life cycle lasting longer than 2 years. But for most gardeners, perennials are more like old friends. When given the proper care, we can look forward to seeing them return to the garden year after year. Because there are literally thousands of kinds of perennials, it can be a bit overwhelming to try to figure out which type of perennial works best for different situations. Here are suggestions for 10 perennials in a variety of categories.
Ten Perennials for Fragrance
Maximize fragrant perennials by planting them near walkways, decks and close to doorways and windows. When people passing by brush plants, they will release the aroma of their leaves and flowers.
beebalm
garden phlox
gasplants
lily-of-the-valley
pinks
peonies
primrose (auricula)
Russian sage
soapwort
thyme
Ten Perennials for Attracting Hummingbirds (& Butterflies)
Hummingbirds and butterflies (flying flowers) are attracted to your garden by bright colored or tubular flowers that produce nectar. Here are 10 perennials they love:
beardtongue
beebalm
campion
coralbell
daylily
delphinium
foxglove
hollyhock
honeysuckle
monkshood
Ten Perennials for Cut Flowers
Perennials with strong stems, attractive foliage and showy blooms make the best cut flowers for bouquets and arrangements.
aster
astilbe
baby's breath
bell flower
fleabane
foxglove
hollyhock
iris
pink
Shasta daisy
Ten Perennials for Dried Flowers
Perennials for cut flowers are also often good as dried flowers. Pick them after midmorning dew has dried and dry them out of direct sunlight to prevent them from fading.
astilbe
baby's breath
blanketflower
delphinium
false-sunflower
globe thistle
goldenrod
Russian sage
sea holly
statice
Ten Perennials for Groundcovers
Perennial groundcovers are low growing plants, and provide useful solutions for places where little else will grow or where you want to conserve water, prevent soil erosion or reduce the growth of weeds. (* Denotes flowers that grows best in shade).
anemone*
clematis
cranesbill
creeping Jenny (sun or shade)
elephant-ears (sun or shade)
lady's mantle*
potentilla
sage
stonecrop
Solomon's seal*
Ten Perennials for Lasting Blooms
To keep the color show going all season long, plant a few perennials with long blooming periods (6 weeks of more). Make sure that some of them start blooming in the spring, some in mid-summer and some of them in the fall. (* Denotes flowers that grow well in shade).
baby's breath (spring & summer)
beebalm (summer)
black-eyed Susan (summer & fall)
bleeding heart* (spring & summer)
coralbell* (summer)
foxglove (summer)
garden mum (fall)
garden phlox (summer)
monkshood* (summer or fall)
poppy (spring or summer)
Ten Perennials for Shade
These perennials are happiest under a canopy of dappled sunlight. In their natural habitats, these plants are often found in wooded areas and thrive in acidic soils that contain high amounts of rotted leaves.
anemone
astilbe
bleeding heart
goatsbeard
hosta
Jacob's ladder
lily-of-the-valley
ostrich fern
primrose
shooting star
Ten Perennials Resistant to Deer
When food is scarce, deer will eat anything. Under normal circumstance, however, deer will usually pass by these perennials:
aster
black-eyed Susan
blanket flower
daylily
lupine
monkshood
sage
Shasta daisy
snow-in-summer
spurge
Ten Perennials for Foliage
Perennials with interesting foliage (interesting leaf shapes, colors, sizes and textures) add color and texture to your entire garden, even when they are not in bloom. (* Denotes flowers that grow well in shade).
bishop's hat*
blue oat grass
coral bell
hens and chicks
lamium*
pulmonaria*
rayflower*
snakeroot*
stonecrop
yucca
Ten Drought Tolerant Perennials
Drought tolerant perennials, not to be confused with drought resistant perennials (perennials that are native to semi-arid regions) are perennials that have adapted or have been genetically changed to survive short periods of drought conditions. Of course the very best plants for drought tolerance are those that are native to your growing zone.
artemisia
asters
baby's breath
blanket flower
coneflowers (Echinacea)
coreopsis
day lilies
phlox
sedum
verbena