I'm hosting my daughter's 12th birthday party, but I don't know what to do. What should the girls do at the party? I want something low-cost but fun. Thanks.
By Laurah05
Answers:
12 Year Old Girls Birthday Party Ideas
Tween girls would probably have fun at a Beauty Shop Party. You could have different hair barrettes and ponytails, assortment of wild nail polishes, colognes, and lipsticks (Dollar Store). I know 12 is probably too young for real make-up, but I'm sure parents wouldn't mind for a special day. Ask them ahead of time. You could crown a beauty queen when finished. (04/16/2009)

By vguy
12 Year Old Girls Birthday Party Ideas
Well I've gone to a lot of parties and had a lot myself, but for a twelve year old here is a fun thrifty party idea I came up with: go to the local roller rink then come home and do a sleepover.
For goodie bags you could go to a custom shirt place (go to Target to get a plain white tee) and get shirts with all of the the party members names on them if it is a small group. (05/10/2009)
12 Year Old Girls Birthday Party Ideas
I run parties for children and one party I did recently was for a 12 year old girl and we made mini scrapbooks, we had a digital camera, a printer and laptop, the girls took photo's of each other crafting and enjoying themselves as well as me taking pictures of the whole group. The girls then choose pictures and made up the mini books with backing papers and peels offs and captions they felt were right for the moment. The girls had lots of fun, they each ended up with a great reminder of the day, in their party bag with a piece of cake and a few sweets, a funky pencil, rubber stamp and a little note book. All seemed to be happy.
Linda
Kids Get Crafty, Chesterfield, Derbyshire. UK (05/22/2009)

By Crafty Linda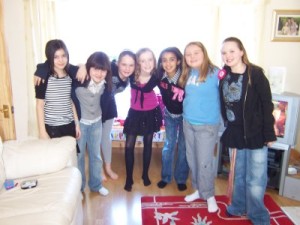 12 Year Old Girls Birthday Party Ideas
Hey well what I'm doing for my daughter's 12 year old birthday party is get the girls to go a paintball park to play some paintball (a great fun non-dangerous activity, for all ages) and after that go to a hotel and sleepover or if that is over your budget you can go back to your house and let the girls play games that you set up for them like the glow in the dark changing. Remember don't have a schedule planned because tweens like to do more things on their own. Best of luck for me and you, my daughter's birthday is coming up. Hope this helped.
Sincerely, A (05/30/2009)

By ak252
12 Year Old Girls Birthday Party Ideas
One birthday party I had for my daughter was a scavenger hunt at the local mall. I scouted out the mall and then made a list of items the girls had to find. I limited the number of girls to 8 total and divided them into 2 groups. Each group had an adult to accompany them. Each girl was given a disposable camera and their team had to find the items on the list and take a picture of it or with it. For example, find a feather boa; try on a pair of men's size 10 shoes; etc.
We then reconvened at the food court. To save some money we went after lunch and before dinner and I brought cupcakes for everyone (you could also just bring a cake). After they ate each girl received another list and $10. On the list were specific things they had to get at certain stores with the money they were given. For example, buy a $1 rock candy stick at the candy store; buy something for $2-$3 at Bath and Body Works; buy something at Limited Too/Justice under $5.

These items that they purchased could be their goody bag gifts or you could mix it up and have them swap with each other. After this, my daughter was allowed to have 2 friends sleep over. The pictures were later developed and sent out with thank you cards as a memory of the party. My daughter loved this because she loves shopping. I also bought her a little tiara to wear to distinguish her as the birthday girl. By the way, the party invitations were fake "credit cards" that I self laminated. (05/30/2009)
By NBAdams
12 Year Old Girls Birthday Party Ideas
Last year, for my daughter's 12th birthday, we did a cooking party. There was an appetizer, an entree, sides, and dessert. The girls split into 4 groups: (side 1, side 2, entree, appetizer) and cooked a dish for dinner. They were dishes from around the world like nachos, spaghetti, mango smoothies, etc. At the end, they had a great dinner. The party favors were personalized aprons with each girls name on them. Check out colorfulimages.com (Just copy and paste into your browser) or Google personalized products. (06/06/2009)

12 Year Old Girls Birthday Party Ideas
Some really great ideas for someone whose birthday is in December is:
A glow in the dark scavenger hunt. You have to find the questions one at a time and answer each one, then the first to win gets a prize. The prizes can be inside a giant stocking.
You can do a fill in the blank sheet with Christmas songs.
(06/30/2009)
By Anonymous
12 Year Old Girls Birthday Party Ideas
Invite all her girl friends and have a sleep over or a late pajama/movie party night. Get lots of food, blankets, comfy pillows and cushions, and games to make every one laugh and have a great time. You may choose to have the girls to makeovers on each other paint nails, and/or do hair. At the end, after games, presents, and cake, watch a movie that everyone will enjoy. If it is possible, watch it with a projector. Make sure to have plenty of food, drinks, and pop corn. Also, make it comfortable to relax with lots of pillows, cushions, and blankets. (07/27/2009)

By 01emma01