4th of July Party Ideas
Solutions
Share on ThriftyFunThis guide contains the following solutions. Have something to add? Please share your solution!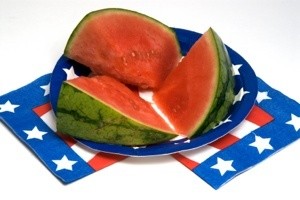 On the Fourth of July, we try to do a lot of activities that include our family and friends; cooking out, covered dish dinner, making ice cream in the old fashioned crank freezer, or having a watermelon cutting. These activities can be enjoyed by the young and old.
If we choose to make ice cream, those who have freezers bring the ice cream mixture in their freezer container. Those who don't have freezers bring bags of ice, the hostess provides the salt. It is best to have about 5 or 6 freezers, with a different flavor in each. It is so much fun to watch the small kids try to crank the freezer! Most of them have never done this before, and look forward to making ice cream.
Everybody brings lawn chairs, or a quilt. We look for the shade, moving as it changes during the day! It is a good excuse to tell the funny stories about family and friends, and relieve them each year. You know the kids are listening when they beg for the story about when "Great Aunt Nettie sat down on the couch, and sat on a crochet hook and had to go to the ER, and the hook was stuck in her girdle! " Oh my, the kids 3 generations down are still laughing about that story!
When there are a lot of little children, tell them to bring their tricycles, wagons, or bikes with them. Provide crepe paper streamers, flags, horns, whistles, ribbons,cardboard and clothes pins for the bike wheels, and what ever Fourth Decorations you can find at the $ Store. Let them decorate their "vehicles" and have a parade down the street. Oh my how they love to do that. Some of them even decorated the dog last year!
Water balloons are fun for the kids and the dads, too! It is usually so hot in July that it feels good to get wet a little. If you want to, you can get inexpensive squirt guns at the $ stores, too.
As for the watermelon feast. You know there has to be a seed spitting contest, too! Give small prizes, or find Medals at the $ Store for the winner. Who says that fun has to be expensive?
By Barb in Knoxville, TN
June 22, 2005
2

found this helpful
Instead of buying throwaway, light plastic tablecloths, spend a few dollars more and get a flannel-back table cloth (about $5) for seasonal parties. I got 3 of them for a 4th of July party a few years ago and bring them out every year for Memorial Day and the 4th of July. I also got a big package of dishcloths, white with red and blue threads in them, and wrapped them around flatware and tied with a ribbon or raffia. The dishcloths made great napkins, and I just threw them in the washer and stored them with the tablecloths.

By Linda
July 2, 2008
0

found this helpful
I picked up this Uncle Sam hat in the dollar store. They had matching ice buckets, so it dawned on me that putting the two items together would make a nice presentation for the Fourth of July!
Supplies:
Uncle Sam hat
plastic ice bucket
large plastic zipper bag
salad ingredients (bagged spring mix, strawberries, white onion rings, crumbled blue cheese, bottled strawberry dressing (I used Brianna's).
You may add grilled shrimp or chicken to make it a main dish salad.
Instructions:
Place ice in plastic bag. Place in bottom of hat. Place ice bucket on top and fill with salad of your choice (tossed, fruit, Jello, potato, etc.) or ice.
By Cindy from Waynesburg, PA
Shauna Smith Duty
0

found this helpful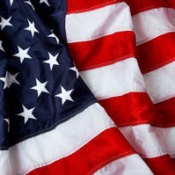 Planning the hottest Fourth of July party ever? Hot dogs, hamburgers, chips and drinks will tickle your guests' tummies, but how about tickling their senses, too? Here are some great tips for transforming your party into an explosive celebration.
Invitation Ideas
Send a cinnamon scented candle with a note attached, inviting guests to join you for a "red-hot time" on the Fourth of July. Another fun idea is an American flag bumper sticker with your invitation written in red marker on the back. Or place your paper invitations inside plastic patriotic cups with a note to BYOC (bring your own cup), the drinks will be provided.
Yard Art
Fire up your yard with some mega fireworks. Paint empty vegetable cans solid colors of red, white, and blue, then bind them together in groups if three with rope. Use one tall, medium, and short can of each color per group. With a paint pen, write words like "bam" and "pow" on the colored cans. You can fill the cans with sparklers for guests to grab as needed, or use them and holders for citronella candles.
Red and blue Christmas garland makes a comeback in July as shiny décor to drape from arbors and awnings. Use any American flag or Americana décor from inside your home as outdoor accents during the party. Buy a bundle of miniature flags at a craft or hobby store and line walkways with them by sticking the wooden dowel rods into the dirt. You can also tuck them into gardens and potted plants. Tie large yellow ribbons around your trees to show support for troops on active duty.
Activities
Bobbing for apples is a great activity for adults and kids. Other classic summertime games include watermelon seed spitting contests, three-legged races, and an egg toss. Keep a water hose handy for cleaning up and cooling off, and make sure the games are distanced from food and decorations. Designate a photographer to capture hilarious and awkward moments to use on next year's invitations, on your family website, or even on T-shirts and mouse pads for gifts.
Serving Table Décor
Fill clear bottles with red and blue colored water by adding a few drops of food coloring to tap water, then fill them with white carnations. The carnations will soak up the colored water and turn red and blue over time. Also color a few trays of ice cubes red and blue and toss them in with clear ice for a festive touch.
Plastic tablecloths, paper goods, and plastic ware can be purchased in the red, white, and blue color scheme, or with a Fourth of July themed print. Use solid white or clear serving dishes to emphasize busy prints and bold colors on other items. For patriotic foods, serve blue corn chips with red salsa. A sheet cake with white frosting can be striped with strawberries, and blueberries can be used to represent stars, making the cake resemble an American flag.
Night Time Sizzle
Provide blankets and pillows for snuggling and watching fireworks while the kids play in the yard. Champagne with strawberries is a great way to toast freedom and savor independence. Citronella candles lining a pool or grassy area will add a relaxed ambiance to the evening after a long day of festivities. Encourage grown ups to play with sparklers and tell their favorite Fourth of July memories.
From invitations to the grand finale, a little down-home decorating will make your Fourth of July bash a big hit.
This is a great game for the 4th if July. All you need is 2 towels, 4 people and some water balloons! 2 people hold on th the short ends of a towel and place the water balloon in the middle. They fling it up in the air and let the other 2 people catch it in their towel
Read More...
September 25, 2016
0

found this helpful
This is a guide about 4th of July party food ideas. The 4th is a great holiday to make some fun and colorful food items in addition to the typical summer fare.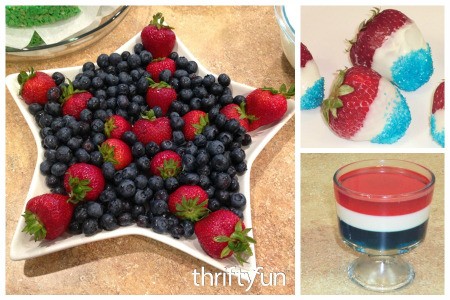 Questions
Ask a QuestionHere are the questions asked by community members. Read on to see the answers provided by the ThriftyFun community or ask a new question.
I am having a July 4th wedding. I need help with color schemes! Everywhere I turn all I'm getting is red, white, and blue, but that is not what I want. I need suggestions for a beautiful July 4th wedding, that does not look like an American flag bridal party.
By Beth from Hershey, PA
Answers
June 28, 2010
0

found this helpful
How about choosing white and either blue or red? Both red/white and blue/white look crisp and fresh; and will give a nod to the flag, without looking too cliche.
June 28, 2010
0

found this helpful
How about silver and gold. Think of sparklers, fireworks and you could make it festive without quite so patriotic. You could add small touches of red, white and blue just to pull it all together if you want, but think the other would be great.
June 29, 2010
0

found this helpful
I would conveniently forget the holiday and do your wedding, in whatever color you want to! July is summertime too. When I think of summer, I think of sunshine and green grass. Yellow and green? They have some awesome shades of green out there right now.
June 29, 2010
0

found this helpful
You could take a spin off of it and use a country blue, cream or maroon wine color.
June 30, 2010
0

found this helpful
Look for the colors of flowers that will be in bloom at that time and use those for some of the colors. This will also save some money especially if you can use flowers from friends' gardens or your own. Good luck:)
June 30, 2010
0

found this helpful
Our son was in a wedding for his best friend (bride) 2 years ago the 4th of July. She had shades of metallics that included browns, oranges, bronzes from the invitations, dresses, tuxes, She had a boat on a big lake, so no indoor decor needed. The cake was all fancy pieces of cheese cake from the Cheese Cake Factory, on tiers. So that was the decorative there. Really, choose your color/theme according to what you like.
Katies colors of choice made it such a sophisticated 4th of July wedding without being walked over by the regular red, white and blue traditional colors.
Good Luck!
Answer

this Question

...
June 16, 2005
0

found this helpful
My name is Nathaniel and my son is having a fourth of July party and its supposed to be huge! We have a pool and it's a boy/girl party. What should I do?

Nathaniel
Answers
July 3, 2005
0

found this helpful
One idea would be to make ice cream cake cones. Using an inexpensive cake mix, prepare as directed and pour into flat bottomed ice cream cones. bake on a cookie sheet. frost with fluffy frosting. Little boys love this!
July 3, 2005
0

found this helpful
One idea would be to make ice cream cake cones. Using an inexpensive cake mix, prepare as directed and pour into flat bottomed ice cream cones. bake on a cookie sheet. frost with fluffy frosting. Little boys love this!
June 24, 2006
0

found this helpful
If your son is at all into baseball get him a Zip N Hit.
I guarentee the boys will be waiting in line to use it.
You can see it and get it here! They sent it really fast. the best $25.00 you will ever spend.
By guest (Guest Post)
June 24, 2006
0

found this helpful
Have a designated POOL WATCHER adult at all times. Even kids who know how to swim can drown!
By guest (Guest Post)
June 27, 2006
0

found this helpful
In the past when we have had 4th of July parties, there is a lot of kids swimming. To make sure the young and old have a good time we hire a lifegaurd. I put an ad in the paper and ask for CPR trained lifegaurds. They must have all the credentials though (finished all lifeguard courses). I've gotten some great teens that are happy to sit by the pond and just watch the kids and eat for free too. I pay them $10 an hour. It's much cheaper than the thought of having someone drown and have that to live with forever. Good luck and have fun.
Answer

this Question

...
Related Content