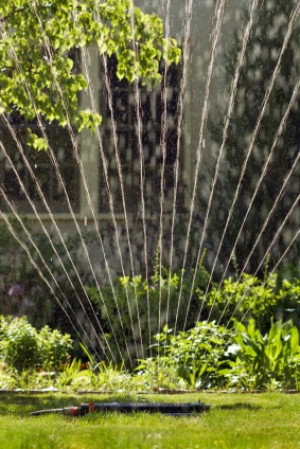 Water is one of the earth's most valuable resources, so it is important to make sure that we garden in a way that doesn't over-use or waste water. Look around your yard and garden and see if you spot any of the 5 water wasters listed below. Then try one or more water-saving solutions. With a little planning, you can reduce your garden water waste and save yourself a little money at the same time.
Five Big Water Wasters
Bare soil
Poor quality soil
Misplaced plants
Using overhead and/or misdirected sprinklers
Inefficient watering techniques
Bare Soil
Bare soil is a huge waste of water for two reasons:
Water evaporates quickly from uncovered ground, especially on warm, sunny days.
Wind and rain can quickly give bare soil a hard-packed impenetrable crust, so water runs off without soaking in.
Water-Saving Solution. Cover bare soil with 2 to 4 inches of organic mulch to conserve moisture. As an alternative, plant bare areas with native, drought-tolerant trees, shrubs, and ground covers or deep-rooted perennials like peonies, yarrows, and day lilies. In the vegetable garden, plant wide rows of closely spaced plants and mulch between rows to protect soil moisture from evaporating.
Poor Soil
Poor soil results in water retention problems (either too much or not enough). Heavy clay soils drain slowly and cause water to pool around plants, potentially drowning them. Hard-packed soils cause water to run off before it has a chance to soak into the soil. Sandy soils are just the opposite. They tend to drain so quickly that you spend all your time watering thirsty, wilting plants. In all cases, water is wasted.
Water-Saving Solution: Adding soil amendments in the form of organic matter will improve any type of soil. This includes compost, shredded leaves, or aged manure. Each will improve drainage on hard-packed and heavy clay soils and help sandy soils retain moisture longer. To sustain soil improvements, add at least an inch of organic matter each year, working it into the top few inches of soil. After a few years, your garden will need a lot less watering.
Misplaced Plants
One of the keys to successful gardening is placing the right plant in the right place. Plants poorly adapted to their environment, or mixing species that have different moisture requirements not only wastes water, but also encourages disease. For example, if you give moisture lovers enough water, you'll risk injuring or drowning their less thirsty companions.
Water-Saving Solution. First, choose plants that suit the soil and climate. Second, group plants with similar water needs together - either in clusters or in completely separate beds. This will allow you to water each group only when it needs it, without wasting water on neighbors. Having trouble figuring out who likes it dry? Plants that cope well with water shortages often have gray foliage, such as eucalyptus. They may also be covered in tiny hairs, or "felted" like lamb's ear and lavender.
Overhead or Misdirected Sprinklers
Overhead sprinklers are highly inefficient at delivering water to plant roots - even when used properly. Because much of the water is shot into the air, it evaporates as it falls to the ground or it is sent into unwanted directions by the wind. The way these sprinklers are designed also makes it difficult to direct water solely onto plants without also watering nearby buildings, sidewalks, and of course, weeds.
Water-Saving Solution. Use sprinkler heads that can be adjusted with spray patterns that fit your garden beds, or find a model that creates large water droplets that will fall more quickly to the ground. If your water pressure tends to fluctuate, install a pressure regulator to keep water flowing efficiently at your target. Better yet, switch to drip irrigation or soaker hoses, which stay on the ground and deliver water exactly where you want it.
Inefficient Watering Techniques
Inefficient watering techniques can waste tremendous amounts of water. For example, watering plants until the soil looks damp can create more problems than it solves.
Water-Saving Solutions:
Unless absolutely necessary, don't bother watering your lawn. Most grasses fall into a natural state of dormancy during the peak of summer heat and green up again in late summer. If you've chosen suitable grasses for your area you shouldn't have to water.
Most lawns need less than an inch of water to saturate roots 4 to 6 inches deep. If you absolutely need to water, use a coffee can in the watering areas and measure the amount of water in the can to determine when you've watered enough.
Water in the early morning. This prevents fungal growth and minimizes losses from evaporation.
Apply water to the soil (roots), not to the plants (foliage).
Soak the ground well; do not just wet the surface. Water deeply and infrequently. This encourages root growth and ultimately results in watering less often.