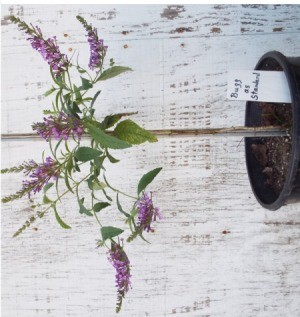 Many people grow standards for the sake of variety in form. Many others choose to grow standards because they are more vertical than horizontal in habit and take up much less space. Standards can be suitable for small patios when grown in containers.
Most shrubs which have a more rounded or bushlike form can be trained to grow as a standard. The word 'standard' as used here usually refers to a shape similar to that of most trees. I say 'usually' because not all plants trained as standards take on the shape of a tree. One such is the rose.
My work with standards is limited. I have found that the wisteria vine grows well as a standard, although it will require proper pruning to keep the standard form. Honeysuckle does very well as a standard and requires only a minimum of pruning.
This is my first year to attempt to grow the butterfly bush as a standard. In late spring, I rooted some cuttings of my favorite bush. From the rooted cuttings, I chose a few with the straightest shape and potted them individually.
The butterfly bush grows quickly. Within a month, they were large enough to require staking. All side shoots were carefully removed, leaving 4 or 5 top shoots or limbs. A small stake was inserted into the soil, very close to the bush 'trunk'. The trunk was loosely tied to the stake at intervals. That is the simple version of how I create a standard.
Over time, the bush will require a little attention. It must be watered and fed as any bush. Care must be taken not to allow the ties to become to tight around the trunk. They may require occasional loosening.
You will notice that small new growth will appear along the trunk and especially where the trunk meets the soil. These new growths must be rubbed away as soon as they are noticed.
The pictured plant was started as a rooting earlier this year. As you can see, by October, it has grown to almost 2 feet in height. During the next year, it should attain its ultimate height of about 4 feet, as this particular variety is a dwarf.
One of these bushes, whether planted in the ground or in a container would make a nice specimen plant as they tend to bloom more profusely when grown as a standard. Being that they root so easily and quickly, I will grow several as standards. If I find a place where a row of these would look nice, I will plant them that way. A row should look rather nice, what with the bushes being in constant bloom from spring til fall.
If I don't find a suitable place for a row, that's OK. I have friends and neighbors who would be more than glad to make a home for these 'extra' plants. Imagine a walk or driveway or garden path flanked on either side with these dwarf beauties. Want an added benefit? OK. They didn't cost me a dime.