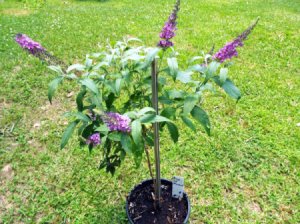 My two year old dwarf butterfly bush is coming along nicely. I am training it in the classic 'standard' form. By the end of the season, I should have twenty or so, more.
I thought I wanted a pathway with these standards on either side. Now I think not. The untrained bush shouldn't get any taller than what you see here (2-2 1/2 ft). It would just be denser and more compact. As a matter of fact, this variety is so small and compact, many people grow them in containers on their porches, I did for a while.
So, along with the blackberries you'll be growing on your veranda, lanai, porch, or stoop, you could have a couple of these. They will be in constant bloom from late May til frost.
No, no. Don't thank me. You enjoying these beauties so very close by is thanks a'plenty.