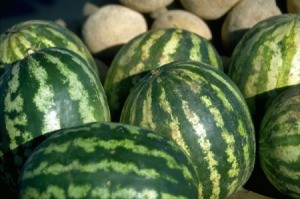 Question:
We are giving growing cantaloupes and watermelon a try. We have had very hot and dry weather since we put the plants in a month ago, and have watered every day. We have fruit started on the plants, but neither seems to have grown any the past 1 1/2 weeks, whereas they all had been showing noticeable changes every few days. (The fruit ranges from tennis ball size to large grapefruit size.) Is this normal?
Hardiness Zone: 8a
Tennie from Sherman, TX
Answer:
The state of Texas is always at the top of the pile for watermelon production in the U.S. That means that all things being equal, your chances for successful melon crops are better than that of the average gardener.
There are three factors that will cause the growth of melons to come slow down (or stop): cool temperatures (below 60ºF), too much water or too little water. When melons don't get enough water they stop growing. Don't over-water them or the vines will collapse, but continue to keep them well watered like you have been doing and remember that the larger they get, the more water they will need. Allow the top 1 to 2 inches of soil to dry out between waterings.
Make sure you're using the right fertilizer. Use one with 4 parts phosphorus to 1 part nitrogen to promote larger vines and better fruiting. Ideally, this would have been added to the soil at planting time. Adding additional nitrogen after 1 month and again 2 months after planting will keep your vines growing.
Cool temperatures are probably not your problem. Although watermelons like heat, the extreme temperatures this summer have been hard on everything. You can help prevent any further stress to your melons by keeping the vines free of weeds. Melons don't like to compete for nutrients. Even small weeds can stunt their growth and result in smaller melons.
As long as the leaves and vines on your melon plants continue to look healthy, I suspect the slowdown in growth is probably only temporary. If you feel like you have a sufficient number of melons started, you can help to increase their size by removing any remaining flowers on the vines. This will channel all of the plant's remaining energy into expanding the fruit that is already there. Of course the final size of your melons will depend on what varieties you're growing.
Good luck!