Celebrating Friendsgiving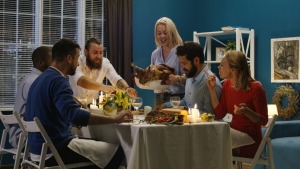 Many people choose to celebrate with their friends around Thanksgiving, called Friendsgiving. This alternative celebration is popular for college students or young professionals who cannot make it home for the holiday. It can be in lieu of a traditional Thanksgiving dinner or it can be a different dinner party around that time. This page is about
celebrating Friendsgiving
.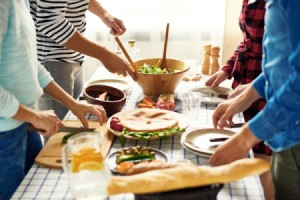 If you are going to do a Friendsgiving, don't do it the way we did the first year! Here are the tricks we've learned:
Get something other than turkey that your group will eat. We're doing pizzettes this year.

Provide snacks for anyone who has a food allergy or diet needs.

Make it painstakingly clear you want zero trips to the hospital, and make bringing in any allergy foods a NON-NEGOTIABLE.

A month before, solidify both your provided food, where it will come from, your cost, and what decorations (IF ANY) you will provide.

Make it clear what your parking situation will be. We have a wonderful apartment in a sketch part of town- and parking is a nightmare. We suggest to folks to park a block down or carpool if able.

Make it clear if you need to accommodate any accessibility issues.
Make sure your guests know if you have upper/next door neighbors, and how late they can stay, should they want to.

Mean it if you don't want alcohol. I've poured drinks in a minor's lap and sent them home.

If you have health needs/ or moral obligations, consider if they will be able to be kept or understood.

Don't take the time to buy decorations and a crap ton of food if four people rsvp. If it's small and intimate, chances are your friends don't hate you, and you're just going to have a chiller vibe. Life is life.

Make sure your home can accommodate what you need, and set tables up if you need it. Get folks to bring extra chairs, or grab some if needed.
Some places rent year-round, but check into it EARLY.
Make a thorough and triple-checked shopping list:

drinks
stuff for main course
snacks that anyone can eat
snacks for diet needs
condiments
cups, cutlery, plates, serving utensils and a way to label them. If you use plastic cups, get a sharpie or permanent marker. That's how my aunt did it for YEARS.

If you are going to make your party swanky:
beer, wine, mixed drinks, lots of ice, lots of cute "charcuterie" style snacks, etc., be sure that your guests know. If you aren't open to receiving gifts of food or drink as a thank you, let your guests know that, and be kind if you ge them anyway.

If you want shoes left at the door, let your guests know that. Make it clear they can hang jackets and keep your shoe catcher open. We shove our out of season stuff in a storage closet for the day, in a cube.

If your group does the same activity every year: video games, board games, yard games, or watches a game/event, make sure you consider that in how you situate food and your timing for dinner prep/ serving/arrival.

Finally, make a budget, demand designated drivers if your event is alcohol friendly, make it clear if plus 1s are welcome, and or kids. If not, be polite and firm.
Categories
Pages
More
Categories
Published by ThriftyFun.
© 1997-2022 by Cumuli, Inc. All Rights Reserved.
https://www.thriftyfun.com/Celebrating-Friendsgiving.html