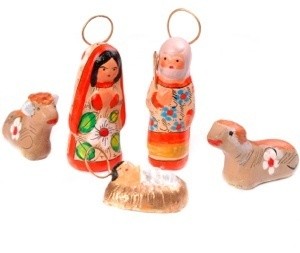 In keeping with my articles this year on International celebrations and foods, I present for your enjoyment a beautiful tradition of the Mexican People. Although this celebration is now mostly celebrated in Mexico, many immigrants are bringing this to America. I first heard about this tradition when I was invited to attend one night of the nine nights of this celebration. It was a delightful experience. The beauty and majesty of the parade of lighted candles truly brought home the journey for lodging that Mary and Joseph went through. It was so beautiful, it touched my heart.
"Las Posadas", the remarkable buildup to Christmas Eve, is perhaps the most delightful and unique Mexican tradition. Las Posadas (Spanish for "the inns") is a nine-day celebration beginning December 16 and ending December 24. It is a yearly tradition with origins in Spain, and symbolizes the trials which Mary and Joseph endured before finding a place to stay where Jesus could be born, based on the passage in the New Testament, the Gospel of Luke (2:1-9):
This tradition dates back to the sixteenth century and St. Ignatius Loyola, who used an Aztec festival to teach about the birth of Christ. He also wanted to replace the nine-day celebration of the birth of the Aztec Sun god with a Christian celebration. What started as a novena, or nine days of prayer, eventually moved from the church to the community and was celebrated in people's homes. It is a celebration of the Nativity. This means the birthday of Our Lord Jesus. In order to prepare for the day of symbolic commemoration, we have the "Posadas". These celebrations are a "Novena" or nine days before the 24 which is the "Noche Buena" or "Holy Night".
Each family in a neighborhood, will schedule a night for the Posada to be held at their home, starting on the 16th of December and finishing on the 24th on Noche Buena After dark, each night of the "Posada," a procession begins led by two children. Every home has a nativity scene and the hosts of the Posada act as the innkeepers. The neighborhood children and adults are the pilgrims who have to request lodging by going house to house singing a traditional song about the pilgrims. Here is a link to the traditional music sung as they go to house to house, with lyrics and sheet music.
Other members of the company, all with lighted long slender candles, sing the "Litany of the Virgin" as they approach the door of the house assigned to the first "Posada." Four people carry small statues of Joseph leading a donkey, on which Mary is riding. The head of the procession will have a candle inside a paper lamp shade. At each house, the resident responds by refusing lodging (also in song), Those within the house threaten the company with beatings unless they move on. This continues until the weary travelers reach the designated site for the party, where Mary and Joseph are finally recognized and allowed to enter. Together they chant an old traditional song and awaken the master of the house to ask lodging for Mary. Once the "innkeepers" let them in, the group of guests come into the home and kneel around the Nativity scene to pray (typically, the Rosary).
In some places, the final location may be a church instead of a home. Individuals may actually play the various parts of Mary (Maria) and Joseph with the expectant mother riding a real donkey (burro), with attendants such as angels and shepherds acquired along the way, or the pilgrims may carry images of the holy personages instead.
At the end of the long journey, there will be Christmas carols, children will break open pinatas by striking these colorful papier-mache objects with bats while blindfolded to obtain candy hidden inside, and there will be a feast. Traditionally, it is expected to meet all the invitees in a previous procession. At each party of the nine nights, traditional Mexican food is served.
On Christmas Eve at midnight the birth of Christ is announced with fireworks, ringing bells and blowing whistles. Devout worshipers surge into churches to attend the famous "Misa de Gallo" or "Mass of the Rooster." Following Mass, families return home for a tremendous dinner of traditional Mexican foods.
Editor's Note: Here is another article by Debra with more information about this holiday: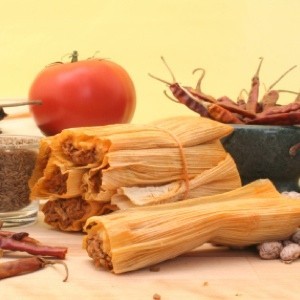 These are just some of the foods that can be prepared for the traditional Las Posadas dinner. I hope you enjoy preparing these foods. Feliz Navidad!
Tamales
Basic Masa de Harina for Tamales
3 cups packaged Masa de Harina for Tamales
2 cups lukewarm broth (from beef)
1 tsp baking powder
2/3 cup solid vegetable shortening
Combine masa for tamales and baking powder in large mixing bowl. Mix in broth. Beat shortening in separate bowl with electric mixer until slightly fluffy. Add to masa mixture and beat until it develops a somewhat spongy texture.
Beef Filling for Tamales
1 large package corn husks - about 24
4 lb Chuck Roast
4 cups water
10 dried red Poblano chile peppers
1/4 cup ground cumin
1/4 cup pepper
4 cloves garlic, peeled
1/4 cup salt
Early in the morning (up to a few days before Christmas), place the roast and water into a large pot or crockpot and slow cook four to six hours, or until it shreds easily with a fork. Remove the meat from pot. Place in large bowl, add salt and shred, reserving broth for the masa and the filling.
Remove the seeds (using gloves so you don't burn your eyes!) and stems from chiles. Boil in a pan with one cup water for about five minutes. Transfer chiles to food processor and add cumin, pepper, garlic and enough of the chile broth to make a paste when all spices are blended together.
Add spice paste to shredded beef and mix thoroughly. Add as much of the remaining broth as necessary to make a delicately moist, but not watery filling.
Making The Tamales
Now comes the fun part. Divide the masa into 16 balls. Open up the corn husks and tear 16 1/4 inch wide strips off husks for typing up the tamales. Lay a corn husk on your counter and pat dry with paper towel. Place a ball of masa on it and flatten into a square shape. Put a heaping spoonful of filling inside.
Pick up the two long sides of the husk, fold them over into the middle and enclose. Roll the flaps of the husk in the same direction around the tamale. Fold the small, pointy bottom end up to close off the bottom and secure the tamale by tying it up in a bow. Repeat for all 16 tamales.
These can keep in the refrigerator for a few days before being steamed. To steam, line a steaming pan (Mexican or vegetable steamer) with extra corn husks. Put about two inches of water in the bottom of the pan. Gently place tamales inside and cover pan. Simmer until steaming hot-about an hour. (Short cut: You can also microwave them, a few at a time for about three minutes.)
Menudo or Pozole
Menudo is made with tripe but you can make Pozole, which is essentially the same soup, but made with chicken and pork in lieu of tripe.
For Menudo:
For Pozole:
2 lb lean pork roast
4 boneless, skinless chicken breasts
From here on out it's the same for both:
3 onions, chopped
4 - 6 cloves garlic, minced
2 - 4 tbsp American chili powder
3 whole cloves
1- 3 tbsp oregano
6 cups water
4 tbsp chicken bouillon (or more, to taste)
2 16 ounce cans white hominy
salt and pepper to taste
Garnish:
1 onion, chopped
1/4 cup oregano
1 cup cilantro, chopped
1 cup serrrano chiles, finely diced (hot! optional)
a sampler of salsas
In a large Dutch oven or crockpot, place first nine ingredients. Heat to boiling and then cover and simmer for four to six hours. Add hominy and salt and pepper to taste. Cover and cook an additional hour.
To serve, place each garnish in a little bowl and let everyone add whatever they want to their bowls of soup. Sit down and chow down!
Champurrado (Chocolate Atole)
6 cups whole milk
1 cup masa harina--corn flour
2 cups water
1 cup brown sugar, firmly packed
3 oz. unsweetened chocolate, grated
1 cinnamon stick
Heat the mild and chocolate in a saucepan, stirring to dissolve the chocolate. When chocolate is completely dissolved, remove from the heat and set aside to keep warm. Mix the masa harina with the water in another saucepan; place over low heat, add the cinnamon stick, and cook until the mixture has thickened and the masa becomes translucent. Add the chocolate milk and sugar. Stir to dissolve the sugar and simmer for a few minutes. Remove the cinnamon stick and serve the champurrado hot in cups or mugs.
Arroz Dulce (Rice Sweet)
3/4 cup rice
2/3 cup sugar
1 tsp. vanilla
4 cups milk
1 cup rich cream
1/4 tsp. salt
Scald milk. Put the rice into a deep baking dish, cover with the hot milk, and bake in a moderate oven for 3 hours, or until the rice is soft. Stir occasionally during first hour to prevent sticking. If necessary, add more hot milk. When almost done, add vanilla, sugar, and cream, and finish baking.
Apple Cocktails (Chilled or Steaming)
24 ice cubes
10 oz. Cuervo Gold tequila
2 Tbsp Creme de Cassis
1 cup apple cider
4 Tbsp lemon juice
8 apple wedges for garnish
Fill a blender with ice cubes. Add tequila, creme de cassis, cider and lemon juice. Shake well and strain into eight glasses. Add the ice cubes and garnish each glass with an apple wedge.
Mexican Rice
Serves eight.
3 cups quick brown rice (or Minute Rice if desired)
2 cups water
1 1/2 cups salsa fresca
salt to taste
In medium sized saucepan bring two cups water and salsa to boil. Add brown rice. Stir well. Cover, reduce heat and simmer for 15 to 20 minutes until fluffy. Add salt to taste. Serve immediately.
Editor's Note: Here is another article by Debra with more information about this holiday: