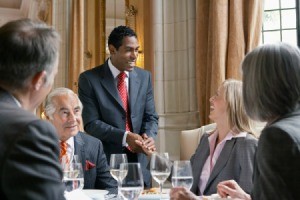 I've been invited to a Chamber of Commerce Business of the Year Awards night and the dress is stated as formal. The thing is, I have no idea what to wear! My friend suggested that I just wear a black trouser suit with a nice top as that is more my style and I don't really feel comfortable wearing a dress.
I looked up photo's of the previous year's award nights and I have to admit not many of the people look very formal. Mostly they are just wearing trousers and a top or a skirt and a top. I wouldn't mind wearing a skirt, but I don't want to be underdressed. In saying that I also don't want to be overdressed. Please help. Oh, and what can I do with fine, flat hair that doesn't do as it's told. It won't hold a curl or anything like that. Help!
Haley from Albany, Western Australia
Answers
By Margie Minard (Guest Post)
January 25, 2007
0

found this helpful
You can't go wrong with a fairly plain, long black skirt and nice dressy blouse. It's fine for formal or less formal. If you are feeling festive, don a necklace and earrings. Most of all...have fun!!

Carrie
Bronze Feedback Medal for All Time! 174 Feedbacks
January 25, 2007
0

found this helpful
It is always better to be underdressed than over dressed. What's not clear is if someone wanted to upgrade the dress at this event, compared to last year.
Check with someone you know who is on the award committee to see.
If the CofC members are casual people for the most part, just dress as you would for business. After all, this is a busness activity, not hangin' out at the lake with your toes in the water. You'll be leaving impressions with business connections at this one.
O.
By Ellie. (Guest Post)
January 25, 2007
0

found this helpful
Hi, I'm from Aus too.(Melbourne) I NEVER wear dresses,(a long skirt now and then) but 99% pants. I go to some nice council functions, and I feel you would be perfectly fine in pants, black.
if you like, and a glam. top. A bit of glitter if you like! As for your hair, a good cut to suit your style, and that's about it. Above all, relax and enjoy!
Read More

Answers