Cattle (Cow) Photos
Photos
Share on ThriftyFunCheck out these photos. Click at right to share your own photo in this guide.
February 26, 2011
40

found this helpful
Norman is a 2 and a half years old Jersey. We were visiting a local farm to buy some homemade cheese and went on to the barn to see the calves. My husband fell in love with Norman and went to ask the farmer if he would sell him. Since he was a male Jersey, he was of no real value to the farmer and so he gave him to us for free.
He was only four days old and still had his umbilical cord attached. He was the same size as our German Shepherd when we first brought him home. He loves the cookies we get for the horses. Norman will follow you anywhere for a cookie. We take him for walks near a local golf course and get some funny stares. He chases the car when we drive in the driveway, bucking a mooing like crazy. And he loves to play with the dog, tossing her playfully in the air with his big head. He is very gentle with the ducks and the chickens and they enjoy sleeping in his stall with him.
I never knew that cows had so much personality! Norman loves to be petted and he gets depressed if he does not get loved regularly.
By Colleen
These photos are from my friend who lives in Illinois. She shared them with me so that I could share them with our ThriftyFun readers.
This lady does it all. She "runs" a nice farm, spins her own animals' fleece into yarn, bakes all her own bread in a wood stove oven and generally lives a very simple, happy life.
The highlight of her days is usually something to do with her many animals. She has a heifer named Katie who just gave birth to a first calf. Turns out the baby calf is a darling little bull calf and his name is Kingsford. He just celebrated his 1 month birthday on August 6. It took him all of 6 hours to find "his own home dairy", but he was standing soon after being born. Amazing!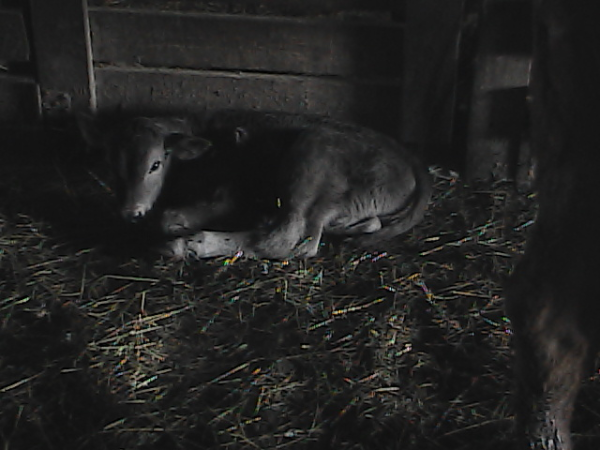 She also has a male alpaca named Simeron and a beautiful llama named SusieQ. Simeron and SuzieQ both give up their fleece to the shearer so that there is always plenty of the most wonderful fleece to be spun into yarn. Simeron is shown in the background of one photos, just calmly watching the proud new mama checking out her baby.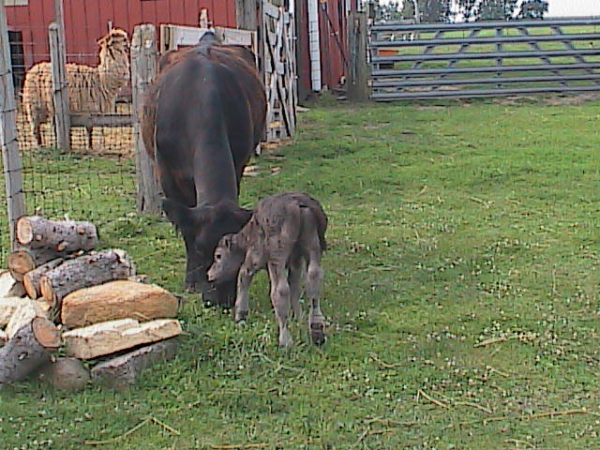 I look at the photos and almost long to be in a place where we could be living the same type life.
It might be a lot of hard work, but just think of the fun. Every animal is a pet, knows their name and comes a'running when called. One pet is a rooster who divides his time between her yard and a neighboring farm. One evening, he'll be gone and might not show up again for a month. He always comes back for a month or so, then is gone again. It's almost as though he has a plan, known only to him.
By Julia from Boca Raton, FL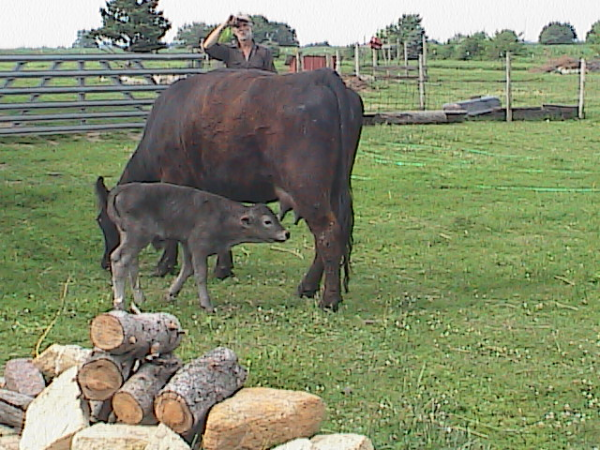 Here is one of my cows all dressed up for the holidays. She wants to moo you to a Merry Christmas an Prosperous New Year 2011.
May the forces be with you and me.
By bali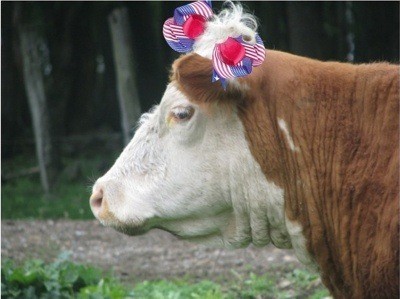 The weather is getting nicer and the animals are enjoying it just as much as we are. I was thinking about taking a swim do to the heat when I drove by these cows and saw they had the same idea!

Read More...
We have had more snow this winter than usual, the new calves started being born in January which was really cold and snowy. When we went for a winter walk, this new born calf was on one side of the fence and his frantic mother on the other.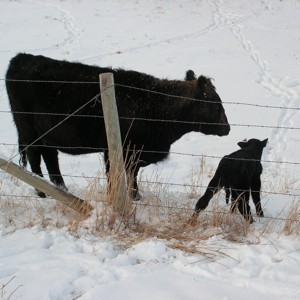 Read More...
This is a picture of my great grandson in our yard this summer. He came with his brother for the day. They enjoy playing in the creek.
He started watering my plants and then I guess he decided to cool the cows off.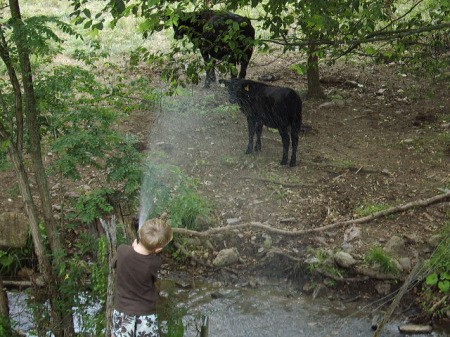 Read More...
Spot (Holstein)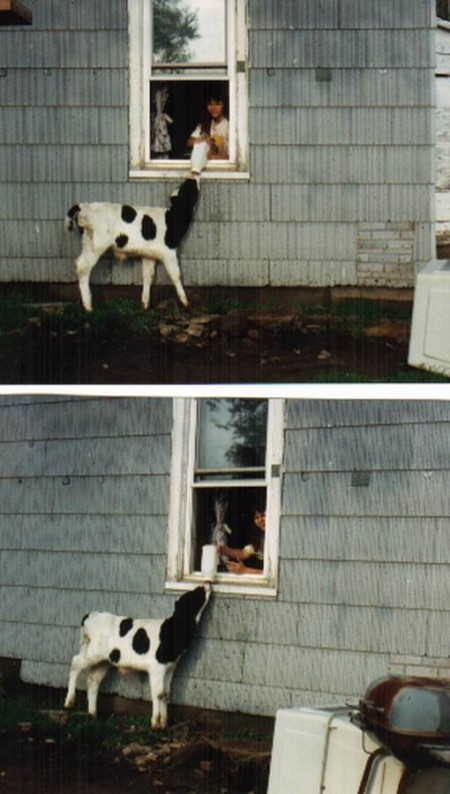 Read More...
This is not my pet, but sweet nonetheless! This is a 2 month old calf. I took my kids to a local historic farm and this sweet baby cow was sleeping, despite all the children clamoring the fences to get a better look!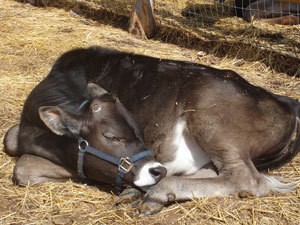 Read More...
We bred her from our cattle and I had an instant connection with the little girl so I bought her from my grandfather.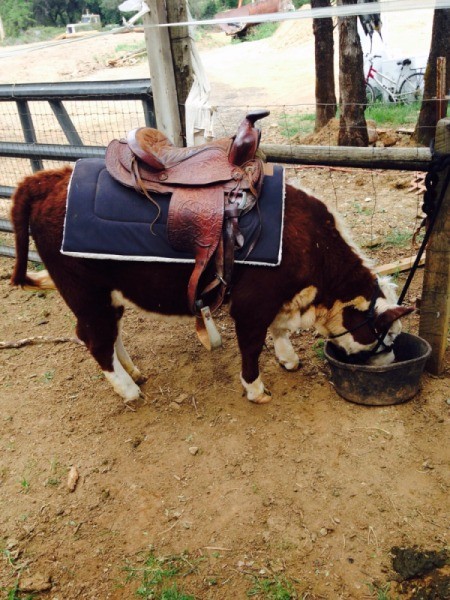 March 21, 2008
0

found this helpful
It's not sexed yet, but due to being born the day before St Patrick's day, the kids plan on naming it either Clover or Patrick. This Charolais calf is just 20 minutes old, born at 4:11 PM on March 16, 2008.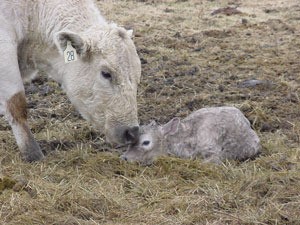 Read More...
I had to laugh after pulling over on the side of a country road by our house, when looking out the passenger window to see a small herd of cows coming over to check me out and make sure everything was OK!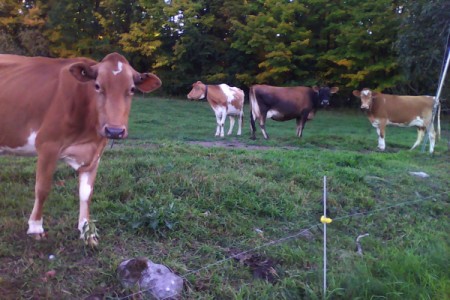 I thought they looked so cute the way they were looking at us. The field was full of them but the other one ran away from us. We were out for a drive and spotted them on our way back.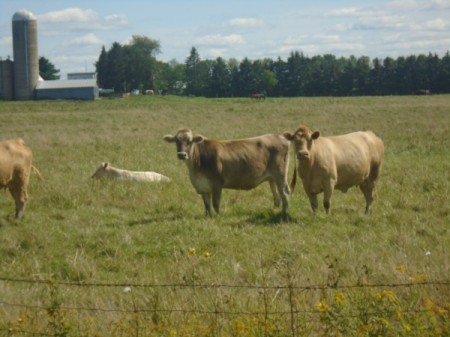 This day old Holstein calf managed to slip under the electric fence and into the pumpkin patch for a nap in the sun. I work at Ballinger Farm Crazy Maze here in east Tennessee in the fall, teaching the school children that come there on field trips all about dairy cows, milk, and milk products.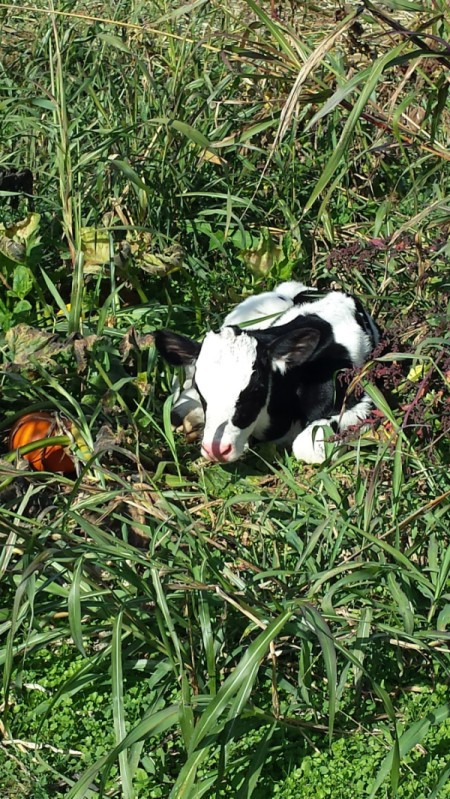 Related Content