Terra Cotta Lighthouse
Time Required for project:
Drying time of 24 hours for the silicone caulk
Drying time of 4-8 hours for the paint
Materials:
5-6 graduated terra cotta pots

1 solar garden light

1 tube of outdoor clear silicone caulk

2 one quart cans of outdoor paint (Black and white)

1 can of spray varnish or clear plastic coat

Dremel tool with sanding drum mandrel for enlarging hole for garden

light only if needed.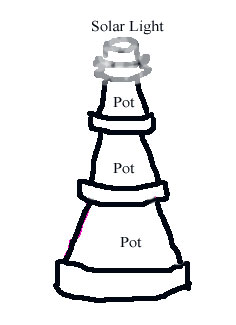 Instructions:
You will need to buy or find 5-6 graduated terra cotta pots depending on how tall you want this. With outdoor silicone, glue each pot to the other while each pot is turned up side down. You now have your tower for your lighthouse. With good outdoor paint, Paint your lighthouse. Pictures can be found online for the stripes as each lighthouse is different.
Coat tower with spray varnish or clear plastic coat. Top with a solar garden light. You may need to enlarge the hole on the top pot to be able to put the garden light on. This can be accomplished with a dremel tool with a sanding drum mandrel.
These would be especially pretty lining a drive way. These would also be pretty on a table using smaller terracotta pots that can be found at most craft stores. For the light on top, use a baby food jar with a glow stick that should glow until your party is over
By Debra from Colorado Springs, CO
Answers:
Terra Cotta Lighthouse
Dear Debra, How clever. this is a fantastic idea for me as I like all things nautical. I would like to try this for my garden. Thanks for sharing. (11/21/2006)

Terra Cotta Lighthouse
What a great idea! (12/29/2006)

By Nicole
Terra Cotta Lighthouse
Great idea. I will give this to Dad for Father's day! (05/06/2007)

By sheila
Terra Cotta Lighthouse
I love lighthouse. I was looking for an idea for my pots. Thanks for the wonderful idea, keep em coming! (04/27/2008)

By lisa