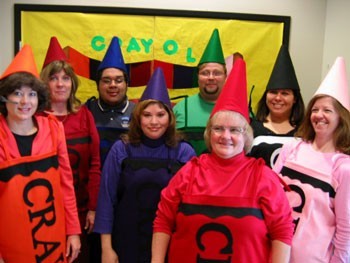 Crayola Costumes

For Halloween this year, my department got together and made our costumes and decorations. We decided to be crayons. The total cost per costume was $5 and for decorations we spent $9 total. That's me in the pink!
By Cindy from Albuquerque, NM
Answers:
Crayola Costumes
Smart idea! (11/02/2006)

By Jean in GA
Crayola Costumes
Cute idea. Did you have crayon themed everything? I can think of several ideas off the top of my head for snacks and decorations that would have been great with a crayon theme. (11/06/2006)

By Mellisune
Crayola Crayons Costumes
Susan. I'm posting this again for you as people are not reading all the "feedbacks". Hope it is O.K. to do this. Hugs,Vi.

Crayon Costume Pattern
Post by luvmygingerkids (336) | (03/25/2008)
Profile | Blog! | Contact

(10/19/2008)