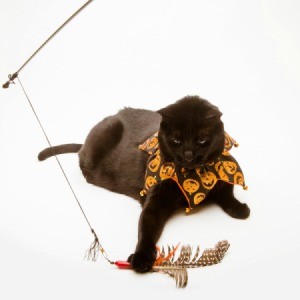 Want to hear a strange cat story? Here's the story of the cat that ate the 5 foot elastic string.
The elastic string came from a cat toy that you hang over a door and there's a furry mouse on the end. Well, it was constantly coming untied from the plastic piece that went over the door, so someone just laid it on the coffee table. (My daughter was living with me at the time). We had no idea that my cat, Sugar, has a desire for elastic.
A day or two later, in the early morning, I'm awakened by the sound of a hysterically terrified cat that is running around the house yelling and growling. She ran right across my chest while I was sleeping in bed. The reason she was so scared? There was a 10 inch piece of elastic string trailing out of her anus and the end of this elastic is intertwined with several of her stools! She was frantic because she couldn't figure out why these stools were chasing her!
I chased her down and tugged ever so gently on this string thinking it was just going to pop out. When I pulled on it and it stretched I knew immediately what is was. I just didn't know she had eaten all 5 feet of it until I went downstairs. (She didn't eat the mouse, thank goodness!). So I cut off the very end with the stools, threw on some clothes and took her to the vet. The whole string showed up on the x-ray, snaking it's way through her intestines and balled up in her stomach. Very bizarre. The vet said I had a choice: they could operate and remove it which would be very expensive, or we could wait and see if she passes it, but there's a danger it could perforate her bowel and she could possibly die. Wow, what a choice.
Well, I didn't have a spare two thousand dollars, so I went for the "passing it" option. It could take all night so I had to move her to a local animal hospital so she could be monitored. Next morning I get a phone call and she passed it with no problem. What a relief! And speaking of cost, that little episode still ended up costing over $500. But I was so happy she was okay.
She was pretty traumatized from that event and has been grumpier ever since. That was 4-5 years ago and since then no one can go anywhere near her butt or she freaks. Well, that's the elastic string story. She and I will certainly never forget it!
Donna M. from MD
Comments

Paula
Bronze Feedback Medal for All Time! 156 Feedbacks
January 10, 2006
0

found this helpful
Well, I can certainly understand why Sugar is a grumpy little kitty. I have heard similar stories with pets with a penchant for unusual treats, one was a dog that ate a braided rug and another was a dog that ate a sock.
But, I always thought that cats had a better sense of judgement!

Stacey Silva
Silver Feedback Medal for All Time! 453 Feedbacks
January 10, 2006
0

found this helpful
I have heard of all kinds of cats that do hilarious things (mine included) but I have certainly never heard of anything like that! How funny it is the things that cats do. (And eat!!) Glad she's okay!

January 10, 2006
0

found this helpful
One of our cats loves to chew on strings and swallows it. It always makes me worry because I've heard of this happening before (like with those strands that you put on the Christmas tree)...so we have to try to keep all those things out of his reach. Kind of like "child proofing" the house! My other cat likes to chase and attack those squirmy little toys that kids play with.
I'm scared he'll eat those too! I guess I'm being over protective but like you, I'd rather spend my $500 elsewhere! Hopefully your cat won't pull any more stunts like that! I guess that saying is true...curiosity killed the cat! They sure do get into everything! Good luck in the future!
By Marylin (Guest Post)
January 10, 2006
0

found this helpful
Funny, funny story. We had a cat that ate about 3 feet of rope one time. She was acting real weird, so we took her to the vet. He felt around and said she was pregnant. I told him she better not be since he had fixed her. Also, she was in the house all the time. He gave us a laxative to rub on her nose which she licked off and finally passed the rope.
Read More

Comments