As a retired couple, my husband and I were on a budget and this year we need to purchase an artificial tree, but we could not afford it. My daughter gave me two, three foot pencil trees that are normally used for Christmas; they have a burlap base.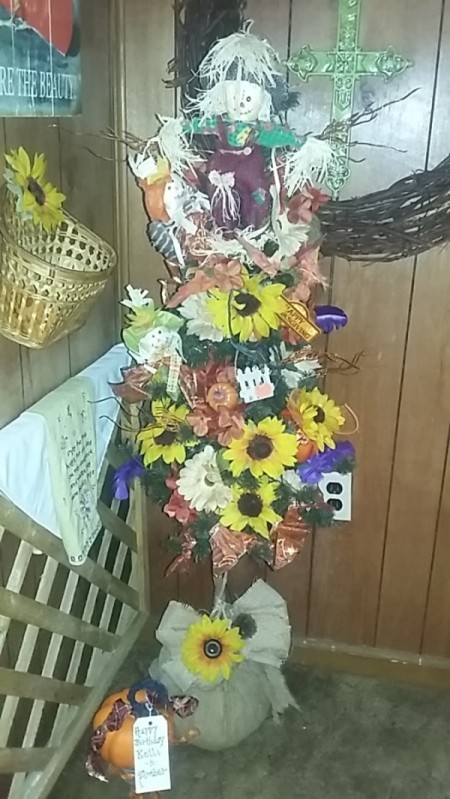 I enjoy decorating for the holiday seasons during the months of September through December in early fall, so therefore I took all of my small fall items plus some artificial flowers, scarecrows, small rosin pumpkins, and other items that pertain to fall and decorated the tree.
The top of the tree is adorned with a scarecrow. At the bottom of the tree sitting next to the burlap base is a small artificial pumpkin on which I placed plaid fall ribbon. I made a sign for the birthdays that are celebrated in the month of October.
After the Thanksgiving meal is complete I will remove the decorations from my fall tree and re-decorated as a Christmas tree and put it on my hearth in my living room in front of a window. The window on the other side of my living room will also be decorated with another artificial pencil Christmas tree decorated for the Christmas season.
These trees are lit with small white Christmas lights. It was quite a blessing to receive these two pencil Christmas trees and then use my imagination on how to use them for the holiday seasons. I have two windows on each side of my fireplace which the trees will be placed and enjoyed during the seasons. I purchase some of the items for my harvest tree at the Dollar Tree and did not spend over $10.