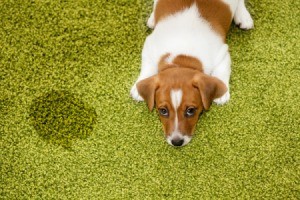 Our Beagle is a year and a half old. For most of her life, we've had problems with her not being able to hold her bladder very long and leaking in the house a lot when she acts like she wants to go out. She's trained with underground fencing in our yard so almost all the time she just wants to go outside and run around, but other times when she wants to go outside to pee, she usually just gets really quiet and acts really anxious/stressed out and starts pacing near a door and before we have a chance to let her out, she leaks. There are a lot of other times where we will just come across a puddle or drips by a door or steps or even just a random spot on the carpet.
We had her on incontinence pills for a while which seemed to help, but eventually those stopped working, we've had her checked for urinary tract infections. She's never shown any signs of pain or discomfort with peeing so we don't suspect any stones. She has never had an accident in her crate and has held it for over 12 hours sleeping. Has anyone had any type of problem like this, is this a behavior problem, can it be fixed?
By David F.
Answers

DCA
Bronze Answer Medal for All Time! 220 Answers
December 18, 2014
0

found this helpful
Best Answer
Your dog clearly has a problem or problems and may also be affected by your frustration about his problem.
Please take him to your vet immediately. He has a problem that must be identified before it can be treated correctly.
Your vet will recommend appropriate treatment and alaso provide advice to help you help your dog. The longer you wait, the more difficult (and possibly more expensive) the problem may become.

December 20, 2014
0

found this helpful
Best Answer
You say she's over a year old, but you don't say she's had a litter of puppies or is spayed.
Female canines who've had a litter of puppies, or female canines who are over a year old and not been spayed, are prone to a urinary tract condition (usually solved with spaying) - you need to take her to the vet as soon as possible because there is NO home remedy for this condition. She is physically uncomfortable and probably a nervous wreck at the thought of having yet another accident that will upset you.
Please, take her to the vet!

December 21, 2014
0

found this helpful
If your dog is spayed, she may be having this problem from having been spayed. Sometimes the vet who has done the surgery can accidentally nick areas that should not be and you end up with this type of problem. There is nothing the poor dog can do to control it. If this happens to be the problem, maybe there is some corrective surgery that can be done to elimate the problem. If not, you might consider doggy diapers. However, they do need to be checked and changed regularly because the dog can develop diaper rash just like babies can.
Answer

this Question