I can't potty train my puppy. She will pee and poo w/out letting me know she has to go. She will be 6 months the middle of this month. She is a precious Minpin.
At times when I take her out and while I am sitting outside with her she goes back in the house and goes! I have swatted her bottom w/a newspaper to no avail. I also have a male dog who turned 2 last month. He does fine. I got him when he was 8 months. I take their food up at 7:00 pm.
I have gotten worms because of the pee in the carpet. I have bought a shampooer so every time I see a spot I whip it out.
Please, any ideas?
luvmy4grandkids from Huntsville, AL
Answers:
Dog Potty Training Problems
I have potty trained two active Jack Russell puppies. When they were puppies I decided it would be kindness and gentleness training only and keeping them to a schedule, including regular walks too. I am home with them all the time so if you are gone during the day it will be much harder. Anyway, I took them outside often and had them confined to a side porch not giving them access to the whole house right away. I took them to the same spot always and praised and petted them. They had regular feedings and no late night meals. If they made a mistake I did not make any comments or punishment, just ignored that it happened and immediately took them outside to "the spot". They are like real babies and they can forget. Giving a dog a bath will often make them need to go, the running water, etc. Always take them out after no matter if they went before the bath. After they were about 9 months old they were trained enough to be left in the rest of the house, still following the schedule every couple of hours. Now they are 1 1/2 yrs old, I can't remember the last time they had any accidents and they are a joy. Love always wins don't ya think? It did for my two fur babies and nicer dogs you will not find. (09/04/2006)
By NellieMary
Dog Potty Training Problems
Crate training should work. Crate the dog overnight. Take the dog out first thing in the morning (pick him up if necessary and take him outside). Feed and water him, then take him out again. The key seems to be to set up a regular routine and the dog will eventually get with the program. There are lots of references on the internet that will help. (09/07/2006)

By Claudia-MD
Dog Potty Training Problems
My English Mastiff, Crash, will be 6 months old Sept. 8th and weighs 110 lbs. Every morning he will go out and pee and try coming back inside. I know he'll poo in the house right afterward if I let him in. I redirect him from the door and walk out a ways with him and say "poopie for treat" (I use the food reward method, could that be the reason for his size?lol!). I hope the neighbors don't hear me or they probably think I'm crazy! After he does it (about 95% of the time) I say "Good Poopie!" and he comes in, goes to where the treats are, sits, gives me a "high five" and "takes nice". This is our routine. I am very consistent with it. I always praise him and give him treats and say "Good (whatever it is he did, Good Sit, Good Peepee, Good Wait, Good High Five, etc.)" In the beginning, I let him out every 30 minutes and started keeping a log of his food intake and potty schedule. I am home with him and let him out about every two hours and immediately after he wakes up from a nap. He sleeps through the night in his crate with no accidents. Now I am working on teaching him a way to alert me when he wants to go out. He hasn't caught on to my Great Dane's "dance" yet!
Have you had her stool sample examined by the vet? You should have her on some sort of heart worm preventative (I use Sentinel which controls fleas as well). These are not that expensive and control other types of worms (Crash had Roundworm when I got him at 6 wks of age). I pay only $24 a month for enough preventative for both of my "giant" dogs, it's worth the peace of mind! A MinPin would be much much cheaper.
We still have occasional accidents, but he's growing out of it pretty well. They are really like having babies aren't they?
JoAnn in Elkhart, IN (09/07/2006)

By washburn6394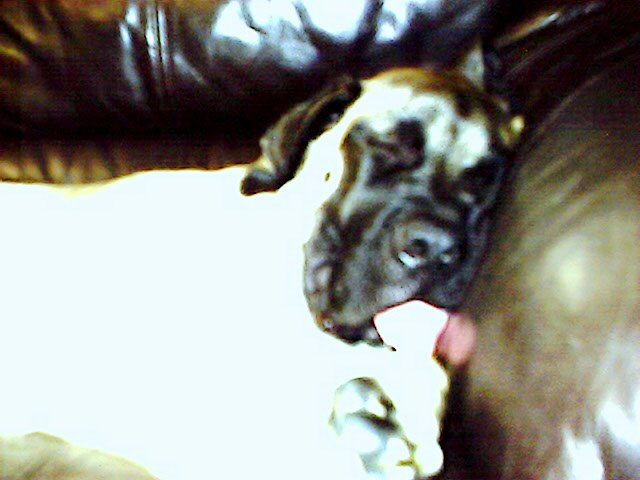 Dog Potty Training Problems
Hi. I have a Shipoo and he'll be 3 months in just a few days. He actually has been doing GREAT in the potty training department. I tried the crate thing with my other puppy, as well as, the training pads and neither worked at all. The only method I have actually found to work with a shipoo is keeping the puppy in the bathroom with a blanket and toys while I am away. Then taking him out right away when I get home. I was actually told by my vet that keeping the puppy in the bathroom while you are away allows him more room to walk around and play. He is less likely to go in the house or in his cage out of spite, they are true accidents when he wets the bathroom floor. And then when I am home I leave the back door open onto my deck. He goes out by himself when he has to. I really like the bathroom training technique, though it's not talked about in training books! Hope that works for you like it has for me if you try it! (08/26/2007)

By Alex
Dog Potty Training Problems
Crates are a SUPER method for house training a puppy if used properly. Several key points must be followed to make the crate a useful tool:
1) Size must fit the dog. If the crate is too big the dog will go to one corner and potty in it because he/she is able to get away from the mess. The dog should be able to stand up and lie down comfortably, but not wander around.
2) The dog must be on a schedule. Dog is in crate at night, comes out first thing to go potty. Then has breakfast, then back out to potty. If dog pottys outside then give dog 15MINS of playtime outside the crate... then back outside to go potty. If dog goes, then gets 15 mins more supervised time out of the crate, if doesn't potty then goes back int he crate. Continue the routine until dog routinely goes potty EVERYTIME taken outside.
3) YOU MUST GO OUT WITH THE DOG EVERYTIME! If you don't go out and take the dog to the potty spot, how will you know if they went? Also, praise the pup and give a tasty treat when they do go potty.
4)After eating, naps, play the pup will need to go pee and poop, so be sure they go when taken outside or back into the crate they go.
5) If an accident happens, chalk it up to the fact YOU didn't follow the schedule and whack yourself with a newspaper. If YOU follow the schedule and provide true supervision, you should be able to prevent 99% of accidents. Hitting and nose rubbing only teach the dog to go hide and find a place to potty, it doesn't house train. Sheila (01/10/2008)
By leshia27
Dog Potty Training Problems
There is a new innovative dog potty called The Pet Loo. It has perforated synthetic grass to create a urine drainage system. The urine then flows through a tray that is slightly slanted. The tray is slightly slanted to create a gravity force that pushes the urine through a small hole and into a small catchbucket. The catchbucket is then emptied by using the handle to remove it.
For more information, please visit - http://www.dogservicenetwork.com/thepetloo/general_info.html (05/31/2008)

By Dog Service Network