Easter Egg Sound Matching Activity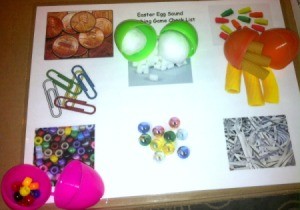 An excellent pre-school activity for your little ones is easy to make using plastic Easter eggs and various inclusions. Guessing what is inside the egg is a fun game for 2 or more children. This is a page about putting together an Easter egg sound matching activity.

Games and activities that created noise were always very popular in my pre-k classroom. One of their favorites during Easter was this sound matching game, which is best played with 2-3 kids. Most thought it was fun to rely on their ears to determine the items inside the eggs. There was a lot of laughter and chatter from the discovery center! You could also tweak the activity for hearing impaired students. They could rely on their sense of touch or take hints from their classmates.

Total Time: 15 minutes
Yield: 1 activity with many possible variations
Source: Google images for item photos
Supplies:
1 egg carton
8+ plastic Easter eggs of different colors or patterns
2+ each egg fillers for noise (pennies, macaroni shells, cotton balls, paper strips, erasers, beads, paper clips, & marbles)
1 piece of printer paper
Google image or your own picture of each egg filler
laminator with 1 sheet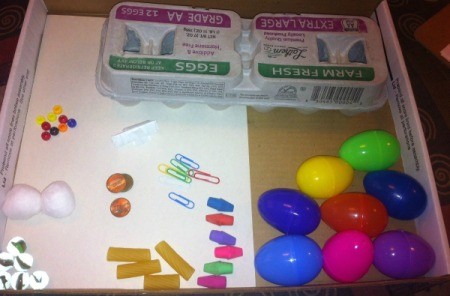 Steps:
Find Google images of the egg filler items. Copy and paste them on a Microsoft Word document and type the title, "Easter Egg Sound Matching Game Check List". You can of course use different items in the eggs and tweak the title. Laminate the sheet for durability.

Fill each egg with something different. I found that it was better to use at least two of an item to optimize the noise. I used marbles, cotton balls, pennies, paper clips, beads, macaroni noodles, erasers, and a strip of paper. Some of my students had just turned four when playing this game. With explanation and a little scenario role play, kids are careful to avoid putting the items in their mouths.

Close the eggs and place them in an egg carton. This serves as the perfect storage container. I chose eight matches for pre-k, but you could always increase or decrease that number depending on your child's level and age.

Have your child shake each egg and use the check list to guess what the item inside could be. They can lay the items or eggs out on the sheet. Younger kids could also make a guess prior to looking at the sheet. Older kids could number each item, write down educated guesses, and then use the sheet to write down new guesses.
Published by ThriftyFun.
© 1997-2022 by Cumuli, Inc. All Rights Reserved.
https://www.thriftyfun.com/Easter-Egg-Sound-Matching-Activity-1.html