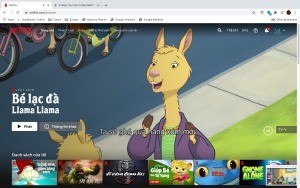 I am raising my kids bilingual while living in the US. I am always trying to find ways to help my kids be exposed to the Vietnamese language more. One way that I do this is through children's shows that have Vietnamese. You can find a few things on Youtube and through Vietnamese movie sites but the quality is hit or miss. In the last couple years, Netflix has been increasing the number of shows that it has dubbed in Vietnamese or has Vietnamese subtitles. I have been really happy with the quality of the audio coming from Netflix.
It can be a little tricky finding the shows on Netflix that offer Vietnamese. I recommend that you use a web browser to find the shows in Vietnamese using this link: https://www.netflix.com/browse/audio/vi
Netflix does not have a way for you to search on type of show within this language search but, at this time, there are not a whole lot of options in Vietnamese so it is pretty easy to pick out the children's shows from the list. (Below I have added links to some of my 3-year old's favorite shows). From here, you should add the shows you would like your child to watch to your child's playlist because if you use a TV, iPad, or phone to watch you can not find this search option.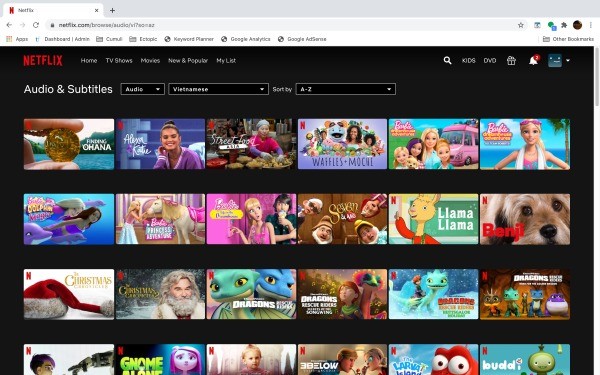 In a web browser, you can also find this link when you are in your account by scrolling to the bottom of the screen, there you will find the button that says "audio and subtitles," this will bring you to the search function to be able to search for shows that have audio in Vietnamese (or any language that you are looking for).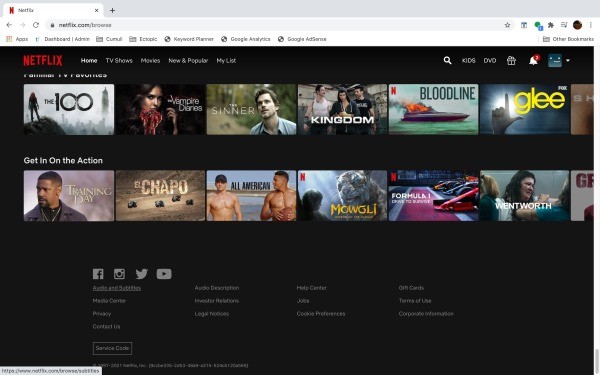 If you only have access to a tablet, phone, or TV you can also use the search field and type in Vietnamese scroll to the bottom and then you can choose "Vietnamese Audio" but let me warn you, doing it this way comes up with a lot fewer options in the list.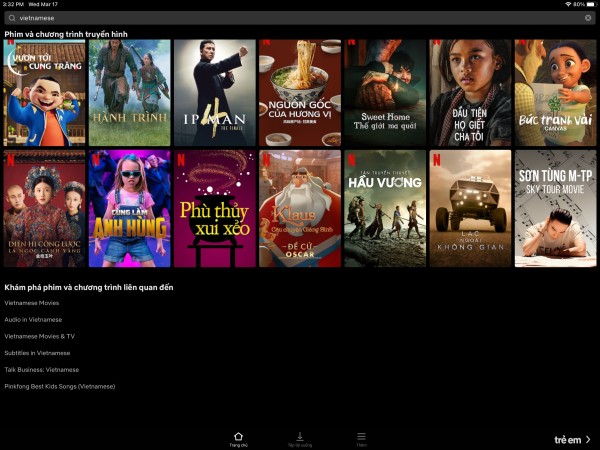 Sometimes I have had difficulty having Vietnamese come up as a choice in the audio and subtitle pull down on a show, even if I know that the show has Vietnamese. The fix that I have found is switching the language of my profile to Vietnamese. In order to do this you need to click the "manage profiles" button and then click on the profile you want to edit, then in the language drop-down choose Vietnamese (Tieng Viet) from the list and save your change.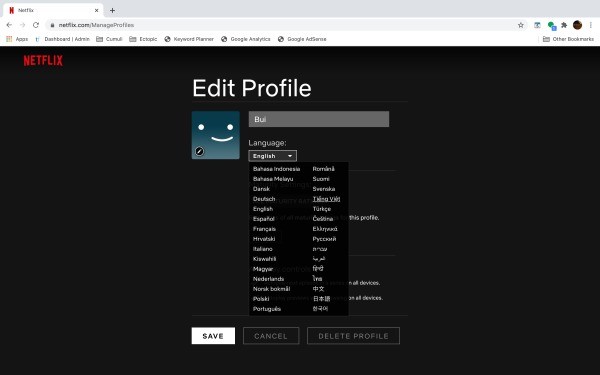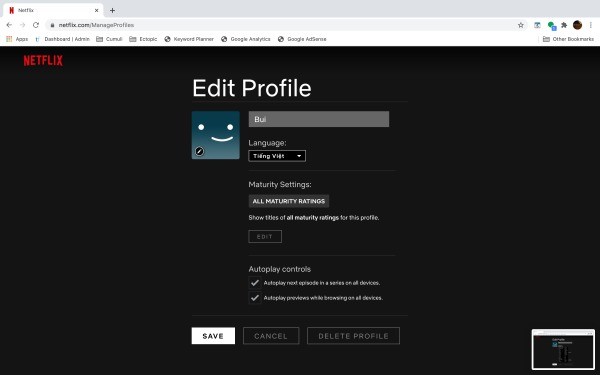 Great Children Shows in Vietnamese
My daughter is 3 and some of her favorite shows that have Vietnamese audio are:
Simon
-
https://www.netflix.com/browse?jbv=80227186
Tayo
-
https://www.netflix.com/browse?jbv=80142000
Word Party
-
https://www.netflix.com/title/80063705
Llama Llama
-
https://www.netflix.com/title/80115338
Super Monsters
-
https://www.netflix.com/title/80124711
She likes these shows in Vietnamese so much so, that if they start playing in English, she asks for the language to be switched back to Vietnamese.
Free Kids Shows in Vietnamese:
Here are the free kids show in Vietnamese that we have found on YouTube that we like.
Peppa Pig -https://www.youtube.com/channel/UCxeoWTyTJUppaRU3v5zcolQ
Pops Kids - https://www.youtube.com/channel/UC5ezaYrzZpyItPSRG27MLpg
Not all of the shows are available in the US but they may work in other countries.
Vietnamese Alphabet Song - https://www.youtube.com/watch?v=IuV2y5te2o4
This is a Vietnamese alphabet song that my daughter likes.
Do your kids watch shows in Vietnamese? Leave a comment on which shows and what platforms you like to use.