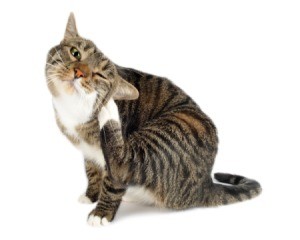 I had some outdoor cats that brought fleas in the house. My first response was to reach for the chemical sprays and get rid of them ASAP.
I tried 3 different sprays and they made a difference, but nothing got completely rid of them. I sprinkled salt all over the carpet and that didn't stop them either. I found a recipe that worked very well with vacuuming every day for a week. Spray this every 7 days for at least 2 -3 weeks.
Ingredients
1 gallon vinegar
1/2 gallon water
16 oz. lemon juice (I just bought the cheap lemon juice)
8 oz. witch hazel (found in Walmart pharmacy section)
Yay, we are flea free now! I hope this helps. You can also spray this on furniture, walls, etc.
Source: I found this recipe online, but can no longer locate the source.
By cabincove from Ft. Worth, TX
Comments
November 23, 2014
1

found this helpful
Top Comment
I have 3 cats and I've researched and tryed many remedies for fleas.I can not stand the smell of vinegar, but neither can fleas and other pest (black flies,spiders,bees). It works wonders! Use regular white vinegar for carpets and fabrics (it makes clothes softer).
If you decide to put vinegar in your cats/dogs water, use apple cider not white (approx.1/2teaspoon per med. bowl) again one half only (fleas will not like the taste of your pet and the vinegar will not hurt your cat). NEVER use garlic for your pets, it can poison them to death!
Witch hazel looks like alcohol and helps with the iching and lemon juice is a citrus a fleas can't breath well around it. Dawn dishwashing liquid has a blue dye in it that poisons the fleas but will not hurt your pets
Can you spray the witch hazel/vinegar mix right on the dog?
By Jo Sloan M.
Answers
December 2, 2014
1

found this helpful
Best Answer
Yes! And the fleas die instantly. I make a flea spray that consists of essential oils that works beautifully. Here's my recipe:
1/2 cup witch hazel
1/2 cup apple cider vinegar
12 drops of Lemon Tea Tree (kills fleas and ticks)
4 drops of Eucalyptus (Flea Repellant)
4 drops of Cedarwood (Flea Repellant, Skin and Coat Conditioner)
10 drops of Lavender (anti-bacterial, anti-itch, and calming. This is the best oil to use for about all common animal ailments. It is a great first aid oil soothing to skin irritations, such as rashes and hot spots.)
*Palo Santo is also an excellent essential oil. One drop kills ticks dead. My Boxer had a blood-filled tick latched on to him and my husband wanted to pluck it out. I suggested we try the Palo Santo. We put one drop on the tick and it died and fell off our dog. My husband was blown away. 0=)
Another option for the recipe above is to replace the Lemon Tea Tree and Eucalyptus with 10 drops of Palo Santo instead.
Here's to flea-free pets!!
Answer

this Question

...