How does one get rid of bed bugs apart from the wet soap trick?

By Adrian from Beograd, Serbia
Answers:
Getting Rid of Bed Bugs
I've heard (through the ThriftyFun site) there is an organic product called diatomaceous earth. I don't know if it's available in your area, but I hear gardening centers in the US have it. From what I've heard, it's quite effective. It apparently works by "drying out" the bugs, sucking away their moisture until only a dry husk remains.
Logic tells me you could sprinkle this all over your bed first thing in the morning and vacuum it away in the evening. I wish I had better information to offer. However, if you search the internet for this phrase, "diatomaceous earth", you should be able to locate the product.
One caution: Others who recommend the product advise to get only "garden grade", not "pool grade". (07/20/2010)

By JustPlainJo
Getting Rid of Bed Bugs
There are tons of entries on this, and I don't think that anything easy is the answer. My mother, who is 80, said that everyone had bedbugs until DDT was introduced. If thyme or soap or other home remedies worked, I am sure that they would not be the problem that they are. Of course, one cannot use DDT anymore, but I think a professional exterminator with experience with bedbugs is the best solution. (07/28/2010)

By louel53
Getting Rid of Bed Bugs
The main problem with bedbugs is they are persistent blood suckers causing serious itching and sleeplessness. No sleep for several days makes one tired and scared to go to sleep. The only way to deal with them is by being persistent and kill them.

I was infested for the past six weeks and got the apartment sprayed by an exterminator two days ago. I got infected by my neighbor who moved from Ohio with bugs, 4months ago. I was with less sleep for more than a week and last night I slept like a baby. One spraying doesn't eliminate the problem, if heavily infested. It requires two more visits, 2 and 3 weeks later on. The exterminator may not have killed all the eggs, as he does the spraying with sight and intuition, and it's difficult to spot all possible hidings and egg laying.

The mentally draining part is preparing the house for exterminator visit. Believe me it's tiring. Strip beds and wash all sheets, pillow cases, mattress pads, blankets, comforters, and bed skirts. Remove everything from bedroom closets and dresser drawers and place in plastic bags. Remove headboard and bed frame; remove all curtains and wash. Vacuum all floors in infected rooms; vacuum couches, chairs, closets, and closet shelves, shoes, and dresser drawers. After vacuuming throw away the vacuum bag sealed in a plastic bag. After doing all this, I felt like I should end my life.
Discard all clutter: cardboard boxes, newspapers, stacks of magazines, shopping bags, plastic bags, and stacks of old clothes.

Now the physically tiring part. Access is needed to baseboards around every room. Move all things touching the walls to 2 feet from the baseboards in all rooms. All rooms should be vacuumed thoroughly. I was so tired and with no sleep, I wanted to die or walkaway from it all.

Bed bugs are a serious problem. They attack you, not when you're moving, but when you're quiet and asleep. In your sofa they attack you when you're engrossed in the movie plot and are not moving. On the computer table at the keyboard they wait for you and if your hand or legs are not moving, they attack you. They are very persistent. Once infested, they know exactly where all the places you'll be: sofa, computer table and chair, dining table, etc. and wait for you. They colonize all over. You can't outsmart them. If you're infested in bed, and move to the couch, you may sleep OK for a day or two, but very soon they'll be there in large numbers. If you move to the spare 3rd room, you may sleep OK for 2-3days; but on day 4 they are there, too. These little blood-thirsty Draculas are looking for food, and they chase you all over. They are usually not found in kitchen or bathroom. Why because in kitchen one is cooking and fidgeting and to the bathroom it's a quick visit.

The important thing is the diagnosis and how soon you do it to contain the problem. It took me 6 weeks to diagnose the itching problem as bed bug related. 6 weeks ago, the first week I noticed itching on feet and hands, real serious itching to the point of peeling off the skin. I thought it was poison ivy and treated it. Second week, I thought it was a food allergy itching and was contemplating Benadryl. 3rd week, I went for a stomach purge with a purgative; 4th week I was on vacation in the mountains. This is when I noticed no itching and sound sleep. Wow. I came back home, and the 5th week the itching started again. This is when I have decided to go see a doctor. In sixth week, one night I was tremendously itchy at 4AM and got up and noticed bedbugs crawling into the crevices on the bed. I immediately went to the living room and slept on the floor and got up well rested and was very happy. I reported the problem to the landlord and slept on the floor for the 2nd night also, peacefully. The 3rd night was when I noticed that they are on the floor carpet, too. I even slept in the bathroom.

How to find if you're infested: Did you notice serious urge to itch on the exposed parts of the body like feet and hands. If you sleep without a shirt then on your back, too. Is this itching and urge to scratch more active between 2AM and 4AM. They are very active at this time of the day, because you're in deep sleep in those hours. If itching urge wakes you up, switch the light on or use a flash light and look for bugs running to their hiding place. They usually hide under the fitted mattress case, seams, and crevices.

How to deal with them? I used isopropyl alcohol (91%) in a spray bottle and sprayed on bedding and other cloth items. Instant death. For hard surfaces, computer table chair, coffee table, dining table and chairs I used Clorox spray with bleach, it's strong and kills them. The bed is the main place where 90% of the bugs live. Why because you spend 8 hours sleeping there, quietly. Of course you also spend 8 hours near the computer and TV, but you're moving on the swivel chair or changing the channels on TV or going to the restroom, dining, etc. Orange Guard also works.

Bed bugs are persistent and you can get rid of them by being persistent. When you notice one switch off the TV and cell phone, and start spraying. Follow them to their hiding place and kill eggs and babies. Even after professional services, if you notice one, search and destroy. The only way to get rid off them is by killing them, their eggs, and extended families. Rubbing alcohol and Clorox cleaner with bleach was recommended by other people on the internet. The exterminator has access to stronger sprays, which he used on: the bed, bed seams, box spring and all corners, all baseboards in all rooms, computer table and chair, couch and sofa and also on cushion seams, and carpet. I feel OK now, until the survivors regroup and attack. This will be dealt in 2 weeks and the final spray is in another 3 weeks. I've noticed that my computer chair made me itch and it has lots of crevices, so I threw it away. I threw my pillows and fitted sheets away. As per the recommendation of pest control guy I've purchased from Walmart, Allerease Bed Bug Allergy Protection, which is a zippered microfiber mattress protector. (see attached picture) My bed and box spring are now encapsulated in a zippered bag. This is precaution against the eggs which might hatch in the mattress and boxspring and might reinfest. Make sure it says bed bug protection on the zippered case.
All this physical and mental strain makes one depressed, tired, and angry and this coupled with sleeplessness creates a phobia. I'm getting over it and slept the past 2 days, happily.
(08/30/2010)

By bedbugs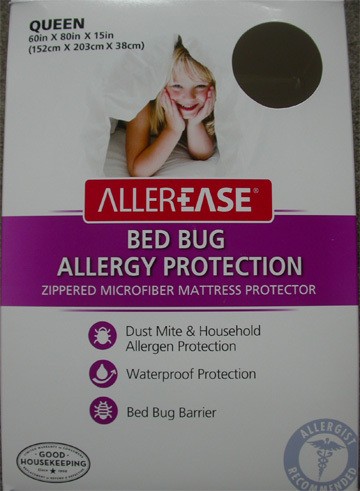 Getting Rid of Bed Bugs
If you don't want to hire an exterminator, you could do the following: Get spray bottles of alcohol and Clorox (see pic below) and also Orange Guard. See my other below long post on how to prepare for extermination. Get rid of all the clutter.

The first place to clean is the bed, where 90% of the bugs are found. Slowly lift fitted sheets and notice bugs and little bugs and eggs. Spray isopropyl 91% or use Orange Guard. (Don't use Clorox on cloth items and sofas; it bleaches them.) Cover all 4 sides of the bed and top and bottom seams. Spray thoroughly even if you don't see bugs, because it's difficult to see eggs. Do the same for boxspring. Put all sheets, fitted sheets, pillow cases, and all blankets in a big trash bag. Wash these at a Washeteria washing machine and not in home machines. The washeteria has professional, industrial strength machines and your machine can't match it. Wash and dry at hot. Spray on baseboards. Spray on computer chair and table. Spray on sofa and cushions, seams, and all over. Wash all clothes you think are infested in hot. That's it.

Encase the bed and boxspring in bedbug cases (see picture of my bed and boxspring, enclosed in bedbug case, from Walmart). See pic in my other long post for Bedbug case pic. I also applied Vaseline to the 4 legs, to discourage bugs from crawling up. Any questions, please ask. (08/30/2010)

By bedbugs
Getting Rid of Bed Bugs
Here's the picture of isopropyl alcohol 91% and Clorox with bleach. These sprays kill them instantly. (08/30/2010)

By bedbugs