I am looking for a chemical to use to control fire ants. Can anyone tell me what we can use?

By Gracie from Bastrop, LA

Answers:
Getting Rid of Fire Ants
There are a lot of different remedies out there for getting rid of fire ants. The link is to a web page that is all about fire ants and how to control them. If you don't want to use chemicals, you can do a search here at ThriftyFun. Lots of folks have given some good tips on controlling fire ants.
http://www.getridofthings.com/get-rid-of-fire-ants.htm (04/23/2009)
By Joy
Getting Rid of Fire Ants
Yes, I believe you can use Semolina. Place a few grains at and around their little pathways where the nest is located. It seems they bring the grains back to the queen and when she eats it it swells up inside her and kills her. Without a queen the ants move their home. I found this remedy on another gardening site just last week. (04/23/2009)

By Johnnie
Getting Rid of Fire Ants
This is gonna sound really weird, but use urine on them. Really. It's natural and it moves them. If you have grandsons or even teenagers, have them go around the yard and pee on the ant mounds. When my son was little (5-7) I asked him to do the cracks in the driveway and around the mailbox. They were gone. Why not be eco friendly? (04/23/2009)
By MaryKay
Getting Rid of Fire Ants
Baits can work the best for the least amount of money. Try Amdro or Maxforce from your big box store and it should work just fine. Good Luck. (04/25/2009)

By Jerry
Getting Rid of Fire Ants
Ah yes, those pesky fire ants. I have just spent the last 3 days getting rid of an entire nest of them in my back yard. I tried everything in the past and the "only" one that works is AMDRO Fire Strike and my neighbors, who also garden, agree. You "must" follow the instructions, such as do not disturb the nest before putting the AMDRO on, just sprinkle it all around the nest after the dew dries on the ground in the morning.
The worker ants come out of their underground chambers and get the "food" and take it down to the queen. This product kills the queen and if there is no queen, all the ants disappear. I do this about 3 days in a row and voila, no more problems. I included a photo of the package so you can see the product, but in case the photo doesn't show up, it is in a bright chartreuse green bag with brilliant red letters that say FIRE STRIKE across the top.
I get it at Lowe's and/or Home Depot. It's about $19.00 for 5 pounds but worth it. Fire ants are very dangerous and the scars on my legs prove it. Good luck. (04/29/2009)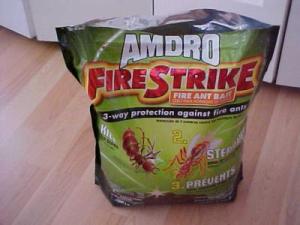 Getting Rid of Fire Ants
Fight fire with fire. Purchase a jar of hot red pepper flakes. Pour the entire jar of red pepper flakes into a container (1 quart) of water, stir and let it sit a few days. Pour it on the ants, ant holes, etc. Good bye ants. You can also strain the liquid into a spritzer bottle, but please be very careful you don't get it into your eyes and for heaven sakes, don't sniff the pepper water. Keep pets and children far away from this. (04/29/2009)
By Anne
Getting Rid of Fire Ants
I lived in Lafayette, LA for about 20 years. Aren't the fire ants awful? I used raw grits and sometimes boiling water. Both worked overnight. (04/30/2009)

By Janet
Getting Rid of Fire Ants
We have a lot of fire ants in Texas too. My husband uses Ortho Orthene and that works very well. (05/01/2009)

By Pam