We have large red ants and mounds all over our property, and all through our vegetable garden. Does anyone know a good way to totally get rid of them? We want them out of our garden for good, and obviously we need something that will not harm the plants, vegetables or us when we eat them. Can someone help please?



Natalie from Richfield, UT

Answers:
Getting Rid of Red Ants
Try baking soda and icing sugar mixed together. Always works for me! (07/06/2008)
Getting Rid of Red Ants
Ortho Fire-ant Killer is the best and fastest way to get rid of fire ants. I've tried everything on the market and every homemade remedy I knew of. This is the best ever. I sprinkle just a little on the mound. Within a few hours the ants are gone (and they don't come back).
(07/07/2008)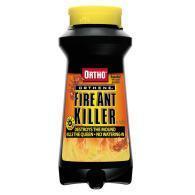 Getting Rid of Red Ants
I just recently read that cornmeal sprinkled all over the area is good. I tried it and can tell you many of the little pest in the garden are gone, including the red ants. They also don't like vinegar or ammonia. I use them around the house and door and stairways at home so they don't come in. Good luck! (07/08/2008)
By Roni707
Getting Rid of Red Ants
I use Epsom salts mixed with ground up orange peels that have been left in a jar overnight so the orange oil can soak into the Epsom salts. Sprinkle it around any place you see ants and in ant mounds and they will move away quick. Here is the website I first found this on.

(07/09/2008)

By Evelyn Rios
Getting Rid of Red Ants
I have heard about this method, though I have not tried it. Place grits (for red ants) or corn meal (for black ants) around the mound. The ants will carry it back into the mound, feed the queen and when the grits rehydrate inside the stomach of the ant, say bye bye to your ant problem. (07/11/2008)

By Phyllis