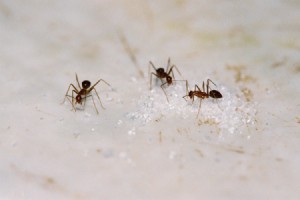 Sugar ants are a real nuisance and hard to get rid of. We've fought them off and on for the last 4 years. I've even posted on here before (as have many others) about using a solution of Boraxo/boric acid mixed with sugar for them to take back to the nest. Unfortunately, I have found that this is usually a temporary fix, as they just keep coming back. I've even heard they'll build nests in your walls.
To get rid of them on a more permanent basis, you're going to have to treat outside around your house too. The summer before last, we had a real problem with them. We'd get rid of them, but they'd be back in a few weeks in another area of the house. Finally, I bought a bag of insecticide granules and sprinkled it completely around the foundation of the house out to about a foot away, making sure to get it right up against the foundation too. To easily sprinkle, put the granules in an empty Pringles-type container and poke holes in the lid. Be sure to read the directions on the insecticide to see if you need to wet it afterwards.
I also continued to "feed" the little monsters in the house. Also, doing as I usually do, I kept a spray bottle of soapy water on the kitchen counter to spray any I saw. Within days, they were completely gone and never came back the rest of the year!
This spring, we didn't treat around the house and as soon as it warmed up, here they came. By mid-summer, they came back with a vengeance. I'd never seen it so bad! I'd spray, kill, and wipe ants away every time I'd go in the kitchen, but when I went back in, there'd be more. At one point, I sprayed more than 50 ants on the counter and 15 minutes later, there were more than 50 more, for hours! They spread from one counter to the other and into my stove. It was a nightmare!
And no, my kitchen was not dirty and I had everything in plastic. We've had a major drought here and they were coming in for water (one year we even had them build a nest in the dishwasher).
It took me a month to remember that we hadn't sprinkled around the house; they were coming in through the foundation. I was outside at midnight with a flashlight and my insecticide taking care of it! Within days they were almost all gone and within a week we didn't see another ant and haven't seen one in months!
This spring, I'm going to be shaking my can as soon as it stops snowing!
By Judy = Oklahoma from OK
Comments
Read More

Comments

Jess
Silver Post Medal for All Time! 267 Posts
We have been battling sugar ants all month long. We started noticing them coming into the house late in February, when the spring rains started.
As this is a yearly ritual, I put ant bait in the usual places; on my kitchen windowsill, near the dog's food, under the fridge.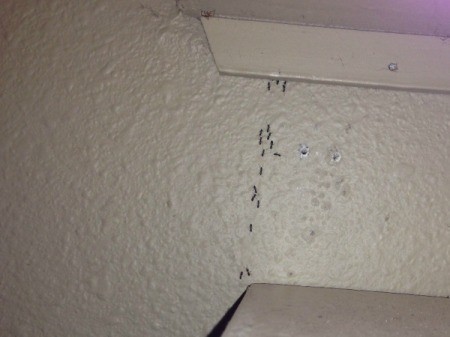 Read More...

How can I get rid of sugar ants that have been appearing on my body? I usually see one at a time 4 or 5 times daily. Are there any soaps or solutions to apply?
By charlie from Pompano Beach, FL
Answers

December 14, 2009
0

found this helpful
Best Answer
Try wiping down every thing with bleach.

December 18, 2009
0

found this helpful
Best Answer
We use Neem shampoo and soap for our body. Works for all kinds of different critters, bugs. We also use it on our dogs. As far as getting the bugs to stay out. We do NOT use chemicals what so ever and have had great luck with cinnamon and diatomaceous earth. I even put that stuff in the couch to keep out the kissing bugs, works great!
Sprinkle both together along the windows and doors and anywhere critters get in. I've seen the Diatomaceous earth kill black widows! We also use it in our chickens food and dogs food to rid of internal parasites and worms. For some reason, even if your house is clean, bugs still find it nicer to come in!
Answer

this Question