We have been battling sugar ants all month long. We started noticing them coming into the house late in February, when the spring rains started. As this is a yearly ritual, I put ant bait in the usual places; on my kitchen windowsill, near the dog's food, under the fridge. I didn't see too many around so I felt like I was on top of things. I was wrong.
Both of my teenage sons were complaining about having ants crawl on them when sitting in their rooms. I figured there was probably some source of leftover food in there and set them both to find it. My oldest started cleaning around his desk and garbage when he noticed a trail of ants going into one of his drawers. We discovered an entire ant nest layered between stacks of leftover papers. Yuck! I didn't have the presence of mind to take a photo before we cleaned it up for that one. After that, both rooms have been kept much cleaner. But we were still seeing ants around.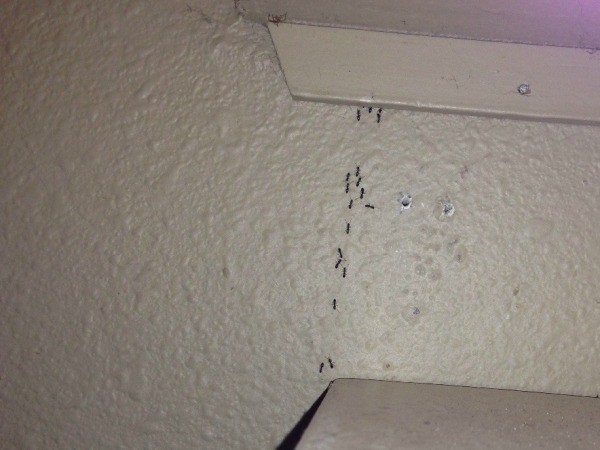 About a week later, we were doing some cleaning and rearranging in the living room, preparing for a family visit. My younger son discovered a small trail of ants climbing between a stack of tiles and the window molding, in the back corner. The tiles are on a low plant shelf which contained several different potted plants. Under the tiles were hundreds of black ants and what appeared to be just as many yellow eggs. The ants had made another nest!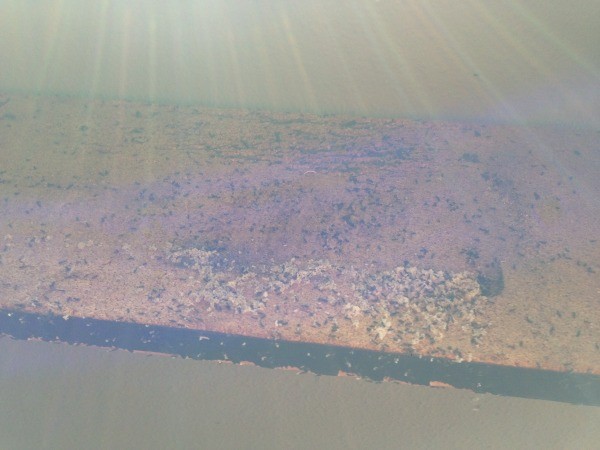 We have cleaned up this new nest and the surrounding area, and have left the houseplants outside for the time being. There are still new ants wandering around though so I'm keeping an eye on the different places they might try to live next. In past years, we have found ants making nests under our spare refrigerator, inside our coffeepot (yuck!) and inside houseplants. They are always looking for areas that are dry and warm, with access to a food source.
Like slugs and aphids, ants are a part of a healthy ecosystem. Instead of eradicating them, we simply want to keep them out of our living spaces. Here are the three steps to discouraging these unwanted pests.
Remove Food Sources
Keep your kitchen and bathroom clean and organized. Make sure food waste is not left in bedrooms, especially sticky wrappers or fruit peels. Rinse dishes and recycling and take garbage and compost outside regularly. Raise dog and cat food off the ground. I keep my fruit bowl in the center of the kitchen table and the ants almost never climb up.
If you see wandering ants, wipe down the area with vinegar or an all purpose cleaner to prevent others from following their path. If you see a line of ants, note where they are coming inside so you can stop them at the source before you wipe it down.

Keep Them Outside
There are people who recommend planting strong smelling herbs, like mint around your house to deter insects. I have not found this to be effective as I often see ants right near my patch of mint all the time. I know that certain types of flowers and fruit can attract them, like peonies. I would keep plants like these away from the foundation to help keep the ants outside, where they belong.
Cinnamon is my favorite way to discourage ants from certain places. You can get very cheap spices at the dollar store. I bought a giant size cinnamon powder at Costco awhile back which I have been using with abandon whenever I see ants that I can't deal with right away. The cinnamon scent seems to really confuse them and they have trouble with powder substances, which is why chalk lines are sometimes effective. In my experience, nothing will keep them away forever.
I have also used pure cinnamon oil to wipe down entry points. Other strong smelling oils, like tea tree oil, are said to work as well. The oil itself makes it difficult for the ants to cross. But these are only deterrents, you really want to make sure to get poison back to the queen or it is a never ending battle.

Kill The Queen and Nest
The most sure way to get rid of ants is to hire experts in pest control to take care of them for you. Most companies have special rates to come out every year. They often spray around the foundation and also leave special bait which kills the queen and nest at the source. But there are other ways to accomplish this at home, especially if you are on top of the first two ways.
I have had good success with boric acid based baits, like Terro brand. You can make this bait yourself with borax and sugar but I haven't tried to make it yet. I have also heard people recommend mixtures of baking soda and sugar, Splenda or other artificial sweeteners or cornstarch. I know from experience that ants are very attracted to artificially sweetened mouthwash but it appears to kill them almost immediately.
Another good tip is to pour boiling water into all your sideway, driveway or patio cracks. The ants live on the underside of the concrete slab of our patio, which you can tell by the small piles of dirt which pile up. The non toxic boiling water will kill the entire nest and is very effective for weeds.
If you have any other tips about dealing with these tiny black pests, please share it in the feedback. Good luck!