Getting Rid of Your Old Books

EllenB
Gold Post Medal for All Time! 858 Posts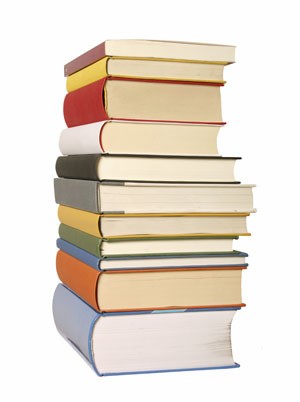 As a writer (and literary packrat), I periodically find my nightstand and the shelves of my office bookcases sagging under the weight of enormous stacks of books. I seem to accumulate them without even realizing it, and admit that in the case of some of them, such as my recent flea market find, "WWII Veterinary Care Manual for Horses," I never get farther much than the table of contents.
I'm a softy for stray books (and animals) and I can't bear to part with them unless I know their going to good homes. If you're like me and your bookshelves are about to buckle under the strain of unused books, here are some ideas for lightening your literary load.
Donate them to your local library. If your books are relatively new, your local library may accept them for circulation. At the very least, most libraries have annual books sales as a way of raising funds to purchase new titles. If they can't use them they may have suggestions as to who can.
Seek out local organizations and businesses. Try schools, nursing homes, community centers, hospitals, dentist offices, senior centers, women's shelters, homeless shelters, the Goodwill, the Salvation Army, jails, child care facilities, thrift shops, veterinary clinics or any business or organization you can think of with a waiting room.
Bring them to a used bookstore. Many bookstores specializing in used books will either give you credit, make a trade or buy back books that are in good condition. Some may also offer to sell them for you on a consignment basis.
Pass them on to your friends, family and co-workers. You're likely to acquire some new reads in return, but at least your old books will be enjoyed by new readers. Swapping books within your inner circle is also a great low cost way to expand your literary horizons and expose yourself to other points of view.
Box them up and put them in the break room at work along with a "free" sign. This tactic has worked well for me on a number of occasions.
Give them away as gifts. When you're willing to surrender your prized copy of War and Peace to someone, you're definitively sending them a message that you hold them in the highest esteem.
Hold a neighborhood book swap. If you have children, ask them to choose a few books they might be willing to part with and bring them along. This is a great way to foster relationships with the people in your neighborhood. Not so fond of your neighbors? Join the folks at PaperBackSwap.com (http://www.paperbackswap.com/index.php) and swap your books online. Similar sites include www.bookins.com and www.americasbookshelf.com.
Read them and set them free! Bookcrossing.com is the world's largest book online club. Their goal is to make the entire a world one big free library. Members log on (free of charge) and enter their favorite books into the site's database. Each book is then assigned a unique ID number. Readers can then download a ready-made ID label, tag their book and leave it in a public place to be serendipitously picked up and read by others. The ID label encourages the books' finder to visit the site and report finding the book. You can watch online as your book travels around the world and read the various reactions of the people who find your book! http://www.bookcrossing.com/
Sell your books online. There are dozens (probably hundreds) of auction sites and booksellers online that connect buyers to the sellers of used books. Check out www.amazon.com, www.half.com, www.trussel.com and http://www.usedbookcentral.com. To sell used college books, try www.ecampus.com, www.bigwords.com or www.bookbyte.com
Freecycle them. Hundreds of communities across the country have set up freecycle groups where people can post items their willing to give away. To find one in your area (anywhere in the world), visit www.freecycle.org, www.freesharing.org, or www.sharingisgiving.org.
Send them overseas. Check with the churches in your area. Many will collect books for various charitable organizations abroad. The University at Albany keeps a directory of book donation programs worldwide, including tips on how to donate. Visit them at http://www.albany.edu/~dlafonde/Global/bookdonation.htm
Finally, if you don't want to re-read them, try and reuse them. Thick, hard-covered books can be turned into boxes to hide keepsakes and small valuables by gluing the pages together, cutting out a compartment in the pages with an exacto knife and lining the inside. Salvage interesting covers and bind them with writing paper to create a journal, or cut out pictures from your favorite books and make a literary collage.
Comments
Read More

Comments
Categories
Pages
More
Categories
Published by ThriftyFun.
© 1997-2022 by Cumuli, Inc. All Rights Reserved.
https://www.thriftyfun.com/Getting-Rid-of-Your-Old-Books.html