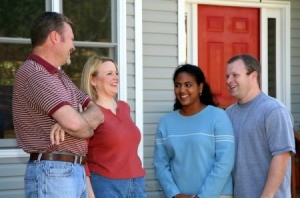 For so much of my life I didn't bother pursuing friendships with neighbors because I thought I probably would have nothing in common with them. Well, maybe I just got lucky this time and over the past two years I've become good buddy's with a few of the neighbors in our apartment complex and wow what a blessing for all of us!
We keep an eye on one another and if anyone is going out of town or has an emergency there is always someone available basically right next door to help with whatever might need to be done! We borrow items from each other like tools, DVDs, cooking utensils, etc. We also do a food exchange and all of these things saves us all bunches of money!
One neighbor and I cut each others hair and that saves oodles of money. Since I am a retired hairstylist, when I am up to it (I am now disabled) I'll cut a couple of the neighbors' hair for free and then they do something in exchange that I need help with.
There have been times when we 'make a date' and four of us do our marketing together which saves on gasoline and is also hysterical because we have so much goofy fun doing that! It feels like being a kid again instead of a chore. There are so many other perks when getting to know your neighbors but the best perk is friends.