Is It Rude for My Dog to Pee on Neighbors' Lawns?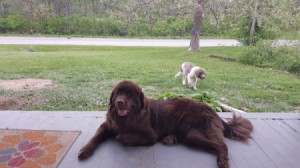 I really had no idea that people got so upset when dog walkers let their dogs pee on their grass. I have female dogs and a male who doesn't hike yet, so they don't hike on plants. I do pick up my dogs' poop. I walk my dogs for exercise, not so they can eliminate in other peoples' yards. It's embarrassing to me when they do. But if you ever tried stopping a 100+ lb dog from going the bathroom, you would know the struggle. I can definately understand getting upset about people letting their dogs pee on their flowers or poop and leave it for you to pick up, that's just rude. My dogs have a huge yard to pee in and yet they climb into my hostas to pee! So irritating. I'm going to try the pepper thing. But do all of you get upset just because a dog squats in your grass? I'm just curious, cause that I didn't know. I mean I have 3 Newfoundlands and a Great Pyrenees and I have no dead grass from them peeing.
My big dumb dogs.
Answers

May 27, 2017
4

found this helpful
Best Answer
There are many people who spend a lot of time and money on their landscaping and generally do not appreciate an animal using their yard for their personal bathroom. Some of these people must be your neighbors and it is probably causing them a lot of stress so to keep the peace you may have to find another route. Hopefully you have some personal yard space so the walks are not the only exercise your dogs have available but I do know that large dogs really need a lot of exercise.
I do not feel that your dogs are doing anything that is not common place in some neighborhoods but if your neighbors are giving you emotional trouble then you will probably have to try and find another way for your dogs to get their exercise.
Do you have a dog park anywhere near your area? That is sometimes a good thing (but not always).
I agree with likekinds about trying to control a large dog (even a small one sometimes) as it can be a tremendous struggle and the human will usually be on the losing end.
I feel for you but sometimes things like this get carried to extreme levels and you will probably find that you will receive a lot more responses that say "yes - it is rude" than you will who will say it is okay.

Judy
Gold Post Medal for All Time! 677 Posts
May 26, 2017
9

found this helpful
It is very rude to let your dog relieve himself on someone else's lawn. The urine burns out the grass and feces leave a smell, even if you pick up.

attosa
Diamond Post Medal for All Time! 1,246 Posts
May 26, 2017
5

found this helpful
Yes, try to find another route where that does not happen.

DCA
Bronze Answer Medal for All Time! 220 Answers
May 26, 2017
7

found this helpful
Consider walking your dogs away from yards-perhaps a country path or field. Some people leave their dogs' pee and logs on my lawn and I hate it!
Read More

Answers
Categories
Pages
More
Categories
Published by ThriftyFun.
© 1997-2022 by Cumuli, Inc. All Rights Reserved.
https://www.thriftyfun.com/Is-It-Rude-for-My-Dog-to-Pee-on-Neighbors-Lawns-1.html