Dog Urinating in Other People's Homes?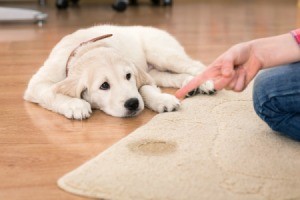 This is a page about a
dog urinating in other people's homes
. A number of things could be causing a house trained dog to begin urinating in someone else's home. It could be that they are marking their territory because they smell the odor of other dogs. It could also be due to anxiety of being away from the familiarities of home.
4 Questions
Ask a QuestionHere are the questions asked by community members. Read on to see the answers provided by the ThriftyFun community or ask a new question.

I have a 6 year old Lhasa Apso who is house trained. I have never had any problem with her apart from the odd accident when she has been ill. Just recently I have caught her going to urinate in other people's houses.
I truly don't understand this. Nothing has changed that I know of.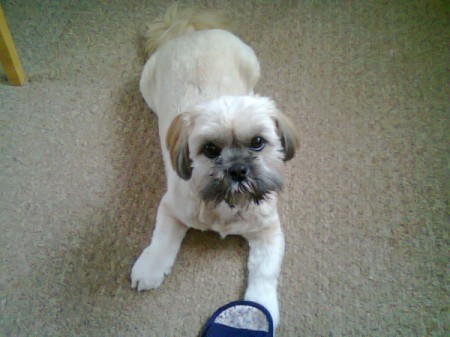 Answers

November 16, 2017
1

found this helpful
Best Answer
More than likely the homes she is trying to urinate in are homes that have dogs or had a dog in the past. She is smelling the presence of a dog around and she is trying to mark her territory. If she continues to do this then you'll have to leave her outside or leave her at home when you go to visit your friends. I know this can be embarrassing and it isn't so easy to explain. Your friends are sweet and don't say much.
If you take the dog with you again, you'll need to keep her with you at all times. Make sure she stays with you and when she gets ready to move take her outside and make her urinate outside. Furthermore, before you take her into the home you'll need to make sure she goes for a walk and urinates outside before you allow her to enter your friend's home.

November 17, 2017
0

found this helpful
Best Answer
She is marking her territory. This will be more likely to happen if they also have a pet or clean with ammonia (which is found in animal urine). Some people clean their floors with it.
A local nursing home has a dog and it had some issues because it was doing this around some of the residents who were incontinent, as it smelled their urine. As a result, the dog can't go down one of the halls anymore where most of those residents reside.
Answer

this Question

We have had our 2 and a half year old Australian Shepherd mix for almost a year now. She is fully potty trained and never has accidents at our house. We live in North Carolina and whenever we visit our family in Michigan, she always has accidents (both poop and pee).
We stay with our parents and she has been here many times, as well as with our other dog who doesn't have any problem. Whenever she decides to go inside, she always chooses to do her business in the exact same spot, either upstairs in the spare bedroom or in the basement, but never anywhere else. She is still going outside as well and has no problem going to the bathroom when we take her out, so were kind of confused as to why she keeps doing this!
Please help.
Answers

Pghgirl40
Bronze Feedback Medal for All Time! 196 Feedbacks
August 13, 2019
0

found this helpful
Sounds like your sweet baby is both a little stressed by the travel and marking the spot as her own. You may want to talk to the vet about giving her something to ease the stress of travel. That may resolve it if it just stress. If it is marking, that is a challenge. Are you able to keep her out of those spaces when you visit? Or keep those spots covered by a piece of furniture?
Wishing you peaceful and safe travels and no accidents with your fur kids! Post back with an update!

Judy
Gold Post Medal for All Time! 677 Posts
August 13, 2019
0

found this helpful
It sounds like an anxiety issue. The places she has relieved herself must be cleaned with an enzyme based cleaner to remove the scent.
Talk to your vet. Options are a diaper for travel or anti-anxiety meds. Good luck.

August 13, 2019
0

found this helpful
Your dog does not feel at home! Your dog doesn't seem comfortable on this trip. I feel it's just not being at home!

August 23, 2019
0

found this helpful
Many dogs will do this if you take them out of their own home and put them in another home. They do not feel good in this home and they are stressed out.
Even a long car ride can stress out some dogs and cause them to have this behavior.

October 17, 2019
0

found this helpful
I watch my grand dog every week 1 day and when the kids go on vacation. He is familiar with the house loves me and still does pee mostley and poop sometimes. Take him out a lot, at my witts end. I love him dearly!
Answer

this Question

We recently have been staying at my step mom's house, who my dog knows very well, so we brought my dog with us. She has been not only urinating all over the house which she knows is bad, but also humping me and my step mom's daughter.
We have no idea why. She has never done this before. Any ideas on why she's doing either things?
Answers

April 5, 2020
0

found this helpful
Sounds like she is marking her territory! www.petplan.co.uk/.../why-dogs-pee-in-other-peoples-houses - maybe this will help!

April 6, 2020
0

found this helpful
With the major changes around the world and now moving the dog from your home to a new home this is completely normal. They are feeling your stress and concerns and this is one way to show you they are sad too. I know this is totally wrong but you need to control this now and get it under control. If the dog has not been fixed this ie one step that you should take to stop the humping.
Now for the peeing problem you need to confine the dog to one location and take the dog out every hour until you get the dog in the habit to pee outside again. it is almost like training the dog all over again. Make sure you walk the dog more often and give the dog a lot of love and let them know this won't last forever.
April 6, 2020
0

found this helpful
Pohere... suggested getting your dog fixed in order to stop the humping. While spaying or neutering your pet is always best... it doesn't prevent them from humping. All of our dogs were neutered or spayed when they were twelve weeks old and rarely... but on occasion... they will still hump each other. Stay healthy and Good Luck!!!

April 7, 2020
0

found this helpful
It sounds like she is marking her territory. Have you had her spayed? The humping may be a sign of dominance, boredom, excitement, stress or even play.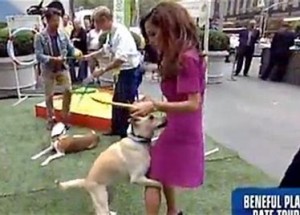 Answer

this Question

I have a 6 month old female Labradoodle who was house trained from 6 months. For the last 4 weeks she has been going to doggy day care. The lady who looks after her already has 2 dogs, one male and one female. After 2 weeks of being there she has done the odd wee in the house. She does seem to do this on rainy days even though she is let out into the garden regularly, why do you think she is doing this?
Answers

Myrna
Bronze Feedback Medal for All Time! 168 Feedbacks
October 7, 2019
0

found this helpful
Healthwise, if your dog is over urinating, it could have a UTI. On the other hand, your dog smells urine odor left by other dogs and during/after a rain the odor is more intense. Your dog is doing what others before have done; marking the area that's already been marked. A black light would reveal urine places on flooring.

Judy
Gold Post Medal for All Time! 677 Posts
October 7, 2019
0

found this helpful
My first thought it that this is a urinary tract infection. Make an appointment with the vet.

October 8, 2019
0

found this helpful
This could be that your dog hates to get her feet wet on a rainy day and has opted to not go pee outside when she was let out. The other reason for this is dogs mark their territory and she is marking hers. When it rains the smell of pee gets stronger and she can smell it a lot better than we can. If the doggy day care has not cleaned the messes and added different products this could be one of the reasons your dog is dong this. If you take your dog for a walk on a rainy day your dog more than likely will not go on the grass to pee but instead pee on the sidewalk or on the gravel area. I have a dog who hates to get their feet wet and they do this all the time when it rains.

October 10, 2019
0

found this helpful
I would keep a diary of her behavior,it may be the rain or something else.I think this good get better! If you have doubt check with your Vet!
Answer

this Question
Categories
Pages
More
Categories
Published by ThriftyFun.
© 1997-2023 by Cumuli, Inc. All Rights Reserved.
https://www.thriftyfun.com/Dog-Urinating-in-Other-Peoples-Homes-1.html