I have 3 cats, 1 male and 2 females. I have had the male and the oldest female fixed already. I have recently had the youngest female fixed. Since then the oldest female has been urinating on everything from blankets and beds to clean and dirty clothes. I don't want to have to get rid of her so please tell me what is the best thing for me to do. Thank you.

By tara from NC


Answers:
Female Cat Peeing Everywhere
I think the best thing for you to do is consult with your vet to rule out any medical issues. If her health is fine, perhaps the vet can give suggestions to help with the behavior. (02/08/2010)

By Lisa
Female Cat Peeing Everywhere
She is doing this because she is very mad at you. Make it up to her, baby her a bit and hope she stops. Sometimes just the vet smell gets them to do this. I had 4 cats and I ended putting one down when she started peeing in the stove burners. But the day she walked down on the top of the couch and turned her back and peed on my face that was enough for me. Give her a little bit longer until the smell and everything goes away. It is just jealousy. Good luck. (02/08/2010)

By Linda Hill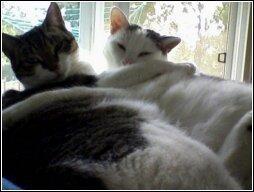 Female Cat Peeing Everywhere
I've been there. The first thing to consider is a bladder infection. When my cat started doing this, that is what he had. A trip to the vet helped a lot. They are afraid of the litter box because going there hurts. My cat was feral originally and never thought the litter box was a really good idea. I have solved the problem with a product called Comfort Zone with feliway. And if I am around when he uses the litter box, he gets a treat.

He is always sitting next to the litterbox looking hopeful. I got one of the Comfort Zone plug ins and plugged it in and forgot about it. Then I noticed that he never peed in the dining area where I had the plug in. I just ordered 3 more and we have not had an accident since. Each one covers a 14 x 14 room. Wherever there is a smell of the pheromone they will not mark (pee or scratch). (02/08/2010)

By Lizzyanny
Female Cat Peeing Everywhere
Probably a UTI, my cat was doing the same thing. Took her to the vet at someone's suggestion and what do you know the poor little girl had a UIT. All fixed, no more peeing all over the house. Good luck. (02/09/2010)

By Laura