Kitten Peeing Everywhere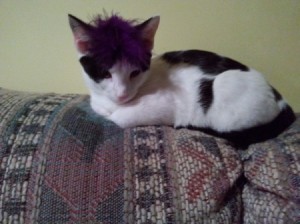 My kitten, Faye, who's about 6 months old keeps peeing everywhere. We got her about a month, almost two months, ago. She was litter trained when we got her. She uses the litter box, but she still pees on everything. We have two litter boxes, and we recently got a new humongus one, so that makes three. It's also weird because she acts like a dog. She tries to steal my food when I eat, and she'll eat anything that I drop on the floor as long as its food. This morning I woke up and found the trash bag ripped open, and food everywhere. I have two other cats, one a girl, the other a boy. They are all fixed. The other two cats are almost 2 years old, but they love to play with Faye, and they love each other. I just need to know how to get Faye to stop this behavior. Thanks for any help you have!
We are giving away $200 in Amazon gift cards (US only) for people who answer recent questions on ThriftyFun this month! Click here to find out more...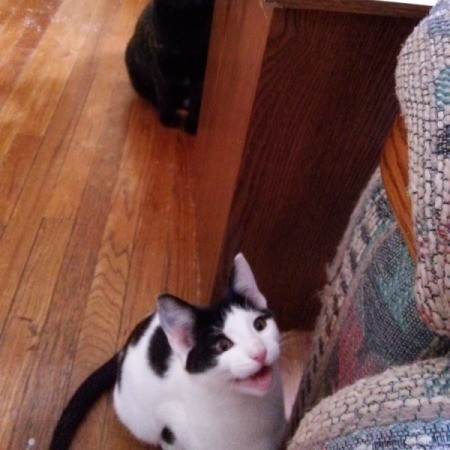 Add your voice! Click below to answer. ThriftyFun is powered by your wisdom!
December 30, 2015
2

found this helpful
Best Answer
I had a cat that actually looked just like her and did the same thing. Turns out the cat had a urinary tract infection. The craziest part was Oreo loved fruit and insisted on peeing on my grandmothers expensive sheets. I would definitely take to the vet.
December 30, 2015
0

found this helpful
Faye may have a medical problem causing her peeing behavior. Please take her to your vet now for help-delaying veterinary evaluation will most probably just exacerbate the problem, resulting in much more expensive treatment.
December 31, 2015
0

found this helpful
My cat peed in a laundry basket on my clean sheets. Turns out that he had a bladder infection. If they have an infection, they associate pain with the litter box. That's why they stop using it some of the time. Good luck with your cute kitty. You'll also need a good enzyme cleaner to get rid of the odor. That way the kitty won't go back after her problem is solved.
December 31, 2015
0

found this helpful
Vet now. If it gets into the kidneys there's little chance of survival.
July 2, 2016
0

found this helpful
If she's eating everything she see it sounds like she might have worms. That's why my two kittens did when they had worms, try to litterally eat stuff out of my hand!
Add your voice! Click below to answer. ThriftyFun is powered by your wisdom!
Related Content