Puppy Peeing Everywhere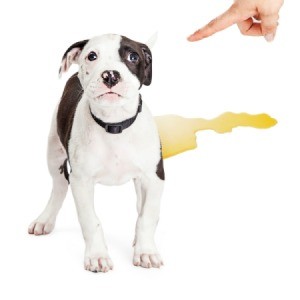 House training a puppy requires a lot of time, consistency, and a firm gentle approach. Just as you would not expect a toddler to be potty trained in a day, puppies are babies, they need your guidance to learn the expectations of house training. This is a page about puppy peeing everywhere.
4 Questions
Ask a QuestionHere are the questions asked by community members. Read on to see the answers provided by the ThriftyFun community or ask a new question.

My husband and I have a 4 month old English Bulldog who has been accident free for over a month. Now for the past 6 days he has been randomly peeing inside and off to the side of his "potty patch" (as seen on TV).
We live in a condo and take him out often. He's never left alone more than 4 hours a day, 5 days a week, and he gets plenty of love, walks, play, and dog park fun. Also, he has no separation anxiety.
He is also trained in sit down, shake, leave it, and come, he is a good listener. I don't understand why he has no interest on where he pees. It's like the urge hits him and he goes "right" there. No sniffing or searching for the right spot. If he's outside then it's outside he goes. If it's in our bedroom then it's there he goes. No warning. Please help.
By Melissa from San Fransisco, CA
Answers

March 30, 2010
0

found this helpful
Best Answer
First of all, get him to a god vet, may be a bigger problem, if there is nothing wrong I would try a crate, he may just need to be retrained but first I would rule out any health problems. I have a full grown rotti who started peeing everywhere every hour etc, she had a tumor on her kidney which had to be removed. 8000.00 later and she is doing much better. Good Luck
Answer

this Question

I just got a 9 week old puppy and have had her for 8 days now. When she first came she was going outside to the toilet, but about 3 days ago she just wouldn't go in the garden. She has only had her first injection; the second one is due the 20th of February!
She will poop out there. She has never done that in the house, but won't wee out there. Does anyone no why this may be and what I can do to stop this?
Answers

Judy
Gold Post Medal for All Time! 677 Posts
February 7, 2019
0

found this helpful
Something may have scared her when she was trying to urinate. Keep her on a strict walking and feeding schedule and praise her when she goes outside.

February 7, 2019
0

found this helpful
Hi,
I would make sure that she is on a schedule, with meals and walks at the exact same time each day. She should be in a crate, if you are crate training her, in between outside times. However you choose to do it, take her out at more frequent intervals and use a word such as 'Potty time' when she is peeing or pooping outside. Let us know how it goes.
---Robyn

February 8, 2019
0

found this helpful
she is probably scared if you take her to a different spot she might start going out side to do it

February 8, 2019
0

found this helpful
Hi,
I wanted to add that this is too young of an age to expect a pup to be housebroken or to go on any type of a routine basis.
Your best bet is to take the puppy out very often and if you do see anything, then praise and clap you hands for her. Anything you see out in the garden, at this age, is only coincidence.
Make sure that you are taking her out after each meal, after each playtime, and after each nap.
Best wishes,
Robyn

Pghgirl40
Bronze Feedback Medal for All Time! 196 Feedbacks
February 9, 2019
0

found this helpful
Blessings on your new pup! 9 weeks old is a baby and most dogs are not fully trained until at least 9 months, some even older. Have you started crate training her? That to me, is the best method. Ask your vet for what works best for her breed as some breeds they have different crating recommendations.
Be consistent with the pup with meals, breaks, crating, praise (NEVER DISCIPLINE--redirect and praise are the best teaching tools) and walks. She will learn. It just sometimes takes a while so please be patient with her!!
She is, after all, just barely old enough to be away from her birth mommy!
Keep up a good relationship with her vet too!! That is critical to her health!! My last dachshund was 17 1/2 years old when she crossed the rainbow bridge. I attribute her long life to getting amazing vet care, having a loving mommy (me) and daddy, a consistent schedule, no people food and a consistent, well balanced dog food diet.
Prayers that you have a lovely history together!!
Answer

this Question
Archives
ThriftyFun is one of the longest running frugal living communities on the Internet. These are archives of older discussions.
I have a Bulldog puppy (10 Weeks) and he won't stop peeing on my floors. I always praise him for going outside. He never poops in the house; I've done a good job of catching that and taking him outside. He never shows any signs that he is going to pee like many other puppies do. He does go out often after he plays, has been napping, or been asleep etc., but it just seems that the minute he gets back to the apartment he pees again.
If it makes any difference he never really pees a lot, usually a small amount. This is a new development in the last few days. If anyone has any suggestions as to what I should do, please help.
Thanks.
Tyler from TX

Answers:
Puppy Peeing Everywhere
I also have a Bully and they are the most awesome dogs you can own. For the peeing I used puppy pads and slowly moved them to the door. Please beware of crate training because Bull dogs are very sensitive. I know you can crate train them, but remember Bullies are a different kind of breed. Before I owned one I would have said they are a dog like any other dog, "no" they are not. And remember to clean his ears weekly if not you will have frequent trips to vet. (04/11/2007)

By Mary Ann
Puppy Peeing Everywhere
"if it makes any difference he never really pees a lot usually a small amount, this is a new development in the last few days."

You might want to try the vet since it sounds like he might have a urinary tract problem. It's had a sudden onset, and he does go outside for the most part with only the urge and a small amount after you get back inside. (04/12/2007)

By Carla Gilby
Puppy Peeing Everywhere
I've never crate-trained a dog in my life. If it's the middle of winter when I get a puppy, they're paper trained right by the door they will eventually be using to go outside. If the weather is good enough, I train them straight outside and have never had a problem. The only thing I've ever used a crate for is traveling on an airline, when we brought our dog with us from Iceland, and for taking cats to the vet. (04/12/2007)

By Carla Gilby
Puppy Peeing Everywhere
Yes, I have to say consistency is totally necessary. Reward good behavior and ignore bad behavior. Be patient. Provide a good place outside for him to pee that is close, especially if you have an apartment. He may in fact be having a bladder problem. See a vet. Spend lots of time watching his movements. Remember you're looking after a very young kid.

I am not a fan of crate training at all. Sure it's more convenient for the human, but as far as I can tell none of them have been crate trained themselves. Dogs may indeed be den animals, but above that they are social animals and want to be with their pack. My dog prefers to sleep on the bed and clearly many others do.

Our new puppy who slept on our bed from the time she was 7 weeks or so only peed on it once when she couldn't hold it long enough. It's true that they don't like to pee where they sleep. Crate training is a new trend geared more towards humans than dogs.

And please, for anyone else planning on getting a puppy, discover what you need to "before" you get the dog. Why take the chance on doing emotional harm to a tiny young animal who needs love, patience, and gentle guidance? (07/10/2007)

By Shera
I have a 6 week old dog, i've been with him only 2 weeks. I don't know how to control dog peeing. My little dog is peeing everywhere. Please tell me that how to control my dog's peeing.
Thank you,
Kina from Tuggerah

Answers:
Puppy Peeing Everywhere
Crate training is the only way to go, with a little bit of time and effort, following these guidlines the pup will be trained in no time.
By MJJJOY
Puppy Peeing Everywhere
A puppy should never be taken from its mother before 8 weeks. If yours is only 6 weeks, and has been away from mama for 2, you will have to crate train or keep a careful eye on him when he isn't in the crate. At 6 weeks he doesn't have the ability to control his bladder yet. As he gets a little older, this will come with careful training. Walk him after every meal, more often if needed, and praise him when he goes. Take him to the same spot to urinate when you take him out, as he will smell his previous urine and get the idea. Do not scold or punish when he has an "accident" in the house, and clean up these spots with an odor neutralizer immedialely, or he will keep going in that area. There are lots of articles and books on potty training for pups. Be patient, and consistent, and positive when he does the right thing. Treats when he goes potty in the right place outdoor are a good thing, as well as lots of petting, praise, etc. (08/24/2006)

Puppy Peeing Everywhere
At this early age, he does not know where to go, he will need a lot of patience and love. If you devote an entire weekend to training just him, you will never regret it. Each time he looks for a spot, he wants to pee, and take him gently outside, let him do it. Praise him and take him back in. It will be worth spending the time with your puppy, he needs lots of love and patience. At this very early age, never strike your puppy, it only confuses him. He needs lots and lots of love. (08/24/2006)

By Sue
Puppy Peeing Everywhere
You do need to clean the areas where he's already gone or else he'll return to them - even if you can't smell it he can. You can use baking soda in water - make sure you wet a larger area than what you can see as it spreads under carpet - blot up

OR hydrogen peroxide (make sure colorfast fabric) this I use in a spray bottle undiluted & then blot up.

OR Vinegar will also cut the smell again apply & blot up.

Use one of these even on hardwood floors as the smell will penetrate, we've had to use on furniture for a pup that had an excitable bladder - everytime he got real happy to see you he piddled - we finally got him to stop by using a trainer who trained us that we need to come home & ignore him for 15-20 minutes by reading mail or changing clothes then love him up. It worked amazingly well, we had to train all visitors to ignore him too this was the hard part! Just imagine someone greeting a cocker who immediately rolls to back & pees straight up in the air - always hitting the person's leg or worse!!
(08/24/2006)

By Mary
Puppy Peeing Everywhere
When your puppy wakes up from a nap, take him immediately outside. This is usually when puppies pee. You'll see; he'll pee shortly after you have him outside! He'll get used to being outside for a pee, and will be going to the door to go out before you know it. I had my pup at 6 weeks too, and I don't even think it was 3 weeks and she was going outside all the time! (08/26/2006)

By carol
Puppy Peeing Everywhere
I am a dog breeder. your puppy is very young and it will pee a lot. You need to let that puppy out every 20 minutes. It is like poddie training a toddle on the toilet. The puppy does not have bladder control. And do yourself a favor, do not use the wee wee pads, all you are teaching the puppy is that ist is okay to pee in the house. That is the worse iea anyone came up with. (08/29/2006)

Puppy Peeing Everywhere
Yep - crate training is the way to go! I've used it with every single dog I've ever had. (08/29/2006)

By Mary
Published by ThriftyFun.
© 1997-2022 by Cumuli, Inc. All Rights Reserved.
https://www.thriftyfun.com/Puppy-Peeing-Everywhere-3.html