My friend has a cat that she adopted from another family. The cat is about 3 years old and has been with her for about 6 months or so. Kitty has been urinating on her bed and almost everywhere in her apartment.
The vet said she has crystals in her urine and needed to be on special food and medication, which she is. She has spent almost $400.00 on vet visits hoping for some help, but she is still doing the same thing after months.
My friend is about to give up and has contacted a no kill shelter. For now, the poor kitty is locked in her bathroom with food, water, and litter box. If she is out she will go on the bed, bedspread, rug, etc. and the clean up is almost impossible.
Can anyone offer any help? She does not want to give her up, but cannot deal with this day after day.
PS- the kitty is beautiful and very sweet. Any help would be so appreciated.
By Phyllis from NY
Answers
April 14, 2011
0

found this helpful
Did your friend ask the vet how long it might take to see an improvement? It's not an unreasonable question.
What has your friend done to clean up the urine? Cats' sense of smell is much better than ours, and they will come back to the same spot if they can smell it. If she hasn't already, she should look into an enzymatic cleaner. I bought my first bottle at Petsmart, but have since gotten some from the pet care section at Wal-Mart.
The enzymes break down biological waste, so there is no smell left behind. Since the cat has been using these spots repeatedly, I would suggest treating the areas a few times just to make sure.
I haven't had this problem with any of my cats (peeing everywhere on a regular basis). I wonder if offering an extra litter box or two would help. That might be a good quesiton for the vet (along with asking if the cat's condition should have improved by now). Good luck with the cat -- I hope it works out.
April 15, 2011
0

found this helpful
We had a cat with this problem at one time. He was cured with the medication and special food. Every now and then he'd have his problems again.
It sounds as if this cat has been on the medication long enough for it to work. So, I'm wondering what else may be going on. I think it's true you need to get rid of all the previous odors.
There are some great products out there for doing this. Ask a salesperson at Petsmart for help. While you are there, pick up the Kitty Litter called Dr. Elsey's. It is made to attract cats to use their litter box. My daughter has used it and highly recommends it. Good luck!
April 15, 2011
0

found this helpful
My cat, who used to use the litter box, developed crystals also. He now associtates the litter box with pain and won't use it. He will poop in the litter box, but not pee. This has been going on now for 8 years. I get puppy pee pads (they have a scent that attracts animals) and he will pee on the pee pad. I wish I had better news, but I have been trying to get my cat back to using the litter box for a long time and he just won't do it. Another thing your friend could try is changing out the litter, replacing litter with shredded newspaper -- anything to make it seem different from when the cat was having pain and issues. Good luck!
April 15, 2011
0

found this helpful
I had a cat that stopped using the litter box and we got him to use it again by putting hamster litter in it. It is a paper type litter.
You can get it at Walmart, pet shops etc. We were successful with the paper litter and then gradually added cat litter to it and eventually transitioned him back to cat litter.
April 16, 2011
0

found this helpful
I had a similar problem with my cat. I bought a huge cage the type for ferrets. Turned it on the side with the doors on top. There is a large tray comes with the cage. I put it on the bottom on one side & put a small litter box there and food & water on the other side. The cage was about $100. but it was well worth it. Can let the cat out when you want to so it can get a little exercise but while you watch it. Worked for me. Hope this helps.
April 16, 2011
0

found this helpful
Until a more permenant solution can be found, try using doll diapers for control. Ask vet first if this is ok; and remember-
it is of paramount importance that these be changed on a strict schedule to avoid urinary tract infections. OFTEN is the byword.
April 16, 2011
0

found this helpful
I had that with my cat, suddenly she began using my chair for her box, took her to the vet and one thing he mentioned was she may have a cyst, but I noticed her rectum was sore and clumped with "dirt" it turned out it was from changing her liter to another type. My trying to save a penny here & there cost me nearly 200 dollars. Now to get her back to using the box. I put the box right beside the chair. She began going in the box and then I went on to figure out how to rid the smell, I mixed water & vinegar, sprayed everything. The smell went & I never had a problem after that.
September 23, 2016
0

found this helpful
I have adopted a one year old cat from a friend. She is an inside cat, but so wants to go outside. So she pees on my couch.And yes I have checked with the vet, and I clean and have more than one litter box for her, I play with her, and love her, but still she pees. Don't want to give her up, but my husband will get rid of her if he finds out. Not sure what to do.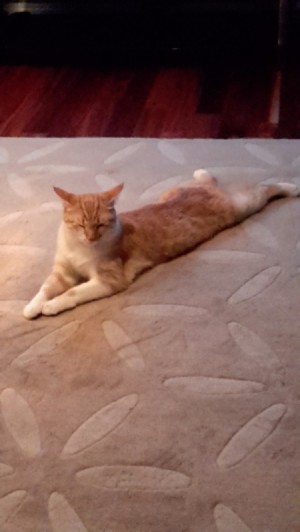 December 7, 2017
0

found this helpful
To safely remove cat urine in anything porous, peroxide does the trick. Use it in the washing machine to help your detergent remove the urine from your clothes. Use it on concrete to get it off the floor it literally bubbles the urine up and out. And to stop them from returning to the same spot, spray bottle. When ever you see them walking toward that spot, have the sprayer set in stream, aim and shoot. If you don't let them see you do it, than they won't think that your being mean to them. Cats hate water, especially when it comes from a bottle. Do this a few times, then let them see the bottle so they learn where it comes from. If you have to go out, place the spray bottle near the area where they couldn't miss seeing it. It will work. And it's fun watching them run from the water spray, and no one gets hurt. It water.
Answer

this Question

...
April 14, 2011
0

found this helpful
Why does my new cat (male) pee every where in the house. I have two other cats, but they don't do this. Only the new cat we got about 6 months ago and he pees everywhere; on the table, on clothes, and on top of the freezer where there are cardboard boxes. What can I do to fix this problem, it's out of control.

Richard from Bear, DE

Answers:
Cats Peeing in House
Is he fixed? Although cats will still spray when fixed, it sounds like a territorial thing to me, that is why they spray. I would do some research on the internet, there are also several products out there that will help with the stopping of spraying. Good luck! (04/08/2007)

By Michawn
Cats Peeing in House
Yes he is fixed. We tried some products, but it seems it's not working. Last night he peed on my son's bookbag. (04/09/2007)

Cats Peeing in House
Some cats don't like sharing a litter box or will not use it if the box was even the slightest bit soiled. I put a 2nd small litter box in my bathroom (other box was on another floor) and went in there with her shortly after she ate or after she slept a long time. I didn't engage her (took a bath, etc.). Sometimes I scooped her up for a petting, then plopped her in the box. I let her out of the room if she clearly wanted out. She got the idea. (I shooed the other cat away from that room.) Hope that helps! (04/09/2007)

By Mrs. L
Cats Peeing in House
If a male cat isn't neutered it will spray out of instinct to mark it's territory. If it is neutered and still sprays it may have already had the habit of spraying prior in which case it may never stop spraying. (04/09/2007)

By Michelle
Cats Peeing in House
I have a cat who was peeing around my livingroom. When I called the vet, he said that the cat associates the pain from a urinary tract infection with the litter box and will not go there because it hurts when he pees. My cat is fixed and had never had a problem with this until the last several years. What I do is this, first I give him a tiny bit of milk with a cranberry capsule opened in it. This helps with the infection.

Then I have a throw rug that he likes to pee on; I put that in front and under the litter box with a plastic bag between the throw rug and the carpet underneath. He now uses the litter box most times and if he doesn't, he will pee on the throw rug and I just pick it up and toss it in the wash. (04/10/2007)

By MelfrmNY
Cats Peeing in House
Try soaking the area in vinegar that he pees on. This may help. (04/10/2007)

By Lynn
Cats Peeing in House
If the vet rules out all things biological, you probably won't change him. A lot of a cat's behavior is affected by what it's mother taught it. Did she have a litter box available to show him? If she was a wild cat, or a barn cat for example, he probably wasn't taught to use one and it simply doesn't matter to him. (04/11/2007)

By
Cats Peeing in House
I just wanted to share some info with you. I have a cat that is about 3 years old and he was born in a barn when we rescued him. He has been fixed. When he was little he used the cat litter box. Then when he got older he was going in one part of the house, I got tired of it and put him outside during the day and let him in at night, now to this day I do not have a problem with him messing in the house. He goes outside and he lets us know when he needs to go. He goes to the front door and meows to be let out even if it is 5am. When he wants in he clings to the front door screen without tearing it and he weights 18 pounds, I have a picture of him for you to see. He is sleeping in a weird way. LOL Animals are smarter than we give them credit for. I love him very much. (05/11/2007)

By