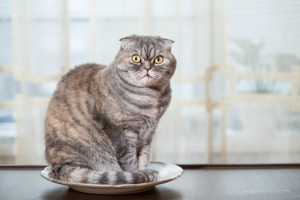 I went away and my cat got mad. He peed in the dish drainer. The cat sitter cleaned it out with Clorox, but the day I came back he did it again. I threw it away.
Then last night he jumped on the counter and peed in the fruit bowl. This is getting expensive. He knows the counters are off limits, so he is clearly acting out.
What will work as a cat repellent that isn't a spray? I was told moth balls, but I hate to put them in my fruit bowl. Help.
By Joanie from Mill Valley, CA
Answers

Myrna
Bronze Feedback Medal for All Time! 168 Feedbacks
February 2, 2010
2

found this helpful
Best Answer
If the cat is doing this only when you are away from home, confine the cat to a room with door closed like a utility room. Put a throw rug down for the cat to lay upon, the water/feed bowl, litter box and toys. That way when you must leave, the cat will be come used to this room. Turn a radio on so the cat doesn't feel so alone and perhaps things will improve.

February 9, 2010
1

found this helpful
Best Answer
Thanks all. I did take him to the vet, and he had too high (?) a PH, so he is on acidifiers. He wasn't angry, just in pain.
Hopefully this will take care of the problems. Thanks for suggestions.
Answer

this Question

I recently re-homed two Siamese cats. My sister-in-law passed away and left behind these two that are brother and sister. They are 11 years old and I flew them from Massachusetts to Florida. They have been extremely stressed out, but are starting to come around; it hasn't been a month yet. There are two other cats in the house.
They for the most part get along however have developed a bad habit of peeing on the countertops in the kitchen. My sister has taken them to the vet and there are no issues; it is related to stress. I tried enzymes and have heard to try cayenne pepper. I wondered if anybody out there has any other ideas.
Answers

Judy
Gold Post Medal for All Time! 677 Posts
February 3, 2019
0

found this helpful
Ask your vet for anti anxiety medication. Your cats have been through a lot.

Lizzyanny
Bronze Feedback Medal for All Time! 226 Feedbacks
February 4, 2019
0

found this helpful
Do not use cayenne pepper. If they get it in their eyes they can be blinded. When I want to keep my cats off of something I put down a piece of aluminum foil. After a couple of days throw away the foil.

Pghgirl40
Bronze Feedback Medal for All Time! 196 Feedbacks
February 10, 2019
0

found this helpful
Poor kitties! Sending them prayers to relieve their stress. You are wonderful to take them in. It is hard to reach older animals new habits. You can try the foil trick to line the counters with foil slightly scrunched and flattened. Some folks try double stick tape on card stock on the counter. Do not do that if they are long hair cats, as then it goes from a deterrent to a hazard sticking to their fur and pulling. Ouchies! Post back how it goes.
Answer

this Question