Dog Won't Eat After Being Spayed?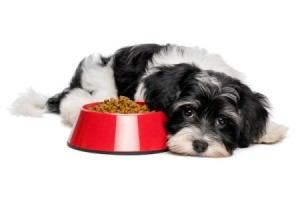 My Shihtzu/Maltese has been spayed seven day ago. She was fine, got some pain medicine and cleaning solution but now she is not eating. She plays good and drinks water, should I worry?
Doris from SJ CA
Answers
By Becky (Guest Post)
August 16, 2007
1

found this helpful
Best Answer
Yes, you should be worried about your dog not eating post surgery. It is possible that there is an infection or some stitches that missed being removed, etc. Your best bet is to take your pet back to the vet for follow up treatment immediately
By Mythi (Guest Post)
August 16, 2007
1

found this helpful
Best Answer
When my dog was ill the vet asked on the phone if she was eating and drinking. She said not drinking, bring her in right away. For food she said if they don't eat after 24 hours they should be seen.
Sounds like you need to take her in. She could have an infection in her incision.
By Riley (Guest Post)
August 19, 2007
2

found this helpful
Best Answer
I've worked at a vet's office for four years now, If the dogs is not eating then you need to call the vet. Also Moniter if she has vomited, drinking water, or has diarrhea. I could be something serious. On another note, you said something about meds? How are you giving the meds?
Shihtzu/Maltese are know for being picky eaters and if she is getting meds in something better than her bland kibble, then there is a chance she is holding out for the better food. Try offering her some wet canned food. I recommend Hill's prescription diet A/D.
Answer

this Question
11 More Questions
Ask a QuestionHere are the questions asked by community members. Read on to see the answers provided by the ThriftyFun community or ask a new question.

My 9 month old Rottweiler got spayed today and is refusing to drink water or eat out of her bowl. She does however seem to eat her wet food out of my hand. I even put the food up to her mouth, but she just won't eat out of her bowl or drink water. I don't know whether or not to continue hand feeding her or wait for her to eat on her own.
I'm worried if I continue she will refuse to eat on her own while she has her cone or after. I don't want it to be a habit. What should I do? Will she eventually eat and drink on her own? How long should I leave it for?
Answers

gggd
Silver Answer Medal for All Time! 425 Answers
August 5, 2020
1

found this helpful
Best Answer
It may not just be the cone that is bothering her. When an animal is put under for surgery, the anesthetic -by needle or by gas- can cause strange feelings that may last a day or two. Plus, if the vet used a cone over the dog's mouth to administer the gas, they usually tie the cone and/or tube with strips of gauze around the muzzle of the dog. Any of this could give the dog a sore mouth for a few days.
If you feed dry kibble, try adding a little water or broth to soften it, to see if the dog will eat it then. I would see how things are in a day or two, and then if the dog is still not eating, call the vet and tell them the dog isn't eating. Good luck, and thanks for being a responsible pet owner and getting your dog spayed.

August 5, 2020
0

found this helpful
Best Answer
Normally after a dog has had surgery the vet that I go to recommends that we do not give them anything to eat or drink until later that night. If the dog has been sprayed it can take a little bit of time for them to eat again. Especially if they have put a cone on them so they don't remove the stitches. It is a bit more difficult for them to adjust to the cone and should be fine within a day or two.
For right now if you feel comfortable to hand feeding the dog then I would go ahead and continue like this. However, I would also encourage your dog to eat again out of their bowl because they can get used to you doing this all the time. If the dog is not eating normally within a day or two please call the vet.
Answer

this Question

My dog had a bacterial infection and quit eating hard food, but was drinking lots of water. She was put on antibiotics and got spayed, that was almost 2 weeks ago and she still refuses to eat her hard food.
She will eat soft food though. She is very active and drinking water, why will she not eat her hard food again?
Answers

January 2, 2020
0

found this helpful
Best Answer
If this is an issue you can always take some water or even some chicken broth and mix it with her dry dog food to soften up the food. Sometimes after a dog has had surgery they become picky eaters.
I would soften the dry food with some liquid and see if she will eat it then. If not then mix a little of the wet food with the dry food and this one should work.

Pghgirl40
Bronze Feedback Medal for All Time! 196 Feedbacks
January 4, 2020
0

found this helpful
Best Answer
Please check with the vet on this. My worry is damage was done to her throat or teeth when she was intubated for surgery. It is important for the vet to take a look see!! Prayers for healing! Post back with an update!
Answer

this Question

My 11 month old Westie girl had an ovarian sparing spay done at the end of January. The first few days were rough, we called the vet a few times and none of the things suggested worked. We ended up going to the ER where she was given better pain meds, anti-nausea meds and anti-inflammatory meds. As soon as we gave her these she started doing better and her diarrhea went away and she started eating again. She was on them for about a week.
Now, 3 weeks later (post surgery) she eats here and there, but she doesn't nearly have the appetite she used to have. She used to stand next to me in kitchen and couldn't wait for her bowl. Now she sits in another room and i have to call her to eat and ask her multiple times to eat her food. We took her back to the vet and she said she was fine and her appetite would return. I am still worried. Should I be at ease and not worry about it or is something wrong with her?
Answers

Pghgirl40
Bronze Feedback Medal for All Time! 196 Feedbacks
February 15, 2020
0

found this helpful
Best Answer
I may be inclined to get a second vet opinion. If the pup gets a clean bill of health, you may want to ask if a low salt broth on her hard food or if wet food could be used to entice her.
Some vet's recommend mixing human canned chicken (white meat) into the food for an extra draw.
Post back with an update! Prayers for solutions!

Ana
Bronze Post Medal for All Time! 140 Posts
February 15, 2020
0

found this helpful
Best Answer
Your fur baby is slowly coming back. The good part is she is eating and drinking. This is hard on her and the adjustment is slow. Get advice on maybe a different food choice in case its that. Otherwise watch her close, and if you do not feel that her last visit helped, get a second opinion!

February 15, 2020
0

found this helpful
Best Answer
Try mixing hard food with a can of meat and gravy (soft dog food ) . Sometimes they just get tired of just the hard food .
Answer

this Question

My 11 month old Maltipoo was spayed last Wednesday. She ate and drank water when we got home and seemed OK. However, she has had a lack of appetite since Friday. She doesn't want her dry food, even when I wet it. I started giving her wet canned food yesterday and she does eat it, but she's not herself. She was always happy and playful before the surgery and now she seems sad/depressed. She sleeps a lot.
Her wound is dry and seems to be closing well. She was prescribed metacam 0.3 once a day and amoxicillin/clavulate drops 0.8 every 12 hrs. I've given her her meds every day since the next day after the surgery. What could be wrong? Im worried that she might be sick.
Answers

August 19, 2020
0

found this helpful
Best Answer
Different dogs may suffer from depression for different lengths of time, but most dogs probably start to feel normal again after a few days.
There are several reasons your baby may not be herself but you did say she ate some of the wet canned food so that is a good sign.
Vets seems to be more concerned about whether they are eating and drinking than about their 'depression'.
Some recommend spending a little more time with their pet but I feel sure you are already doing this.
It seems the trauma of the whole procedure can have a tremendous effect on young dogs and may take some time to return to their normal self.
Since it has been a week and you're still concerned, I would suggest you call her vet and see what they say.
Write down everything about her movements (that concern you) especially when she started eating, how much she is eating and also water supply as well as bathroom habits.
They should be glad to talk you through a course of action and decide when they need to see her.
Most likely - when this goes away - it will happen 'suddenly' so I hope that time is soon.

August 19, 2020
0

found this helpful
Best Answer
I had my female fixed when she was 16 months old. I had no choice in this one because after she gave birth she had an infection. I know this surgery took longer for her to heal than normal surgery. I decided to fix the other female right away and she seemed to bounce back just fine. I know it took her two days to feel really good again and run around. I was never asked to give either one of the dog meds like you are. I am not sure if the meds are causing this issue because at times they can upset the dog's stomach and cause them not to eat. I would suggest that you call the vet and talk with them. This is not really normal unless she is getting sick from the meds they asked you to give her.
Answer

this Question

I got my dog spayed four days ago. Now she won't eat dog food, but will eat a treat and she is drinking water. My question is, since the surgery she isn't acting normal, she lays around, goes outside and comes right back in.
She isn't eating her food and isn't active at all. What do you think is wrong?
Answers

September 10, 2017
1

found this helpful
This is not normal. I had my female dog spayed and it took a day or so for her to be active again. Your dog could be having complications after her surgery. I would call your vet and take her back in. She might have an infection that you don't know about or can detect on your own. For her safety and health, please take her back to your vet.

attosa
Diamond Post Medal for All Time! 1,246 Posts
September 10, 2017
0

found this helpful
No, that's not normal. It is said that you should contact your vet if your pet does not eat for more than 24 hours after surgery... I would get in contact asap.
Read More

Answers

My dog was spayed a day ago and she hasn't been eating her crumbs, just drinking water. Should I be worried or wait till further days?
Read More

Answers

My dog was spayed yesterday and will not eat and drink water. She will not take her medicine. What should I do?
Should I take her collar off? Could the collar the Doctor gave her be the reason?
Read More

Answers

We had our 4 year old female Boxer who was spayed a week ago. She only eats some canned food, but not her hard food. She just lays around and sleeps.
She does drink water and goes out take care of her business and comes in and sleeps. How can I get her eat her hard food and be more active?
Read More

Answers

I just got my Border Collie spayed, and she won't eat. I have tried softening her food, and mixing wet food into it, but she just won't eat.
She was always a picky eater, but it's gotten worse. How should I get her to eat?
Read More

Answers

My dog got her surgery a week ago. She ate the second day of being home. She hasn't eaten in 4 days now. She threw up on the 3rd day of trying to eat. The left side of her throat feels bigger than the right side and where her surgery was, is a hard little ball, and her stomach feels hard.
It is different by her rib cage area.
Read More

Answers
Published by ThriftyFun.
© 1997-2022 by Cumuli, Inc. All Rights Reserved.
https://www.thriftyfun.com/Dog-Wont-Eat-After-Being-Spayed.html