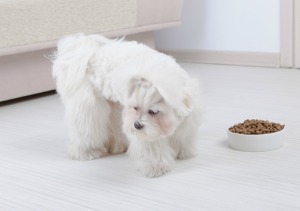 What can I feed my small dog he only weights 12 pounds? I have tried everything on the market and he will only eat a few bites. All he wants is people food and that's not good for him. I have even made homemade gravy to pour over his food. Should I try canned cat food or dry? That I haven't done yet. I'm going crazy over this dog I call Beanie. Please can you help?
Thanks.
By Gloria from Cedar City
Answers

Myrna
Bronze Feedback Medal for All Time! 168 Feedbacks
March 6, 2011
1

found this helpful
Best Answer
A lot of people food is good for a dog such as: cooked skinless-boneless chicken or turkey and a little bit of boiled in water chopped beef liver from time to time.
Human Foods dogs should never have are: onions, garlic, salt, greasy meats and bacon, grease gravy,
spinach, kale, walnuts, chocolate, pomegranates, mushrooms: you get the picture...you can even do a google search for other human foods not to give dogs. (I have a file folder just on this subject)
Cat foods are not meant for dogs; totally different ingredients made especially for cats. That's why it's specified on the label for cat or dog.
You could try a really good quality dry dog food. When you change brands know that your pet might get diahrrea from the change, so add some regular brand you buy with the new for a couple weeks until the dog gets adjusted to the change. Pet food stores sell highly rated dog foods, so I'd start there and you can get their suggestions before buying any new brand.
Check Beanie's back teeth since it's a small breed of dog and maybe there's a problem gone unnoticed and a vet needs to clean teeth. They could be causing pain and the reason for slacking off food.

Cricket
Bronze Post Medal for All Time! 205 Posts
March 6, 2011
1

found this helpful
Best Answer
The first thing you need to do is have Beanie checked by his vet. Make sure there's not a medical or dental reason for his not eating dog food. Assuming he gets a clean bill of health, then you need to get stubborn yourself.
You need to be persistent and more stubborn than Beanie is. He won't starve himself to death. Many dogs are extremely stubborn, but their will to live is stronger.
Start out by adding a handfull of dry food to the people food you feed him now. Don't give him anymore till he's cleaned his dish. This is where your persistencce comes in. Even if it takes him 2-3 days to finish it, YOU BE MORE STUBBORN THAN HE IS. Make sure he always has plenty of water tho.
After about a week, lessen the people food and put 2 handfuls of dog food in.
In another week, lessen the people food again and put 3 handfuls of dog food in. Continue to do this till he's eating all dog food. Don't worry if he goes on a stubborn streak and refuses to eat again. Just remember that his will to live is stronger than his stubborn streak. He will eventually learn that you can't be conned into spoiling him with the people food.
Lorelei was right in that some people foods are good for dogs. But they are not intended to be the dog's entire diet. Like cat food, it's called people food for a reason. Dog foods have the specific nutrients that dogs need in their diets. Feeding a dog nothing but people food will cause his system to not work properly over time. Also with a dog as stubborn about his diet as Beanie is, you're better off not giving him any people food at all because it will negate everything your've done to get him swtiched over to dog food. If you want to feel like you are giving him special people food treats, there are many online sites which have recipes for homemade doggy treats that you can make for him. Just google "homemade doggy treats" and you'll get lots of sites listed.
So gradually switch Beanie over to dog food, and you be more stuborn than he is. In the end his system will thank you, even if Beanie doesn't!

March 8, 2011
0

found this helpful
Best Answer
This happened to me. I have a 2 yr old Chihuahua.I use to share my meals with her."Don't do it". You have to be "mean".Stop feeding your dog human food. Stop! Offer your dog dry dog food and water. You have to be strong! Keep talking to the dog. Say "Eat your food, cant have my food anymore". My dog went 5 days without eating. I just knew she was going to die of starvation. But on the 6th day she started eating her food. She still begs for my food, but I say "NO" you have your own food. She gets her treats also. Once in a while, i will give her a raw carrot, the baby ones. She is happy now. Its hard, but you have to be tough for you dogs sake.

March 8, 2011
0

found this helpful
Best Answer
Cat food has too much protein for dogs, try Blue Buffalo, its natural and none of the garbage the other companies add in for fillers. If your dog still won't eat, put a little water in his bowl with the food and warm it for a few seconds and mix it up.
The heat will bring out the aromas of the food.

March 8, 2011
1

found this helpful
Best Answer
I have a 5 1/2 pound Chihuahua who also will not eat dry kibble, and I have tried all brands out there. But finally I found a way. I put the dry food in a small bowl, add water to it and put it in the fridge a day to soften it up. Then I put it in my small blender till it is like canned food. To that I add some kind of veggie and sometimes some small pieces of chicken or ground beef and some brown rice. Also about once a week I put 1/2 tsp. of olive oil over it. She eats all of it, problem solved. Some say I spoil her, but to me it's a labor of love. Also she gets a vitamin each day to cover all bases.

August 24, 2011
0

found this helpful
Best Answer
Sometimes, warming up the food helps. What food are you feeding? I am no expert. I do not know if puppy is eating kibble or not, but if she is, you can add warm water to kibble. It should bring up aroma and she may want to eat it more.
Or is it possible that you are putting the food out all day long? If so, you can feed it only when it is meal time.
November 23, 2016
0

found this helpful
Best Answer
If you want him to clean his teeth get raw hides.they do wonders for dogs teeth! And it's a treat (:
Answer

this Question
I have a 2 year old female Shih Tzu. She didn't have a problem with her eating habits until recently. She doesn't eat dog food, only human food (like chicken). 3 days ago, we tried to put dog food (Pedigree) together with her chicken lunch. She obviously didn't like it as she immediately threw it up. Earlier this day at 7am, she started to eat already, but after an hour or so she vomitted what she ate, undigested. We gave her dinner again this evening at 7pm and she ate it again, but after an hour or so, she vomitted it again, undigested.
Was it because she didn't like the meal we gave her? We're so worried.
By Rianne
Answers

Lizzyanny
Bronze Feedback Medal for All Time! 226 Feedbacks
December 21, 2014
0

found this helpful
Best Answer
I would be worried too. I would be getting to the vet as soon as possible. The food may be off, but many other possibilities exist, and only your vet can sort them out. Do not wait to get your dog the help she deserves. Things can get much worse if you wait.
Answer

this Question

Can my Shih Tuz eat homemade food? I have a problem with my puppy not eating his food. He will wait until we are not looking and then go and eat the cat food all the time. Can you please help me with what kind of food to feed him?
By Mary Coleman from Pittsburgh, PA
Answers

March 26, 2011
0

found this helpful
Best Answer
You can make home made food for your dog. Google homemade dog food to see if this is something you want to do. Is there somewhere you could put the cat's food so the dog cannot reach it? When my toy poodle was doing this, I put the cat food dispenser in the bath tub. My two cats could access it, but Pookie could not. It only took the cats about a day to figure out the change. Moving the food and rinsing the tub before a shower was easy.
Answer

this Question
Whenever I feed my dog, a Chocolate Lab, he is trying to bury his bowl. He pushes it with his head around the floor. I had a small rug under his bowl and he tried to pull it up and bury his bowl with it. Most of the time he won't eat either. I have tried all kinds of dog food. I have to coax him to eat. I usually end up mixing it with some of our food to get him to eat, but I don't like doing that. Anyone else had this problem and any suggestions? I have tried everything, I even changed his feeding bowl.
By Deb F.
Answers

Gloria Z
Bronze Feedback Medal for All Time! 147 Feedbacks
June 21, 2012
0

found this helpful
Best Answer
It's the quality of the dog food that is repulsive to him. Search the web for 4D meat you will be horrified with what you find. It's meat that comes from: Diseased (cancer), Drugged, Down & Dead animals carcass's.
With corporate greed running rampart you can't really trust what they list on the dry & moist dog food containers. As an example: 20 yrs ago a "Top High Quality (expensive) dog food was caught putting old rubber tires in the dog food! The dogs coats started to dull and flake so one owner had the food analyzed and that's what they found. That was then - what do you think the industry is doing now?
I've had my dogs go into convulsions from a brand. Another brand made them sick with some type of bad bacteria.. Another brand made it impossible to switch from their product without making my dogs sick (It was also a "Highly" recommended brand.
Also read the ingredients and if it has corn in it you don't want it! Very bad for dogs the only reason they eat it is the sugar that they put in it. Don't-buy it if it has colorful pictures of fish, meat veggies & corn on the bag the dog would be better off eating the bag not the contents.
After spending a lot of money at the Vets I decided to cook for my dog and skip the bagged crap. Chicken is cheap, rice and veggies are always on sale. My dogs never got sick again and they always ate everything in their bowl. My suggestion is search the web for making dog food yourself the dog will probably live several years longer - mine did.
Answer

this Question