I have tried all kinds of food for my 1 year old Louisiana Catahoula Leopard dog. He just won't eat dog food. He's not sick, just spoiled by me. I have mixed butter, bacon grease, olive oil, fish oil, canola oil, and warm water in dry food but nothing has worked. I'm at a complete loss. Can any one suggest a solution? I have bought him different kinds of food from the makers of special dog food.
Bill from Prescott Valley, AZ
Answers:
My Dog Won't Eat Dog Food
I must say that when the dog gets hungry, he will eat. Just like a child, they need to know that there are boundaries and limits. I know you love him so much and want him to be happy, but ultimately it's him who decides when he's hungry enough to eat. Good luck! (02/27/2006)

By smcarney
My Dog Won't Eat Dog Food
I have used in the past a product by Iams called Savory Sauce. It come in many flavors, but the one that worked the best for my dogs was the bacon flavored one. Maybe it would work for yours. (02/27/2006)

By Joely
My Dog Won't Eat Dog Food
Try cat food! That is all my dog will eat. He is 3yrs old. (02/27/2006)

By Ann
My Dog Won't Eat Dog Food
A lot of people feed their dogs human food and there's nothing wrong with it. It's actually, next to a raw diet, the healthiest for them. I feed mine Wysong, probably the best dog food available for low grain high meat content. I also buy whatever meat is on sale and cook that with a couple/3 bags of frozen veggies. I just boil the veggies in a big pot (they need to be cooked until well done). I either boil the meat or cook it in the oven depending on what kind it is.
I feed this meal for 4 days of the week. But since you only have 1 dog you could easily do it for every day. I would cook fresh every 4 days because I wouldn't give them cooked meat that has been more than 4 days in the frig. You could even cook for the week all at once and freeze part of it.
Dogs are carnivores and digest meat the easiest. They don't digest raw veggies at all so they just go through the body. It's OK to give them to them, I do, but just consider they won't get any nutrients from them unless they're cooked. Grains are predominant in most dry foods and are even disguised by other terms you wouldn't recognize. They are responsible for most things/diseases that make dogs sick.
I learned a lot more when I recently went to a very known/respected holistic/traditional vet. They can also have cooked/raw fruits, cottage cheese, brown rice and a lot of other lean things we eat. When you cook for yourselves just think in dog terms what he could eat. If you want to also feed dry, try the Wysong. Yes, it's more expensive but you get what you pay for. Crappy food means unhealthy dogs and more vet bills. I hope I've helped. (02/27/2006)

By Vic
My Dog Won't Eat Dog Food
Transition him by slowly increasing the percentage of dry mixed into what he is used to. Mix well. (02/27/2006)

By aardvark
My Dog Won't Eat Dog Food
My wiener dog will only eat one brand of dry dog food. So, when I get any other brand, she won't eat it. I finally made some Wyler's chicken bouillon from the little bottles of chicken granules. Just mixed it with hot water and poured it over her dry dog food and she eats like I just gave her a feast. It works every time. (02/27/2006)

By Gail
My Dog Won't Eat Dog Food
Use one kind of food, good studies show that sticking to just one yields the longest life. Use a decent (not necessarily expensive) brand. If in doubt, get vet recommendation. Usually not necessary to use anything as expensive as what the vet sells. Those are for special health conditions. I personally do not trust the bargain basement store brands, but ask the vet.
(02/27/2006)

By aardvark
My Dog Won't Eat Dog Food
You are giving him options. Stop the table/people food and feed him twice per day. After about 30 minutes remove the food bowl, empty or not. Within a very short time, he will be eating what's offered to him (a healthy dog food brand) when it's offered. And if you are diligent about the table scraps, there will be less begging, too! (02/27/2006)

By slw1299
My Dog Won't Eat Dog Food
My cat and dog both eat Purina One. The cat gets Weight Maintenance and Hairball Control, one bowl per day. Sometimes she eats the whole bowl over the course of the day, sometimes she doesn't. The dog gets Adult Chicken and Rice. She gets a 1/2 cup at 9am, one cup at 5pm and 1/2 cup at 8pm. She sometimes says "no thank you, I'm not hungry", but it's not often.
Our dog gets veggies and fruits as snacks, but no people food mixed into her food. Perhaps the oils are too rich for him and that's why he's turning up his handsome spotted nose. Try a middle of the road priced food (like Purina One). If he still objects, maybe some no sugar added apple sauce or pureed carrots (baby food) mixed in will tempt him. Just feed one food consistently and he will eat it. I don't know any animal that will starve itself on purpose. Good luck. (02/27/2006)

By thriftyboo
My Dog Won't Eat Dog Food
Try Bil Jac. I have 2 dogs that are enjoying this food. I told a teacher at school about it because he had 2 very picky Collies. They loved it. It is also very healthy, doesn't smell and they poop less! Good Luck (02/28/2006)

By Gillian
My Dog Won't Eat Dog Food
I agree with smcarney. No dog will "starve to death". A dog WILL eat and dogs can go days even weeks without eating, but they will drink water. You have given your dog forbidden foods that taste yummy, so why would your dog want to eat regular dog food now? It's like giving someone steak every day for a week then all of a sudden start giving them cold oatmeal.
Cat food is formulated especially for cats and should not be fed to dogs. Dog food should be a high quality kibble with no animal by-products. The first two or three ingredients should be meat. I feed my German Shepherd INNOVA which contains three meats, many vegetables, fruits, even cottage cheese, and vitamins. I feed my new puppy Nutra Ultra which is just as good as INNOVA and easily digestible. The more digested the food is, the less poop.
Stop feeding your dog the food you eat unless you are committed to buying meats, vegetables, fruits and mixing vitamins each and every day, twice a day for the rest of the dog's life. (02/28/2006)

By Anonymous
My Dog Won't Eat Dog Food
I'd say try Bil Jac, too. It's kind of expensive, so I've started mixing it with the cheaper dog food. All three of my dogs like it...the pickiest eater only eats food with Bil Jac in it. (03/01/2006)

By Elaia
Dogs eating Cat Food
My dog wont eat dog food either, she eats what the cats eat. She's healthy, no harm done. Give your dog what she will eat. You don't eat what you don't like do you?
Editor's Note: Here's a good link about Dogs eating Cat Food: http://www.healthypet.com

It basically says that it won't hurt them but a steady cat food diet deprives dogs of the grains and vegetables that they need. (03/03/2006)
My Dog Won't Eat Dog Food
My husband and I also have a Catahoula, what we have to do is mix dry and canned food. He laps that stuff up! (04/26/2006)

By Amy
My Dog Won't Eat Dog Food
My dog was the same way. He will not eat dog kibble at all. I started a month ago feeding him that Dick Van Patten Beef, Liver or Turkey stick chopped up, with half a can of salt free green beans, carrots or Vegall, mixed with shredded cheese. He loves it. He is only 20 pounds, so this is why half a can. If your dog is bigger maybe a whole can. The stores in my area have cans of veggies 20 for $10. Not a bad deal. The dog beef sticks you can buy at any dog pet store. Hope this helps. (06/20/2007)

By Lisa
My Dog Won't Eat Dog Food
My dog won't eat, but when I give him cooked meat chopped up he eats it up so quickly. Also try pedigree puppy milk, your dog will love it!
(09/20/2007)

By Kymmy
My Dog Won't Eat Dog Food
Your dog has YOU trained. Buy good quality dry and/or canned. Feed once a day, don't leave it out more than a few hours. Allow no treats or human food at all. Always have fresh water available.
Don't feel guilty for being "the parent." You signed on for this when you adopted your pet. Take proper care of it.
(09/21/2007)

By shishi
My Dog Won't Eat Dog Food
Maybe you could try canned food or Beneful, those foods are yummy to dogs. You could also try mixing peanut butter or tuna juice with the dog food.
(11/06/2007)

By Tor
My Dog Won't Eat Dog Food
Simple. Feed RAW! I feed mainly raw chicken legs and wings, whole fish, ground beef, beef ribs, pork ribs, yogurt, cottage cheese, and raw eggs, with a tablespoon of a supplement called Missing Link to my dogs food 4 times a week. (01/26/2008)
My Dog Won't Eat Dog Food
My dog has always been a picky eater, we try to keep her on the dog food and she does go through phases. I think it's important to stay realistic and not worry too much - the dogs probably wouldn't eat every day out in the wild and certainly wouldn't eat 3 times a day! You should take your pooches to the vet to eliminate any tummy or mouth problems though.
(03/06/2008)

By Tooty
My Dog Won't Eat Dog Food
I'm wondering if any of you people have taken your dogs to the vet to check the dogs teeth and snout. Bad teeth and breathing problems may be part of the problem. My dog has double teeth in the front and he will not eat out of a bowl that is less than 8 inches across and he likes to eat off plates better. He is a Shitz-tsu. He does get tired of the same dog food over and over, so I started feeding him canned cat food - the small cans twice a day. He also does not like liver. But he loves tuna. He also wants to eat anything I eat. So if I pretend I am going to eat his food - he will eat it. (07/08/2008)

By Diana
My Dog Won't Eat Dog Food
I have a terrier/pit who also is a picky eater. She loves canned food and treats but won't eat dry food. I don't like to feed her only canned food because her stool gets runny and she can't hold it while I'm at work. So a good solution for me was spreading a bit of canned food with her dry. But make sure to mix it well or else the dog will only pick out what they want. Sometimes I take the canned food and put a bit of water on it and the warm it up, that way it takes better to the dry food. Good luck. (07/10/2008)

By scr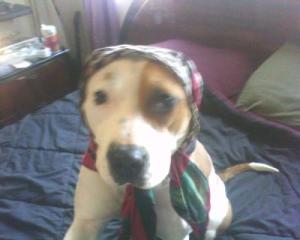 My Dog Won't Eat Dog Food
Of course they don't want to eat the dog food. It's disgusting, dry, smells bad, and I am sure it tastes bad, too. You wouldn't want to eat dry cereal day after day. I try to make my dog's food interesting and tasty by mixing dry kibble with other things like canned food, vegetables, chicken pieces, or just pour some lactose free milk over it. (07/30/2008)

By Anna
My Dog Won't Eat Dog Food
My Shih Tzu and Toy Poodle were so spoiled. I was having the same problems all of you have had. My solution was to make cooked chicken, or beef with carrots and/or yams and/or green beans in a pot with a small amt. of water for broth.
I then mixed it with their dry food (Nutro) to absorb the broth. They love it!

I also freeze this (without the Nutro) in serving size zip lock bags for future use. (I make a 2-3 week supply) This way, they are getting the proper nutrients in a food that is very palatable to them. I was going crazy trying out tons of dog foods and wasting my money - when the solution was SO easy. I also make healthy dog cookies that I give them as a treat. (I make a months supply and freeze) Wow! Do they love these! It has whole wheat flour, carrots, dry milk, beef bouillon, and either beef or liver in it.

If anyone wants the recipe let me know. I am finally enjoying my dogs eating normally. Good luck to all of you!
(08/05/2008)

By Josie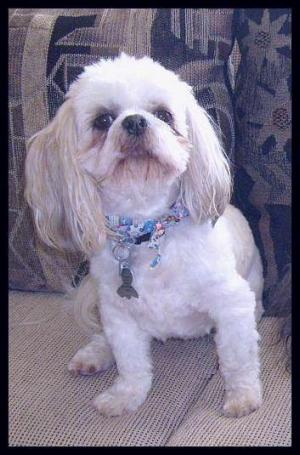 My Dog Won't Eat Dog Food
I have a 2 year old German Shepherd and he is also very picky. I mix 2 scoops Innova dry, as well as, one can of Evengers wet and he eats it up. The best is the chicken casserole, it has carrots, peas, pasta, and chunks of chicken. This is now the ONLY thing he will eat aside from sometimes home cooked meals. All of the Evengers wet cans are great, he used to eat them all. But has just has gotten picky. Try it. You will love the outcome. (01/04/2009)

By Rocky
My Dog Won't Eat Dog Food
We have a picky eater, just tried Orijen and she loves it. It is healthy and so good for them. (01/25/2009)

By Brenda
My Dog Won't Eat Dog Food
I had the same problem with my Shepard/Collie - butter worked, but I was concerned about the fat.
My suggestion that worked: If you have a friend that has a dog that is not picky, bring the dog to your house and feed both dogs in separate dishes at the same time. Good luck!
(01/30/2009)

By anonymous
My Dog Won't Eat Dog Food
We have a 7 month old dog that we adopted a month ago. He was very good about eating kibble when we got him, but has gradually stopped eating his food in the last few weeks. In fact, his stomach was so empty, he started getting the dry heaves. After a vet recommendation, we gave him baby food to get him to start eating again (it's gentle on the stomach). He ate a bit of kibble for the next week, but stopped eating it again. FINALLY, we bought some canned food, mixed a few tablespoons in with some hot water and at least a cup of kibble. He's eating like we've starved him for the last few weeks. We feel this is a good compromise to get him the nourishment that he needs from his puppy food. We are holding strong on not feeding him people food because that is a slippery slope (baby food excluded). Good luck! (02/21/2009)

By Nancy
My Dog Won't Eat Dog Food
Please all beware despite numerous posts to the contrary on this site many dogs are allergic to garlic and like many human allergies they can come on suddenly even though the dog has been fine with it before.

Apparently some breeds are more susceptible than others. My English Cocker Spaniel got hold of some garlic and had a very bad reaction. Fortunately my vet realized straight away what the problem was and he survived, sadly many don't. (03/03/2009)

By BCNBoo