Saving Money on Dog Food
Solutions
Share on ThriftyFunThis guide contains the following solutions. Have something to add? Please share your solution!
One of my dogs has an allergy to corn grain. For many years I thought she was just really itchy from fleas. I would comb her every night, sprayed the yard, and had her on Frontline Plus, and she still chewed on herself and had an awful coat.
Without going into much detail, I changed her to lamb and rice food, and she now has a gorgeous coat that is super soft and thick. The only problem was my other two dogs were absolutely positive that Rosie was getting something so much better than they had. So now all 3 of my dogs now get lamb and rice, which is pretty darn expensive.
I went from paying $22.00 for 40 pounds of dry dog food to $50.00 for 35 pounds of dry food. I tried all different brands of lamb and rice, and the only difference was some were more expensive than others.
I met a lady in the grocery store who told me that she buys her dog's food at the same place she buys her horse feed, so off I went to the Mill and bought a 40 pound bag of Diamond Lamb and Rice for $27.
My dogs love it and I noticed an even bigger difference in all their coats. I have to admit it was a very fascinating place to wander around with all sort of animal, farm, and gardening supplies. Their prices were half the price on the same items that I use to buy at PetSmart.
I don't know if there's a technical name for places that sell horse feed but I was completely overwhelmed with all the cool stuff. I sort of felt like I was stepping back into the 60s, and I'm really looking forward to the next time I need to go buy some more dog food.
By CPJ from Madison, AL
November 27, 2004
2

found this helpful
We have two large breed dogs and so it does get quite expensive to buy dog food at times. We don't like to buy the generic brands because they are full of nothing but filler. Even though they may get full, it takes more of it to fill them up than the more expensive, higher quality brands. The higher quality brands are so expensive, though, that I have found a good alternative. Try buying your dog food from a feed store. They carry several different brands and they usually very good quality and a much better price!
By Robin
Yahoo! I am riding high! The reason is, I am getting dog food for almost nothing! It really pays to hang on to those high-value coupons! A dog food manufacturer put this one out a couple of weeks ago. It is good for a free four-pound bag up to $5 OR $5 off an 8-pound or larger bag. At one store they didn't carry the 4-pound bag, and the 8-pound bag is $7.99. But at the second store, they had the 8-pounder for $5.19! Needless to say, nineteen cents for eight pounds of good name-brand dog food is a deal!

I don't know how long this price will hold. It's still good today, Wednesday, which means it will be on until next Tuesday for sure. I will give them time to re-stock and then go back. Also, we're going to Twin Falls this week, and there's a store from that chain there. I happened to catch the newspaper carrier at the recycling dumpster and have done a little creative pearl diving. As a result, I came up with 62 of those coupons. Let's see, 62 coupons times 8 pounds is 496 pounds. And there was a free chocolate bar coupon in the same insert. Yeah, I still have to pay the tax, but it's worth it. I guess we can feed old Teddy AND ourselves this winter!
Coreenhart from Rupert, ID
While I wish I could have afforded the top of the line for my dog, but I could not. We fed our Rottweiler a store brand dog food comparable to the major name brands. Now, Rotts eat a lot of food and we fed him no table scraps.

Read More...
Questions
Ask a QuestionHere are the questions asked by community members. Read on to see the answers provided by the ThriftyFun community or ask a new question.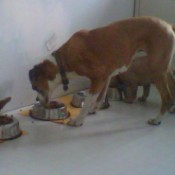 I have a 13 year old Boxer (who thinks she is 5, very playful still) and I have 2 Frenchies, 8 months and 1 year old. Buying three different kinds of food is breaking me. All three of them seem to hate dry food. Is there anything out there all three of them can eat, or is there a homemade food I can make and give to all three of my females?
Help please!
By Shery from Inglewood, CA
Answers
October 23, 2011
0

found this helpful
When you can afford it, it's nice to have a senior food, an adult food and a puppy food. I usually just do weight management for all though, as that is the biggest issue in my house, and that usually has the highest amounts of protein so you get more for your money.
The different levels of protein, carbs and fat are more pronounced in dry food; not so much wet, since it's mostly broth. I like it for hydration more than the main meal. What brand of dry have you tried, some are so much more palatable than others, especially if you're buying the cheapest you can find. Some are 100% guaranteed so if your dogs don't like it, you can return what's left for a full refund. If you do homemade, you will have to add vitamins and monitor the amount of protein etc, it's a lot of work and not cheap either.
October 28, 2011
0

found this helpful
There is too much being put into kibble these days to warrant feeding any of your dogs kibble or even canned food for that matter. I have an ACD and 2 Pugs. The easy answer is, feed them people food. I have a crockpot and put whatever is on sale, chicken thighs (bone in, skin off), hamburger, pork. You name it, along with veggies (no grains). My dogs are so healthy the vet doesn't get it and we have no teeth cleaning issues. Those come from carbs and grains.
There are lots of homecooking recipes on the web, just Google it and your dogs will be the winner. Bottom line is they can eat everything you eat with the exception of chocolate and high fat foods. They also need to eat less as there will be no fillers in your cooking. Remember, you dogs' menu doesn't have to be balanced everyday, just over all, just like ours. And most of all, remember that dogs are carnivores and need species appropriate food, not a dog I know goes into the field and harvests corn or wheat to make into a meal.
Pet food companies use corn and wheat for fillers and tons of dogs are allergic to both these grains. Also, high carbo food is turning our pets into insulin dependent diabetics with shortened lifespans, yet another reason to take the grain out of their diets. If you don't want to cook, use hamburger, eggs, cheese, canned mackerel, corned beef, etc or look to some one like Honest Kitchen that offers people grade food for dogs.
It is worth it in no vet bills and longer lives for our companion animals. You will be amazed how happy a boiled chicken breast makes your dogs after they have been eating commercial food. It is a joy to watch them eat. Good luck and hope this helps start you thinking away from commercial dog food.
April 6, 2012
0

found this helpful
Feed and seed store. Diamond lamb and rice. about $25. Really good food. No corn, wheat or soy. Clean food. Lots of inspections. Well balanced.
Answer

this Question

...
Where can I buy Pedigree Complete Nutrition adult dog food in bulk, with free shipping?

Thank you.
HW
By Howie from Van Nuys, CA
Answers
March 3, 2010
0

found this helpful
Really lousey food. Check internet about euthanized cats/dogs being part of the protein (including the poison used to euth them) check all purina and grocery store pet foods. 95% of them are loaded with corn which is a health menace. Go to specialty store like a good groomers. Spend more on their food per pound but less at the vets plus the animals seem to require less of the good food because nutritional needs are met and their system is not crying out. Good home recipes are available on the internet. Lots less expensive and so much better if you care about your pet.
Answer

this Question

...
Related Content