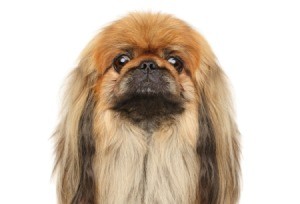 Does anyone know how to get a Pekingese to go to her food plate and eat dog food? We have an adorable one, but she does not like to eat. No, letting her go hungry does not do it. I am quite positive she would starve if allowed to.
She will eat summer sausage and Steak'Um sandwiches. She also loves cream cheese muffins, etc. She is now 4 years old. How does one get a spoiled dog like this to eat her dog food? I would like to keep her healthy.
By Janet C
Answers
August 28, 2011
0

found this helpful
Best Answer
If you're feeding canned food, try warming it in the microwave a little (be sure to stir it afterward, to make sure there are no hot spots that could burn the dog's tongue). The scent will make the food more appealing to your dog, because it will smell more like "people food".
August 29, 2011
1

found this helpful
Best Answer
Tough love is what is called for here. Completely stop all people food. Choose a brand of dog food, and feed only that. Put the bowl down for 15 minutes twice a day. If the dog does not eat within 15 minutes, the bowl goes up, and nothing to eat until the next meal.
The next meal time, bowl goes down for 15 minutes. If the dog doesn't eat, then nothing till morning. Trust me, a healthy dog will not starve himself to death. He'll eventually eat the dog food, and learn to like it. Treat your spoiled dog like you would a stubborn child. Good luck!
Answer

this Question
I have a Peek-a-Poo that stopped eating dry food. I switched her over to wet food and she killed it for almost 2 weeks. She is back to not eating either the wet or dry food.
She is 13. I just went for a check up and they didn't say much. What should I do?
Answers
July 9, 2019
0

found this helpful
Can you mix the wet and the dry food? Maybe she would eat that.
July 15, 2019
0

found this helpful
My parents' dog got to be that way when she was older, so my mom started putting a little bit of water in the bowl of dry dog food. She then would eat it right up! She lived to be an age that was 8 yrs beyond her expected lifespan so it definitely made a positive difference for her. I wish you the best of luck with your dog. They're like our family, pets are :)
November 7, 2019
0

found this helpful
I have two Pekes. We dont believe in torturing our loves with their food. Their little lives are so short and we want to give them every pleasure we are able and their food is one way in which we dont hold back. We don't feed sweets at all, but we give them whatever we eat. They normally eat only the thing they like. Don't you?
Answer

this Question