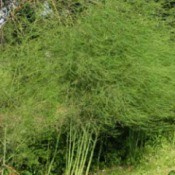 Botanical Name:
Asparagus officinalis
Description:
Asparagus are perennial vegetables with feathery foliage and edible spears that grown up to 3 feet tall. They are easy to grown and maintain after the first year.
Hardiness:
zones
2-9
Planting Time:
fall (mild winter areas) and spring (cooler zones)
Exposure:
sun at least half the day
Soil:
rich, sandy or loamy, well-drained soil
Planting:
Start beds with 20 to 40 one year-old crowns. Plant in trenches 12-18 inches deep and 12 inches wide. Build mounds with compost on trench bottoms at 1 1/2 to 2 foot intervals. Set crowns on top of mounds, draping roots down the sides. Refill trenches so that crowns are at least 4 inches below the soil's surface and the final level of the soil is slightly higher than the rest of the garden. Plant asparagus near other perennial plants to avoid accidentally digging them up.
Watering:
Water weekly for the first two seasons of growth during dry weather so soil stays evenly moist (not wet).
Maintenance:
Keep beds weed free. Cut fronds to ground level after they die back and dispose of old foliage. Mulch plants heavily in northern climates over winter. Add fertilizer immediately after planting and compost in the fall each year.
Harvesting and Storage:
Harvest every 3 days in the spring when spears are 6 to 8 inches tall and tips are firm and tight. Pick only for two weeks during the first season, extending the harvest a bit each year until reaching about 8 weeks. Consume spears immediately.
Diseases and Pests:
Look for cultivars that are resistant to Fusarium wilt and rust.
Tips to Success:
New hybrid cultivar produce mostly male plants which give greater yields than female plants. Asparagus can be started from seed (indoors or outdoors) but will not yield spears for harvest for at least two years. Planting crowns at different depths will extend the harvest period.