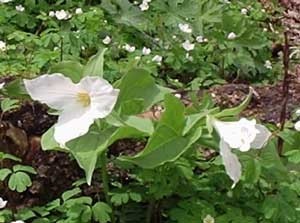 Growing Hints:
Plant rhizomes in the fall 2 to 4 inches deep and 5 to 8 inches apart. Apply mulch to protect plants from the cold. If you have patience, seeds are in the form of berries and can be separated from the pulp and planted in the fall when they become ripe. They take two years to germinate and another two years to flower.
Plants will eventually spread by way of their underground stem systems and form a colony. Do not pick the flowers. In order to do so you need to pick the leaves, which are important for providing the plants with nourishment the following year.
Interesting Facts:
The name Trillium refers to the plants structure, which consists of three's-three petals, three sepals and three leaves.
Suggested Use:
shade beds, borders, ground covers, native plantings and mass plantings
Botanical Name:
Trillium grandiflorum
Life Cycle:
perennial
Planting Time:
fall
Height:
12" to 15"
Exposure:
full to partial shade
Soil:
rich, moist, well-drained soil with a neutral pH
Hardiness:
zones 3-9
Bloom Time:
spring
Flower:
most have white or pink flowers with three petals and a yellow stamen; produces berries
Foliage:
three, dense dark green leaves; some species have mottled leaves
Propagation:
rhizomes