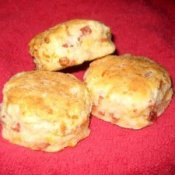 These hearty biscuits can be kept in the freezer for a quick heat-and-eat breakfast.

Ingredients
2 cups self-rising flour
1/4 cup shortening
1 cup sour cream
1/4 cup milk or buttermilk
1 cup country ham, cooked, chopped fine
1 cup shredded cheese (Cheddar, Swiss, Colby, Provolone, or your choice)
Directions
In mixing bowl, combine flour with shortening. Using pastry blender, two forks, or clean hands, cut the shortening into the flour until the mixture resembles very coarse crumbs. Add sour cream, milk, ham, shredded cheese and mix just until combined.
Turn onto floured board and knead two or three times, then flip to flour the other side. Pat dough into half inch thickness. Cut with preferred size cutter and place biscuits on lightly greased or sprayed baking sheet, with edges just touching.
Bake at 450 degrees F for 8-12 minutes or until golden brown. Serve just as is or accompanied by jam, jelly, or honey.
These are delicious served warm from the oven, but they also freeze remarkably well for a quick breakfast or snack any time! Just allow to cool completely and place in gallon size zip-top bag in freezer. Warm individual biscuits in the microwave for 30-60 seconds (depending on microwave, do not overheat or they will toughen).
A note here about cheese: the amount of cheese can be reduced by half for the sake of thriftiness, but the full amount of cheese will of course make a richer biscuit.
Source: Adapted from "Tennessee Farm and Home" magazine.
By Shawna from Paris, TN