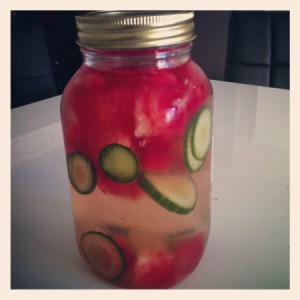 Save your money and your health by making your own healthy vitamin water! Unlike the commercial brands, there are no chemicals or added sugar in this homemade version. Use seasonal produce and fresh herbs for the best tasting water.

Total Time: 5 minutes
Yield: 1 serving
Source: This is my own recipe and photo
Ingredients:
Produce: Fruits and/or cucumber
Filtered Water
Fresh Herbs
It is important to use fresh fruits and herbs for these waters to get the best taste and full nutritional benefits.
Steps:
Take a 1 quart (or liter) glass mason jar and fill 1/3 of it with diced, sliced or cubed produce. Slightly press the produce to release its juices. Fill with water and refrigerate for at least 4 hours or overnight.
Strain and pour back into the jar and enjoy!
Make sure you use ripe or very ripe fruit to ensure a sweet water. This will not be sweet like commercial waters but it is tastier. I also reuse the produce again to make a second jar.
Tasty Combinations:
Watermelon and Cucumber
Watermelon, Lemon and Fresh Mint Leaves
Cucumber and Lemon (nice detox one)
Lime, Lemon and Orange
Watermelon and Fresh Mint Leaves (just a few leaves)
Strawberry and Basil Leaves
Raspberry and Fresh Ginger
Peach and Mango
Lemon and Watermelon are great as a detox. Mint and Ginger are helpful for digestion. Strawberries are like nature's multivitamin! Citrus Fruits have a lot of Vitamin C!
Cucumber water has MANY benefits such as helping with hydration, menopause, hangovers and blood pressure. It also has anti-inflammatory benefits and antioxidants, contains B Vitamins, vitamin C, manganese and beta carotene.
Use your imagination, so many possibilities!