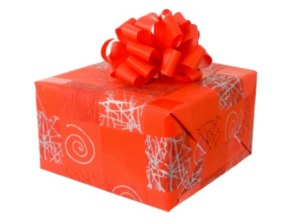 The oldest grandchild on my husband's side of the family graduated this year, so I came up with a gift idea to give her a good start at college. I emailed the relatives to ask for recipes, household hints, and study tips. I asked them to email their reply. I then uploaded them onto a thumb drive for the computer (My own recipes are filed on my computer, so it was easy to organize). I separated the replies into categories like a cookbook and uploaded them onto the thumb drive to give to her as a graduation present.
I am saving the files I created on my computer under "College Cookbook" - we plan to make this a tradition for the grads in our family. We will give this to our grad at our summer family reunion, along with a laundry basket with nonperishable food items she will need to make the contributed recipes, cleaning supplies, and office supplies.
I am also a commuting college student - one thing that helps me is my "office in a bag". A pencil bag with scissors, pencil sharpener, stapler, paper punch, highlighters, pens, pencils, a REALLY GOOD eraser, etc. sure helps me stay organized!
I have a notebook to write personal notes from each family member (then when she is homesick, she can remember how much we love her), as well as household and study hints we think of at the last minute. It is a very economical, personal gift that will be extremely useful to a college Freshman, and a nice gift doesn't break the bank for any of us!
By Marie Van Orden from Idaho Falls, Idaho

This year, I am giving pre-paid name brand gasoline cards to graduates. If I, as an adult am finding it hard to swallow the current gas prices, I can't imagine too much more welcome a gift for high school or college graduates...
Read More...
My boss's nephew is graduating high school this month. I got an invitation. What would be a good graduation gift for him? I haven't had a high school graduation invitation in years and am out of the loop. Help!
By Jacketbacker
Answers

May 21, 2011
0

found this helpful
I received an invitation to a good friend's daughter's high school graduation last year. I just got her a Target gift card, figuring she could find some way to use it. If she was getting a job, maybe she could get some clothes. If she was going to live in a dorm, she could use it to set up her room.
I remember receiving a set of reference books, some jewelry, and cash when I graduated. Most young people probably just look things up on the internet, rather than use books, jewelry is rather personal, but cash can always be used (or a gift card!).

Suntydt
Bronze Feedback Medal for All Time! 109 Feedbacks
May 22, 2011
0

found this helpful
And with what mrs.story referred to as the going trend for the day you could look into getting a gift card for Amazon or even PayPal. I don't know if they have them but they probably do. Otherwise a card with cash is always appreciated.
May 23, 2011
0

found this helpful
Thanks. I did cash. No time to hunt a card, and don't know if he will be working or in a dorm or what, so figure cash will work best. Not even sure what will be near to him in school.
Answer

this Question

I need help for a grad gift for my son who is graduating from high school and has everything. I would like to get him something a little personable in the $150-$200 range. He has the watch he wanted, not big into jewelery, and my mother got him the school ring. He's very much into computers, gaming, and paintball. I really would appreciate some ideas. Thanks.
By Jody from Chatham, ON
Answers

Joan
Bronze Feedback Medal for All Time! 186 Feedbacks
May 5, 2010
0

found this helpful
For any graduation I try to give the person something that will be a permanent keepsake. When my grandaughter graduated last spring I gave her her first pair of real gold earrings.
They should last a lifetime, unless they get lost.

May 6, 2010
0

found this helpful
For our first daughter's high school graduation, we got her a hand-held GPS unit so that she could do geocaching. If you are not familiar with geocaching, you go to the geocaching website (www.geocaching.com) and get the geographic coordinates (plus hints, sometimes a puzzle, etc.) of a "cache" hidden by others who enjoy the sport. You then use your hand-held GPS to find the coordinates so you can locate the "treasure" (usually dollar store trinkets and the like) that you can trade. (If you take something, you always leave something of equal or greater value.) You don't have to trade.
There is always a "log" to sign, and you also log your find online.
If you son likes puzzles, hiking or urban exploration, sometimes physical and mental challenge, he may enjoy geocaching. We met some of our best friends through geocaching.
A GPS unit may not last forever, but the sport and friends made will. Once you have the GPS unit, it is a very economical hobby, and there are kid-friendly caches for families.

May 7, 2010
0

found this helpful
My son is graduating high school this year also. I'm making him a "college survival manual". I am putting recipes, tips, etc. in it. I am also giving him all or most of the ingredients or materials needed. For example, whenever he got a cold, I would make rose hips tea, make him soak his feet in an Epsom salt bath, and give him extra calcium.
I'm recording everything I did for him like that and putting it in a binder. I also plan on leaving cards at his graduation for people to write advice on. I'll put those in the binder also.

May 8, 2010
0

found this helpful
I would suggest a gift voucher then he can spend on him self.

May 13, 2010
0

found this helpful
I was going to suggest new games for his video gaming system, but I also like MarySescapades' college survival manual.
Other useful items for the new college student are rolls of quarters for the laundromat and vending machines, phone and grocery gift cards... gas gift cards if he drives, or bus passes if he doesn't. He might not want to keep a lot of cash around, but a pre-loaded credit/debit card in the amount you mentioned might work. Unless he prefers email, you also might consider stationery and stamps. You could put these kinds of things in his own laundry bag or basket, and maybe add quantities of single-load detergent... unless you already know he'll be bringing his laundry home to Mom, lol!
Answer

this Question