June 3, 2015
1

found this helpful
Top Comment
I have been making homemade laundry soap for years and I have an HE machine. I first made the liquid soap, but now I make the powdered and prefer that. My clothes are clean and fresh. I love that I can wash a whole year of clothes for about $10.
I use my food processor to shred the Zote soap and mix the dry ingredients. It only takes about 5 minutes to mix up a batch.
December 10, 2016
1

found this helpful
Top Comment
I use the same recipe for washing powders and it works wonders on my clothes and I only used two tablespoons per large load. I make a double batch of it and I stored in a 5-gallon bucket and I keep a container above my washing machine with a measuring spoon; I always noted on my calendar when I made the washing so I won't know how long this mixture last me doing laundry.
It normally lasts me close to six months. I spend approximately $40 on the ingredients that make up this detergent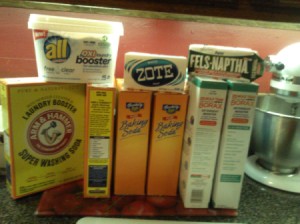 June 1, 2015
1

found this helpful
You are after my own heart Melissa! I too make homemade housecleaning products! Check out my liquid soap entry coming soon!
:D
June 1, 2015
0

found this helpful
Thank you for sharing. Does this work in HE washers?
June 7, 2015
1

found this helpful
My laundry soap recipe is to stir and dissolve in hot water: 1/4 cup of Borax, 1/18 cup washing soda, 2 good squirts of Dawn dish detergent and add 1 gallon of warm water. I use an old laundry detergent bottle Washing soda is a strong strain remover which I no longer need now my children are grown; so I use just 1/8 cup instead of 1/4 cup.
I use the detergent bottle measuring cup: 1/2 for light wore clothes and full measure for towels, jeans, etc.
June 7, 2015
1

found this helpful
Using a food processor is a great idea for shredding the soap.
May 25, 2017
0

found this helpful
it helps! I used a cheese grater for a couple of years, then my husband got a food processor at a rummage sale. Works great!
I love making my own laundry soap
June 8, 2015
1

found this helpful
jjsabath, yes, this will work in the washers too. Good question! :)
June 8, 2015
0

found this helpful
Thank you Donna, isn't it fun making those things? :)
June 8, 2015
1

found this helpful
jjsabath, I meant to say this will work in the "he" high efficiency washers too. oops...lol...my mistake :)