I am looking for ideas for my son's 1st birthday party! I have a few but I'm just not really sure what I want to do. I wanted to see if anybody had any good ideas. I have thought about doing it in baseball theme and making cupcakes with white icing and using red M and M's to make it look like a baseball (I found it on a website, I think). And I also thought about doing it in cars and trucks like those little hot wheels cars because he really likes those. But I was thinking about making cupcakes and putting a little car on top of each one and just buy the generic brand diecast cars which I can get like 30 for $4-5 dollars here. But I'm not sure what I want to do. If you have any ideas please post them.
Thank you very much, Erricka.
Answers:
Ideas for Baby's 1st Birthday Party?
They won't remember, but if you want to throw a party keep it basic. Don't knock your self out with food other than the cupcakes and some ice cream and punch. I love both your ideas for the cupcakes! Even if you don't use the red M and M's, using red icing to make the threads will work good too. If you use the cars they can be taken home as a small favor! (08/20/2004)
Ideas for Baby's 1st Birthday Party?
When my son turned one, I asked everyone coming to the party to bring a favorite quote/verse/saying of theirs. I had a blank book that the people could then write their quote into. Some people just elected to write their best wishes which was fine too. I try to do this at every birthday. I will give him the book when he is older, like when he gets married or goes to college. People really liked this idea and it helped me get to know my family and friends on a more personal level.
Good luck and happy birthday little one! (08/21/2004)

By Chalet
Ideas for Baby's 1st Birthday Party?
I knew that my son wouldn't remember his first birthday party, so I didn't bother with a child's theme. Instead I decided to help the guests remember my son's past year and to remember their own childhood. For decorations I put up pictures to form a banner (one picture from each month) of my son so everyone could see how much he had changed throughout the year. This is the only year you'll see such a huge difference form one month to the next!
I also had asked everyone ahead of time to tell me their favourite toy, book, and their childhood nickname and I made up posters where everyone had to try to match the items to the people at the party. As a gift for my son, I also made up a time capsule and made forms for everyone to fill out so that they could share any special memories, predictions, and words of wisdom with my son - he'll open it on his 20th birthday.
The food and snacks for the party were also a hit: I had asked everyone what their favourite childhood foods and treats were and then made them up for everyone. It seemed weird to be serving grilled cheese and Spaghetti Os to a group of adults, but everyone loved it! One other idea I had but didn't have enough time for was to collect some pictures of the family members when they were babies so that I could post them up and have everyone guess who was in each picture. In the end everyone kept busy with the activities and the food was easy and cheap for me to prepare and my son just loved having all his favourite people around. (11/02/2004)

By Trix
Ideas for Baby's 1st Birthday Party?
My son is going to turn 1 son and his theme is going to be Sesame Street 1st b-day, because he loves the characters. I'm doing the whole party red, blue, and yellow down to the plate sets. I have a clown and a person dressing up as Elmo coming. I'm also going to have a DJ for the older people. For favors I'm making coloring books with the Sesame Street characters. I'm also getting personalized bubble labels made with my son's picture on it. For the adults I'm making labels with my son's picture. I'm gluing it to old baby food jars and filling some up with candy, marbles, and colored sand. (01/14/2005)

By Jennifer
Ideas for Baby's 1st Birthday Party?
I did a teddy bear picnic for my son's first birthday in December. All of the guests were asked to bring their teddy bear for a contest (cutest, softest, biggest, etc.) We had checkered table clothes and picnic food. (teddywiches, poteddy salad, poteddy chips, Honeybear juice, etc.) I printed teddy bear coloring pages from my clipart disks for the kids to color and had a jar full of gummy bears for the adults to guess how many - the winner took the jar full of gummy bears home.
I decorated with red and white streamers and balloons and molded chocolate ants. We downloaded the teddybear picnic song and played it while the guests arrived. I made a cake using a Wilton molded bear cake pan. The base was a sheet cake decorated in red and white checkers. I made the small teddybear cake and placed it on top with toy food around and a line of chocolate ants (Wilton mold). I would have used plastic ants, but I was unable to find any in December.
For party favors I put a few chocolate ants in a bag with teddygrams and bubbles ( I printed out new labels on the computer that read "bearbles" and "thank you for celebrating Hunter's 1st birthday with us" and glued them over the original bubble labels.) I took a picture of everyone who brought a bear to send to them with a thank you note for their gift. It was a lot of work, but well worth it. My son had a blast! He won't remember it other than from the pictures - but turning one is a big step for both him and you. It's a big deal - celebrate it! He will only turn one once. (02/18/2005)

By Jennifer
Ideas for Baby's 1st Birthday Party?
My niece just had a 1st birthday party, it was mostly adults, but she had great fun! It was themed about butterflies and we did "flower garden" with balloons. It was cheap and looked gorgeous! Simply, put 4 medium size pink(or any color) balloons together and one small yellow in the middle. In the back attach a green long balloon(one of those use for making balloon animals) (08/06/2005)

By Ale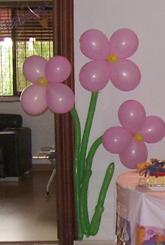 Ideas for Baby's 1st Birthday Party?
My son's first birthday is going to be Thomas the Tank Engine themed. We picked this theme because my son's name is Thomas and the cups and plates say Thomas all over. He doesn't really have any favorites to pick as his party theme so I figured whatever I liked best is good.

We are only going to do cake and ice cream. My husband is making a train cake from a Wilton mold with box cars cut from a regular sheet cake.
I printed Thomas the Tank Engine coloring pages for free online for the kids to color. I ordered individual 4 packs of crayons and wooden train whistles as goodie bag favors for the kids. For the adults, I made individual candy bar wrappers (minis) with my son's picture and the date on them.
We saved by not offering lunch or dinner. All the kids were under 3, so they didn't need a long party to sap all their energy and interfere with nap times. (01/25/2006)

By Catie
Ideas for Baby's 1st Birthday Party?
I am getting ready for my daughter's first birthday. It is in a Princess theme. The invitations say that there will be a royal gala and we wish for them to attend. There's more to it, but that is the main part of it. For the cake, I am using a large stainless steel bowl and baking a cake in it. When you flip it over, you ice it with pretty colors and then stick a CLEAN Barbie in the top and it looks like a dress. It is adorable, I tested it out and it is really cute. One word of advice thought, if it says bake at 350 degrees F, bake at 325 degrees F, the edges get done fast! (10/27/2006)

By Kayla
Ideas for Baby's 1st Birthday Party?
Well, I've always heard to go all out for your child's first birthday, and those are my intentions. My son turns 1 in a month, and I'm doing a safari theme. But besides the basics like decorations and food, I'm getting a clown to entertain, because oddly enough that really grabs his attention. He might not remember it, but I know he will enjoy it. And pictures are always the best memories anyway. (08/28/2007)

By Cali
Ideas for Baby's 1st Birthday Party?
My daughter Grace is turning 1 this month. I wanted something that I could give her when she was older from her 1st B-day to show how many people cared and loved her. At her 1st birthday I had cards made up saying a 1st birthday wish for her - and not to be opened until October of 2024. Our guests will write wishes in the cards and on her 18th birthday I will give her the cards that were sealed with love 17 years before! Cute right! (10/01/2007)

By Laura
Ideas for Baby's 1st Birthday Party?
I like the beautiful idea with the flower balloons. Love it! I know my daughter won't remember her first birthday party, but there will be photos to show her in the future how much I cared. Plus, I am sure she will have a fantastic time. She loves balloons and the function room will be covered with them.
I will have a toddlers' corner with lots of different and colorful toys. I bought a plastic pool and I will fill it with 600 small plastic and soft balls (not too expensive and you get to keep them after the party) you can have up to 4 babies sitting inside and playing with the colorful balls. I will have a clown that will paint the children's faces and he will also make balloon sculptures for the kids. For the food I got a catering company to do 3 kiosks (like street vendors) offering mini hot-dogs, mini-pizzas, mini-crepes, pop-corn and fairy-floss. There will be other types of served finger food as well.

The theme of the party is butterflies, but there will be other little creatures as well (my daughter loves ducks "qua-qua"). I bought her a very beautiful dress with some butterflies on it (very subtle) and I bought butterfly wings. I tried them on her and she seemed to be OK wearing them. Let's see how it goes on the day. I'm very excited!

For the give-away gifts I will have little bag with candies, a children's songs CD with her little face printed on the cover (more butterflies, the date, name of the CD, etc.) I made them myself (burning the CD and printing the label) and there will also be a personalized hand-tower (like the photo). (11/18/2007)

By Joice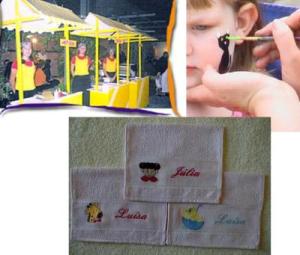 Ideas for Baby's 1st Birthday Party?
My daughter's first birthday party is in 2 weeks. I am doing a cute 1st birthday theme with pink blocks. We are having the party at our public park which has a nice big pavilion just in case it rains. I invited all close family and friends. Which brings it almost to 30 adults and maybe 20 kids. I am not really doing any games since it is a the park and the kids will have plenty to do there.
For food we are having BBQ, hot dogs, and pasta salad. I am making ham turkey and cheese hoagies. I also always get 2 or 3 boxes of square pizza from a local bakery. The little little ones love it and it is excellent cold. Also for take home gifts I got cute beach balls since it is summer time. Do your little one's first birthday the way you want it to. It is your child and if you want to go all out, or do something small it will be special, no matter what! (05/19/2008)

By Shannon