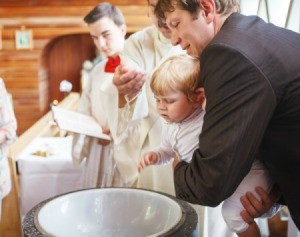 Does anyone have frugal ideas for combining a 1st birthday party/baptism party for a little boy? It will be held in July. I would like ideas for favors, decorations, and invitations for approximately 100 people. The godparents are taking care of the cake and baby's outfit.
Misty from Central Coast, CA
Answers
By rae (Guest Post)
September 9, 2007
0

found this helpful
Best Answer
I'm not sure about the party favours, in Australia we don't tend to go for such things. If is customary, maybe to make up small bags of mollies etc. for children at the party. You could use sugared almonds like they use at weddings maybe. When my kids had their first birthdays we had them at the local church hall and had afternoon tea. This was my mum's church and we had to pay $50 for the hire of the hall, cups, saucers, etc. We bought and made cakes, slices, sandwiches, etc. for the food and bought the tea, coffee, etc. We used the church plates for putting the cakes and sandwiches on. On each table we put several bottles of soft drinks and water, as well as a plate of chips, mollies, and more. We put 2 big tables at the front of the hall and put the urns, tea, coffee, and the food on them. As we had about 25 kids, I organized some party games like pin the tail on the donkey, and printed some colouring pictures off the internet. We decorated the hall with balloons and streamers. It cost about $250 all up including the hire of the hall. We did have to sweep the hall afterwards, but it was great not having to worry about parking, toilets, etc. Good luck.

September 7, 2007
0

found this helpful
I would just decorate for the birthday, and not try to work in baptism imagery. The little one will not understand baptism and it will be solemn, so let the birthday party part be for fun.

December 12, 2010
0

found this helpful
Noah's ark is a great theme idea. Babies love animals and you have the whole water thing. Plus if you know anyone with a ark play set you can borough it to decorate with.
Answer

this Question