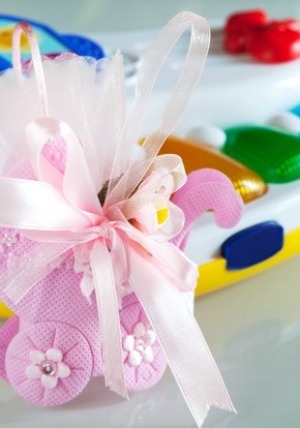 My husband and I were asked by our daughter and son-in-law to be godparents for their first child, Vivi Anne. We pondered over the most appropriate gift to give to her, one that would carry on through the years. So we purchased a sterling silver chain and cross with a diamond in the center of the cross. The card with it reads: Dear Vivi, Accept this cross with our hope that you always keep Jesus close to your heart. It's also a keepsake to wear on your wedding day and pass on to your children. God bless you on your Baptismal day. Love, Grandma and Grandpa
By anne from Green Bay, WI

Since I haven't been to a christening or baptism in several years, I was unaware that a gift should have been given. The baptism was 4 days ago. Would it be rude to send a belated, personalized gift to the new parents' home?
By Dee
Answers

March 2, 2011
0

found this helpful
Hello, Dee. I think it would be considerate and heart-felt to send a late, modest, gift while simply explaining you were not aware of the current day gift giving expectations at a baptism. It's honest and charitable and far from rude.
However, if you choose not to do so, I also think that is an appropriate response. The expectations of some people that "invitation = gift" is rude and greedy and should not be rewarded.
It's really a complicated situation if it involves a decision of appeasing the parents or your own sensibilities in sharing the awe and wonder of the baptism of a child.
What it all boils down to is your intentions. I think you will find the best solution in your heart: A baptismal, material, gift is not equal to a lifetime commitment of watching over that child with your love and compassion.
Your eager witness to this sacred ceremony will stand alone and far above any material gift. May God bless you for this act of faith, alone, material gift or no material gift!

March 3, 2011
0

found this helpful
I would not expect gifts at a baptism. I think the gift is having loved ones present to share in a very special moment. But if you feel that you would like to give one, KansasCindy's suggestion of a brief explanation with a simple gift would be acceptable.

Teresa Tart
Bronze Feedback Medal for All Time! 213 Feedbacks
March 5, 2011
0

found this helpful
I have never heard of given a gift at a baptism. At my church, gifts are not presented unless it is done at home before the service or at home after the service and this is usually just family doing it.
I guess everyone is different so just go with the flow.

Maryeileen
Bronze Request Medal for All Time! 59 Requests
March 5, 2011
0

found this helpful
Don't feel obligated, but you could send a small gift or gift card to the parents, and I don't feel any explanation is necessary. My own experience is that after the baptism at the church, my family has always had a Christening celebration/party with food and beverages at a hall or someone's home, and this is where we give the gifts.
Answer

this Question