Increase Tips When Waiting Tables

EllenB
Gold Post Medal for All Time! 858 Posts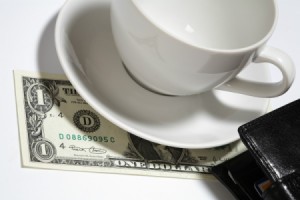 The best way to get good tips while waiting tables is to create a satisfying dining experience for your guests. Many restaurants have well-established service standards that are used to train new wait staff. These steps of service are designed to increase sales and maximize customer satisfaction from the beginning to the end of the service cycle. They also help increase the overall total of each guests check, which is used when calculating your tip. The exact steps of service will vary with each restaurant, but the following 5 steps are generally accepted as universal regardless of the type of establishment you are working for:
Step 1: Introduce Yourself
Greet tables in the dining room within 2 minutes of arrival. Greet guests at the bar within 1 minute of arrival.
Establish a rapport; personalize the experience by introducing yourself and start a conversation to identify the customer's needs. Be warm and welcoming, but respect your customer's space. How you present yourself to guests (conservative or casual) will depend on the type of establishment youre working in (e.g. fine dining or bar).
Place a beverage napkin in front of each guest. State the soup/specials of the day.
Remove extra place settings if the host/hostess does not.
Step 2: Take the Order
Suggest a specific beverage (example Coke products, local tap beer, drink of the day).
Tips go up as sales go up. Upsell to a premium liquor or taller size if drinks are ordered; suggest lemonades or smoothies if water or soda is ordered.
Use suggestive selling based on the guest's needs. Note: It's important to read your guest and suggest what would be appropriate.
Know the difference between suggestive selling and upselling. Suggestive selling is getting your customer to make a purchase he or she had not intended to make. Upselling is moving the customer up in price with an item they already indicated they were ready to buy.
Make sure you are able to demonstrate good knowledge about the food menu, as well as wine, liquor and beer. For example, know how to correctly open and present a bottle of wine; know the difference between a pilsner, a porter, and pale ale.
Use a beverage tray when serving more than two beverages. Serve beverages immediately after they are ordered, before any food orders are taken.
Without being overbearing, suggest a specific appetizer that compliments the meal.
Step 3: Deliver Food and Drinks
Deliver drinks within 2-3 minutes to the table; within 1 minute to the bar.
Deliver appetizers and salads within 5-10 minutes. If your restaurant uses pepper grinders, offer fresh ground pepper with all salads, entrees and pastas.
Deliver entrées within 10-15 minutes.
Be a team player. Run everyone's food, not just your own.
Exhibit poise under pressure. Your guests are more likely to remain calm if you do. If service is running behind, keep your guests informed of the status of their order.
Serve food from a tray; use a tray-jack if you have more than two items.
Serve food according to etiquette. Serve food and drinks from the left and clear dishes from the right. In formal settings, or when serving the entire table at once is not possible, service usually starts with the guest of honor (or other important people), followed by the eldest woman and proceeding down to the youngest male. This is true for all points of service including taking food and drink orders and delivery.
When food is delivered ask, "Would you like anything else at this time?" Suggest additional drinks or beverages at this time. Avoid making unnecessary trips for forgotten items.
Step 4: Check Back
Check back with your guests within 2 minutes or two bites.
Handle complaints appropriately using the AAA method: Acknowledge, Apologize, and Act.
Offer free refills on soda and water. If the table is drinking wine or champagne, offer to periodically top off their glasses. Be attentive to your guests needs, but without being overly intrusive.
Continue making conversation where appropriate throughout the meal. Avoid personal comments (e.g. clean your plate) that may imply your guest is greedy, picky, or fat.
Pre-bus the table at appropriate times between courses, but never make your guests feel rushed, especially between the dinner and dessert course.
Mention the dessert menu and suggest a specific dessert. Suggest coffee or after dinner drinks at this time.
Determine if the guest is ready for the check. If so, make sure it is totaled correctly and drop the check at this time. In formal dining settings, the bill is usually only given to the table after it has been asked for.
Step 5: Sell the Return
Depending on the restaurant, you may drop the check off at the check-back or within 2 minutes of completion of service.
Provide the guest with payment instructions and be attentive so that they don't have to wait for you to pay their check.
Establish regular customers by thanking them, inviting them to return and encouraging them to ask for you the next time they visit. Professional servers will often carry a small notebook to jot down notes about customers after they leave. Remembering people's names, jobs, favorite drinks, etc. will go a long way toward making them feel special when they return. Establishing a customer base of happy regulars will save you when business is slow.
Add your voice! Click below to comment. ThriftyFun is powered by your wisdom!

September 5, 2013
0

found this helpful
Another way to get an even better tip (I tip generously as it is) from me is: Don't address me and my husband as "you guys", i.e. "How are you guys tonight?" or "Do you guys need anything else?" Instead, use "You folks." I am not a guy.
I also have a peeve about restaurants that pool tips. I prefer my tips to go to my server only.

September 5, 2013
0

found this helpful
Another way to ensure a good tip is not to roll your eyes or become impatient when I say I have food allergies and need to question ingredients in a meal.

September 10, 2013
0

found this helpful
And please, please don't leave us sitting there with empty dishes waiting forever for you to take our payment! The longer I wait the more I want to reduce the tip :(
Add your voice! Click below to comment. ThriftyFun is powered by your wisdom!
Published by ThriftyFun.
© 1997-2022 by Cumuli, Inc. All Rights Reserved.
https://www.thriftyfun.com/Increase-Tips-When-Waiting-Tables.html